Today we're taking you through what we experienced with the MusclePharm Assault Pre-Workout formula, what the science says, and how we rate it overall. Let's see if it is worthy of its apparent popularity.
What are pre-workout supplements and do I need one?
Pre-Workout – is a dietary supplement many athletes and weightlifters use to enhance athletic performance, an added "boost," if you will, for avid gym-goers. We call this our go-go juice!
When you decide to use a pre-wokout supplement you can say that you're getting pretty serious with your gym goals. In fact, if you ever took a pre-workout supplement or currently taking it now, you can attest to the effects it gives you. Undoubtedly, there's some sort of jolt to it. And it leaves you wondering exactly what's in it and how does it actually help you? However, if you simply don't want to spend money on pre-workouts, a healthy diet with a side of black coffee is definitely a valiant alternative.
Brief product description & key product features
We have gone through many different pre-workouts in order to find a few that we think are worth highlighting – MusclePharm Assault is for sure one of them (together with the previously analyzed Optimum Nutrition's Gold Standard Pre-Workout and Cellucor C4 Original).
Description
Assault is MusclePharm's tried and true pre-workout which will give you the fuel to power you past your prior performance limits. Great tasting, energy-enhancing, and tested to be banned substance free.
Key product features
Increased muscle endurance and strength
Intensive, focused energy and more efficient energy consumption
Inhibits muscle fatigue and catabolism
Replenishes energy stores
Stimulates mental alertness
No illegal substances
No proprietary blends
Contains Carnosyn – Beta Alanine – whose effectiveness has been clinically proven
Key product ingredients and their positive impact
Ingredients
It pays to read the ingredients label before you invest in a fresh pot of pre-workout. MusclePharm Assault contains all the ingredients necessary for an effective pre-workout supplement (ingredients that support energy & focus, strength & performance, and those who act as a muscle fuel).
Here's exactly what you're getting:
200 mg of caffeine (for energy and focus)
150 mg of Acetyl-L-Carnitine (for energy and focus)
500 mg of Taurine (muscle fuel)
500 mg of L-Glycine (more muscle fuel)
1.5g of creatine monohydrate (for strength and performance)
1.6 g of beta alanine (for strength and performance)
500 mg of Betaine Anhydrous (for strength and performance)
Vitamin C (300mg), E (40IU), B6 (20mg) and B12 (50mcg)
As you can see, MusclePharm Assault formula contains a range of commonly used ingredients for pre-workout supplements.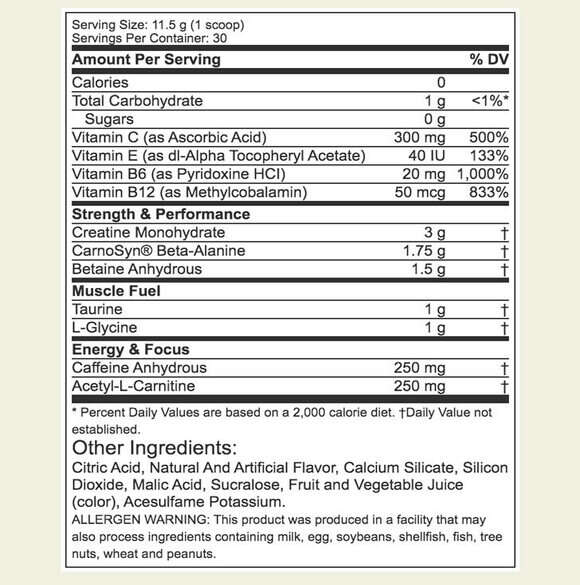 Positive impact
The main active ingredient in Assault is the caffeine content (200 mg per serving). Caffeine may be the most widely used stimulant in the world, for improving physical strength and endurance, also and systemic vasoconstrictor. Among other effects it accelerates fat burning.
The other stimulants ingredients are the B-vitamins and nitric oxide. B-vitamins assist with energy metabolism, DNA synthesis, the formation and repair of red blood cells. Nitric oxide is a molecule that our body produces to help all its cells communicate with each other by transmitting signals throughout the entire body, concretely in this case regulating blood pressure by dilating arteries. Nitric oxide increases blood flow and oxygen supply to skeletal muscles.
For other two important components, the creatine monohydrate and beta alanine in the supplement, researchers state that both require "loading periods" of ingestion over several weeks in order to provide the best effects. Creatine is a molecule in an energy system (creatine phosphate) that can rapidly produce energy (ATP) to support cellular function. It is an energy source for skeletal muscles. This is what causes strength increases after creatine supplementation.
Beta alanine is an amino acid that acts indirectly by creating carnosine. It is stored in the muscles and is used in high intensive training and muscle growth. High concentrations of carnosine helps to neutralize the effect of lactic acid and contributes to a higher quality and longer training.
Key benefits of MusclePharm Assault Pre-Workout
No carbs;
No calories;
Without sugars;
Free of illegal (banned) substances and artificial colors;
Without proprietary blends;
Good brand-reputation;
A large selection of different flavors: Blue Raspberry, Fruit Punch, Green Apple, Strawberry. This make the experience of drinking it more pleasant;
Downsides of MusclePharm Assault Pre-Workout
Certain ingredients (except caffeine and glycine) are present in rather low doses;
Effective doses of creatine, beta alanine, and betaine anhydrous should be almost twice as big;
There's no way you can double your serving to get an effective dose of ingredients mentioned above because that would give you an enormous amount of caffeine (400 mg);
Side effects
Bearing in mind that there are a large number of components in this mix, it should conduct a long-term and extensive research about side effects, which certainly exist if somebody goes too far with daily dose and continuous consumption. However, if you're using the product exactly according to the manufacturer's instructions on the package, you should not feel any unwanted side effects on a larger scale. This applies only to a perfectly healthy person.
Mild side effects like tingling/numbness in the face, lips, or extremities, jitters, cramps, headaches, flushed and red skin, trouble sleeping, increased heart rate and blood pressure, dizziness, itching and anxiety are very likely to occur when using any supplement of this type.
Also, all pre-workout supplements on the market (regardless of the name and manufacturer) are highly addictive. Once you start taking pre-workouts, you will have difficulties training without them. Take this into account.
Suggested use (method of application)
The directions for MusclePharm's Assault are fairly straightforward.
Mix one serving (1 scoop) of Assault in 8-12 fl. oz. of cold water and drink 20-30 minutes before training.
There is a warning saying not to exceed one serving per day.
Also, because of the caffeine content in this supplement, it is probably best not to consume it within about six hours of when you plan on going to sleep.
Which company is behind Assault pre-workout?
MusclePharm is a Denver-based nutrition company that's known for making some of the most inexpensive supplements on the market, many of which are targeted at MMA athletes — you may be familiar with their Combat Whey protein and Combat Crunch protein bars.
Read more about the other reputable bodybuilding supplement companies & brands.
Assault Pre-Workout Reviews
We took a look on Amazon.com to see what some customers were saying about Assault by MusclePharm.
At the time of writing, this pre-workout supplement had an average rating of 4.4 out of 5 stars from a total of 1,188 reviews.
That brings us to the end of our look at the Assault supplement by MusclePharm.
Summing up (Final verdict): Should you buy MusclePharm Assault Pre-Workout?
Assault pre-workout is a cornerstone for MusclePharm and it represents a staple on the market. It's being promoted as a pre-work supplement, which will guarantee you: muscle mass, strength, endurance, energy, focus and eliminate the muscle fatigue post work-out. This product does what it says, and it's got a certification to show it – it's just not very ambitious! That's why it's the less expensive one out here. Regardless, it is still one of the market leaders. We definitely recommend you to give it a try.
Rating Breakdown: MusclePharm Assault Pre-Workout
User Ratings (

2

Votes)