For the majority of regular gym goers, success in the gym can be measured by the size of their muscles and the numbers on the weights they can lift. Building muscular strength and size requires heavier weights and fewer repetitions. However, many of those people don't consider how long they can lift those weights for, a quality known as muscular endurance. It's a mistake to overlook that element, especially if you are going to the gym to improve your performance playing sport.
What are the best definitions of muscular endurance?
Here are some of the best strength training definitions of muscular endurance. However, keep in mind that there is also something known as cardiovascular (cardiorespiratory) endurance and is different from the strength training definition. Cardiovascular endurance is the ability of your heart and lungs to fuel your body with oxygen. This last type of muscular endurance is associated with different cardiovascular activities such as running, swimming, or cycling and it's not the subject of this article.
Muscular endurance is the ability to contract muscles many times without tiring or to hold one contraction for an extended period of time. Muscular endurance is dependent on the ability of your muscle fibers to keep working without getting tired.
Endurance is defined as the ability to bear fatigue. It's typically characterized either by the number of exercise repetitions one can carry out until failure (the maximum number of pull-ups, one-legged squats), or by the time one can maintain a prescribed pace of lifts or a posture.
Muscular endurance reflects the ability of a muscle or group of muscles to generate force repeatedly in multiple contractions. Therefore muscular endurance means reps. Lots of reps!
This is the ability of a muscle to work for a sustained period and is important in most sports. Not having a good level of muscular endurance leads to muscle fatigue, causing our arms and legs to feel tired and heavy. This often means that your performance becomes worse, and some cases we may have to stop playing.
In strength training, muscular endurance refers to the number of repetitions of a single exercise you can do without needing to stop and rest. Examples include how many times you can do a full squat, a sit-up, or a bicep curl with a light-to-moderate weight before breaking form.
How regular weight training improves muscular endurance?
A muscle's endurance depends primarily on its capacity to get enough energy so that it can continue contracting.
Sustainable energy for muscles comes from fat. Sugar provides only temporary energy. A tough muscle is one that has a remarkable capacity to burn fat.
This combustion depends on:
arrival of oxygen, as well as
the ability of muscle fibers to convert fat into energy
Regular weight training will improve these two factors as the result of the following:
Effective muscle oxygenation
Oxygen is indispensable for burning fat. Any reduction in oxygen will rapidly result in a loss of muscular power. Weight training makes the vascular network denser: More blood can circulate in the muscles. As the result of training, the blood will also have more red blood cells, which transport oxygen.
Effective combustion of fat
The activity of muscle enzymes that are responsible for converting fat to fuel as well as the number of mitochondria (factories where the conversion takes place) increase with endurance training.
This double improvement allows the muscle to stay in an aerobic mode for a longer period, even during intense effort. The crossover point (the moment when the muscle goes into anaerobic mode) is more difficult to attain.
This is the secret of endurance, because once in anaerobic mode, the muscle mostly burns sugar and not fat. Since sugar reserves are limited, the intensity of the effort cannot be maintained for very long. In addition, the burning of sugar creates more waste (lactic acid), which deprives the body of oxygen.
The link between skeletal muscle fibers and muscle endurance
According to a 2012 study in the Journal of Strength and Conditioning Research, endurance athletes have a higher number of slow-twitch muscle fibers. On the other hand, elite strength and power athletes have proportionally larger amounts of fast-twitch muscle fibers.
This suggests slow-twitch muscle fibers are linked to greater muscular endurance while fast-twitch muscle fibers take over during short-duration, explosive movements, like performing heavy weight training and sprinting.
While you may be naturally predisposed towards either slow-twitch or fast-twitch exercises, it's possible to convert slow-twitch muscle fibers into fast-twitch ones and vice versa.
Ways to improve muscular endurance using weights
avoid being in the target zone for hypertrophy (building muscle mass)
avoid being in the target zone for maximum strength
focus on lifting lighter weights and completing more reps
choose a load (weight) that is less than half of the maximum weight you can push, pull, or lift one time
avoid long rest times between sets & exercises
keep your heart rate elevated
practice holding the concentric phase for as long as possible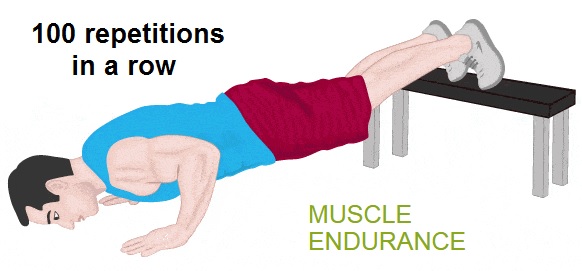 Relationship between muscular strength and muscular endurance
Absolute and relative indices of endurance
In order to completely understand the correlation between muscular strength and muscular endurance it is first necessary to explain the difference between the absolute and relative indices of endurance. The load can be set in terms of absolute values such as kilograms or newtons (e.g., a 50-kg barbell) or in relation to the maximal force (e.g., a barbell 50% of F max) Accordingly, the absolute and relative indices of endurance are determined. In estimating the absolute endurance, individual differences in muscular strength are ignored. Everyone is asked to press the same weight, for instance. When relative endurance is measured, on the other hand, all are asked to press a weight that equals the same percentage of their maximum strength.
The correlation between the absolute & relative indices of endurance and muscular strength
The absolute indices of endurance show considerable correlation with muscular strength; individuals of great strength can repeat a vigorous exercise more times than those of lesser strength. However, this correlation is observed only with resistance that is at least 25% of maximum strength. When the load is smaller, the number of possible repetitions quickly rises and is, in practical terms, independent of maximal strength. Relative indices of muscular endurance do not correlate positively with maximal strength. In fact, they often show negative correlations.
Example
Let's consider an example of what we have seen about the correlation between strength and endurance. Suppose two athletes can bench press weights of 100 and 60 kg, respectively. It is obvious that the first athlete can press a 50-kg weight more times than the second athlete and that the absolute indices of endurance for the first athlete will be better. If both athletes have to press a weight of 10 kg (less than 25% of maximal strength for each), it is impossible to predict who will exhibit more endurance. In this case endurance (measured by the number of repetitions) does not depend on strength level. If both athletes press a weight equal to 50% of their maximal force production (50 and 30 kg, respectively), it is again impossible to predict who will show greater endurance. Here, too, endurance does not correlate with strength.
Since athletes are not matched during a competition according to strength, practice should focus on absolute endurance. As we have noted, these indices are essentially dependent on the strength level; as the resistance an athlete must overcome increases, so does the dependence. Thus, when it is necessary to repeatedly overcome considerable resistance (more than 75-80% of the maximum muscular strength), there is no need for special endurance training.
Closing thoughts
Muscular endurance is one of the components of muscular fitness, along with muscular strength and flexibility. In a nutshell, the more repetitions you can perform without the muscle failing, the greater the endurance. Endurance training improves the ability of slow- and fast-twitch fibers to sustain contractions. Muscular endurance resides in metabolic adaptations, the ability to utilize oxygen, and learned neuromuscular efficiency.
It's easy to improve muscular endurance with training. Although it is difficult to double the number of pull-ups (that takes strength), it is easy to double the number of push-ups (they require endurance). Improved strength and endurance make work seem easier.
Athletes or fitness enthusiasts who want to avoid a bulky look and keep their muscles lean, flexible and with the ability to move through their full range of motion during sports performance will want to focus on muscle endurance as opposed to strength. You can have good muscular endur­ance in one pan of the body, such as the legs, without having good muscular endurance in another part of the body, such as the arms.