Neutral Dumbbell Wrist Curl (Wrist Raise)
The muscles that control forearm, wrist, and hand movement actually originate near the elbow joint. Neutral dumbbell wrist curl (wrist raise), sometimes known as radial deviation, works the muscles and tendons around your radius bone (forearm) and strengthens nearly all the muscles that support the wrist joint.
You can do the neutral dumbbell wrist curl (radial deviation) seated or standing.
Neutral Dumbbell Wrist Curl – Correct Exercise Technique
STARTING POSITION (SETUP): Sit on a flat exercise bench with your right forearm resting on your right thigh horizontally or tilting slightly downward with your wrist at the end of your knee and your hand free. Hold the unweighted end of a "half dumbbell" (i.e., a dumbbell with only one weight at one end of the central bar).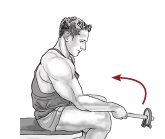 MOVEMENT (ACTION): Start with the weighted end pointing vertically upward and lower it forward slowly until it is almost horizontal (around 30º, depending on mobility). Flex your wrist again to raise the weight to the vertical starting position (to 0º, even though you could go some 15º farther toward your forearm, because gravity would help this additional movement unless your arm was tilted downward). Breathe naturally. Repeat for the desired amount of repetitions. Then switch to the other arm.
Muscles Engaged in Neutral Dumbbell Wrist Curl (Radial Deviation)
Main muscles: extensor carpi radialis longus, abductor pollicis longus
Secondary muscles: extensor pollicis longus, flexor carpi radialis, flexor pollicis longus
Antagonists: extensor carpi ulnaris, flexor carpi ulnaris
Exercise Variations
All three versions are more or less very similar as far as their muscle focus; try them all to discover which one is the most comfortable and works the best for you.
Standing neutral dumbbell wrist curl (radial deviation). Stand with your right arm at your sides. Hold a hammer or dumbbell with a weight on one end only. The weighted end should be in front of your hand. Slowly raise and lower the weight through a comfortable range of motion. It is very important not to move your elbow or shoulder; focus all the exertion in the wrist. Pause at the top and bottom of the movement. Finish the set, then switch arms.

Reverse neutral dumbbell wrist curl (ulnar deviation). Reverse neutral dumbbell wrist curl, also know as ulnar deviation, works the muscles and tendons around the ulna, one of two forearm bones. Strengthening the wrist and forearm increases elbow strength and helps prevent injuries, such as tennis elbow. To perform this variant you just need to place the weighted end behind your hand. Everything else remains the same.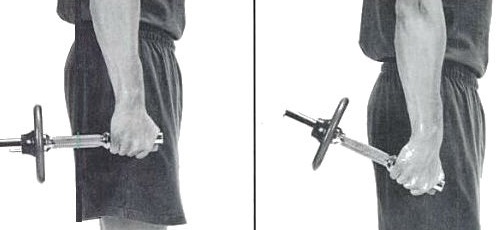 Pronation  / Supination. Sit in the same position as for the main exercise, but this time twist your wrist to lower the weight slowly inward into a palm-down position (pronation), then move back to a vertical position and beyond into the palm-up position (supination). The pronator and supinator muscles do not require much specific muscle work to stay in good shape, and this exercise is intended only to complement others. There is a machine for this movement, but it is uncommon in gyms, although
often found in rehabilitation clinics.
Radial Deviation vs. Ulnar Deviation
Radial deviation or abduction — movement of the hand (fingers) toward the radial side of the forearm (thumb side).
Ulnar deviation or adduction — movement of the hand (fingers) toward the ulnar side of the forearm (pinkie side).
Alternative Exercise
Wherever a certain type of exercise is used in a workout, any one of the same type can be substituted. Try these other great forearm exercises.
Closing Thoughts
You can work the forearm flexors using the biceps dumbbell curl with the hammer grip and similar exercises, but the neutral dumbbell wrist curl (radial deviation) is a good exercise if you specifically want to train the single-joint muscles running from the hand to the radius area of the forearm. Most people do not need to do this exercise, which is normally reserved for rehabilitation or on a doctor's advice. This is also the case with the variants described above. But it's a good idea to incorporate the neutral dumbbell wrist curl (radial deviation) into your forearm workout from time to time.