The treadmill is an effective way to burn calories and build cardiovascular fitness. But what kind of treadmill should you purchase? There are two basic types of treadmills – those that are self-propelled (non-motorized treadmills) and those that are motor-driven. In this article you will learn what are the advantages and disadvantages of each of these two types of treadmills.
What is Non-Motorized or Manual Treadmill?
You don't have to be a fitness guru to understand that a manual treadmill (self-propelled treadmill ) is non-motorized. It's a simple machine with a belt and rollers that you move with your effort. The action of your feet against the deck moves the belt. It's simple as that. The belt only moves if you move it. In other words, this type of treadmill does not require electricity supply to operate. A curved belt non-motorized treadmill is nowadays the most common and most effective subcategory (compared to flat-belt non-motorized treadmill). However, they still come with electronic, battery-powered displays to track your speed and calories burned.
Next, there is the motorized treadmill with features to set the pace of your walk, jog or run. You can set your required pace and keep up with it over a period of time to get optimum exercise out of the time you spend on it.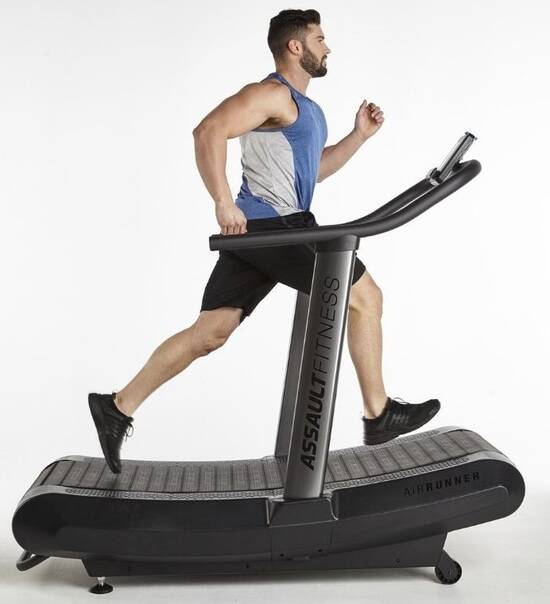 Non-Motorized Treadmill Advantages
There are several advantages to choosing the manual treadmill. Here are the most important ones:
Muscle-powered (no electricity needed). Because they don't require a power source, they can easily be set up anywhere, not just near an electrical outlet. They're easy on the environment and save you electricity at the same time.
Less expensive and more compact. They are more affordable for obvious reasons. There are no expensive motors on these. For the same reason they are smaller in size and easier to store in smaller living spaces.
Full control over the speed. The user has the control over the belt in a manual treadmill to rotate it at their desired speed, rather than trying to keep up with a moving belt. If you feel like sprinting, you don't have to lose time on pushing buttons in order to accelerate. On a curved-belt treadmill, you speed up by placing your feet further forward and slow down by striking closer to the center of the belt.
They're safer to use. A non-motorized treadmill stops when you stop. There's no risk of the belt moving too quickly, causing you to slip off. Therefore there's no need to wear a safety cord to stop it if you slip and fall as you should with a motorized treadmill.
High-intensity interval workouts. Athletic trainers use curved-belt manual treadmills as part of workouts that alternate high and moderate intensity. So they are indeed ideal for HIIT intervals. The main reason for this lies in the fact that the belt allows you to run as fast as you can without having to match a machine's speed and also slows down naturally as your sprint interval comes to an end.
More efficient workout. A manual treadmill requires one to exert pressure to get the belt rolling which burns more calories when compared to a motor driven treadmill where the ground beneath one's feet is just rolling away on it own.
Non-Motorized Treadmill Disadvantages
Even with the clear benefits listed above, there are even more disadvantages to manual treadmills that should be considered before you commit to buying (or exercising on the existing one).
Fatigue occurs rapidly – your workout is cut short. While it is true that a manual treadmill requires one to exert pressure to get the belt rolling, which burns calories, it is also true that exerting this kind of pressure fires the person far sooner. This is not so good for the lazy people who are unlikely to push themselves. This means your workout is cut short. In fact, unless you are in excellent athletic shape, the amount of force needed to keep the belt in motion would tire one in a very short while. In case of a motorized treadmill, the belt moves on its own, and you just have to keep pace. This burns lots of calories and since your energy is not being wasted in keeping the belt in motion, the workout is far longer. A longer duration of cardiovascular workout is good for one's heart, lungs and overall health. This is definitely not suitable for longer training sessions.
Joint stress. Another big disadvantage of a manual treadmill is that the pressure you exert on the belt is exerted back on your joints and excessive and repeated strain on your joints may do long-term damage to them. After some time you will leave treadmill exerciser on its own.
Difficult to change incline. You will have to stop moving the belt and get off from a flat-belt manual treadmill entirely if you want to change the incline. On top of that, you are stuck with one incline level during each workout and often that is quite a steep incline of 10%. A curved-belt manual treadmill provides a slightly better solution can vary the incline by moving your feet farther forward or more towards the middle of the belt.
The walking motion is unnatural.
Less workout features. Motorized treadmills are packing more and more workout features into their consoles, even at the lower price points. All these options are completely absent here. There will be no built-in training programs to help keep your workout routine varied, heart-rate monitoring, pre-programmed workouts, TV screen, and so forth.
Not for runners. As this type of machine is more inclined towards walker and slow joggers this machine ends up being of no use for the people who are more into running or jogging.
Less sturdy construction and durability.
Difficult to get started. It takes effort to get the belt moving when running on a manual treadmill. This is especially true for the flat-belt non-motorized treadmills. This is not the case with a curved belt manual treadmills.
Closing thoughts: Motorized Vs. Non-Motorized Treadmills
There are two types of treadmills on the market today: those that have motors and those that don't. Although considerably more expensive, motor-driven treadmills are clearly superior in design, function, and durability. This is true despite the fact that these days we have curved models which solve many of the issues with regular manual treadmills (those with the flat belt). Manual treadmills tend to be good option only for people who are already in amazing physical shape and are looking for yet another way to workout. Thus, for most people, motorized treadmills are the better option because you'll likely use it more.