We have always associated standard (classic) push-ups with all-round strength and fitness but there can be no denying that progressing to one-arm push-ups demonstrates a real "wow" factor in athletic ability. This is exceptionally challenging middle chest exercise that not everyone can perform. If you are still struggling with classic push-ups you can forget about this version of the exercise.
Studies show that you're pressing approximately 70 percent of your body weight during a floor push-up. This means that a 200-pound man is pushing 140 pounds with every rep. Now if he can build up to doing single-arm pushups for reps, it means he's pressing 140 pounds on one arm at a time. That's like repping out on single-arm chest presses with a 140-pound dumbbell!
Exercise instructions – proper technique
STARTING POSITION (SETUP):
Position yourself on the floor in a standard push-up position.
Place your hands, palm downward, under your shoulders at shoulder-width or slightly wider apart. Spread your fingers wide for better stability (to increase control of your balance).
Place your feet at hip width or slightly wider apart (more than shoulder width apart for extra stability), with toes only in contact with the ground.
Ensure you have correct form by keeping your head and neck in line with the rest of your spine and maintaining a neutral ("flat" back) posture.
Lift one hand from the floor to place it next to your body (into your lower back).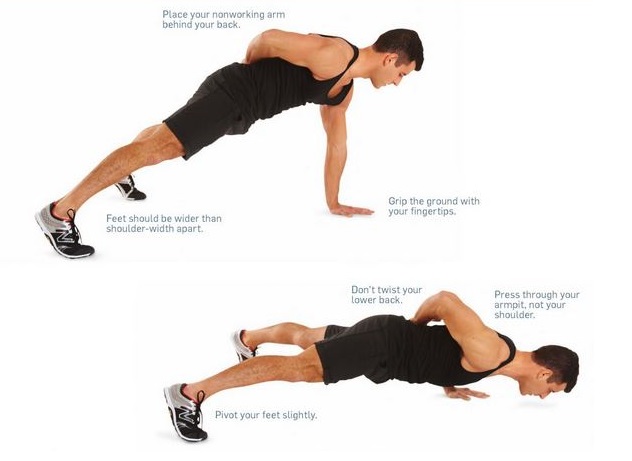 EXERCISE EXECUTION (ACTION):
Tuck your elbow to your side and slowly pull yourself down until your chest hovers above the floor.
Try to hold this bottom position for a moment.
Maintaining good posture, push-up from the floor by straightening the remaining arm, taking care to keep a slight bend in the elbow joint at the end of the movement to avoid potential injury. In other words, imagine you're pushing your shoulder blade away at the top of the movement as if punching through the floor.
Slowly return to the start position by controlling the bend in your elbow to complete one push-up.
Repeat the exercise.
Additional tips (Performance pointers)
It's important to maintain correct form throughout the exercise to avoid the potential for injury.
"Locked" elbows at the end of the push-up movement and a "saggy" back at any point during the exercise have the potential to cause soft tissue damage or lead to repetitive strain issues. For this reason, building up the strength and endurance required to perform a one-arm push-up correctly is best done in progressive steps.
Try to minimize body rotation as much as you can and try to keep your hips and shoulders square to the floor.
It's okay to rotate your nonworking shoulder and hip up and over toward your working arm as you lower to the bottom position in a diagonal fashion. However, you must do so with your hips and shoulders moving together with no twisting at the lower back. Your feet will also pivot a bit to allow for the hip rotation. This creates a crisscross effect between your opposite shoulder and hip that makes the exercise easier to pull off.
Muscles engaged in one-arm push-up exercise
As in any push-up exercise, the main muscle groups targeted are the pectoral muscles of the chest and the triceps muscles of the upper arm. However, maintaining correct posture and balance requires a high level of functional strength and fitness in the body's core muscle groups. To perform a one-arm push-up with style, the main stabilizing muscles of the abdomen and back also play a big role.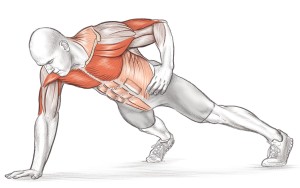 Main muscles: pectoralis major, triceps, deltoids (anterior)
Secondary muscles: serratus anterior, coracobrachialis, subscapularis, core muscles
Antagonists: latissimus dorsi, biceps, deltoids (posterior)
Single-arm push-ups variations
You can make this exercise easier but also much harder. This way you can adjust it to your current physical abilities.
Here's how to make it easier (these are also best ways how you can progress to a single arm push up):
Perform only the lowering portion of the exercise, trying to get down as slowly as possible (3 to 5 seconds). Cheat back up by pushing up with both hands.
Perform isometric single-arm pushups by holding the bottom position. If you fatigue before time is up, simply back off to holding the top of the pushup position. Static holds improve muscle memory and core strength.
Position your hand on an elevated surface (on a sturdy boy, chair, or bench) and perform the one-arm push-ups. Doing this way you are pushing less of your body weight making the exercise much easier. In order to progress, start decreasing the elevation height with the time.
Spread your feet very wide. Place one hand on the floor under your shoulder and the opposite hand by your butt. Tense your body. Lower yourself to the floor, turning your elbow, shoulder, and palm in toward your body. As you reach the ground, push yourself up.
Here's how to make it harder than it already is:
Perform single-arm, single-leg pushups by raising the same-side leg as your working arm. Having only two points of contact with the ground amps up the abdominal work.
Progressively bring your feet closer together until your feet are touching.
Increase the body angle by performing feet-elevated single-arm pushups. Place your feet on a sturdy box, chair or bench.
Wear a heavy backpack and do one-arm pushups to failure.
Replacement exercises
You can replace one-arm push-up exercise with any other pressing middle chest exercise.
Examples of pressing middle chest exercises:
Closing thoughts about one-arm push-ups