If there's one piece of exercise equipment you should have in your home gym, it should be dumbbells. Buying the right type of dumbbells for your home gym is not a rocket science. You'll find three types of dumbbells on the market, but which type you choose to invest in depends entirely on what works best for you. In this article you'll find many useful tips for picking the perfect pair of dumbbells for home gym.
Three types of dumbbells you can choose from
FIXED-WEIGHT DUMBBELLS
This style of dumbbells – typically the type you will see in health clubs and gyms – is one solid piece of metal that weighs a certain amount. Although you'll find them made from a range of materials, from inexpensive cast iron to high-priced polished chrome, your muscles will get the same workout no matter how large a hit your wallet takes. Typically, these dumbbells are hexagonal.
PLATE-LOADED ADJUSTABLE DUMBBELLS
This type of dumbbell—basically a small,12- to 15-inch bar that holds standard weight plates—works much like a barbell, giving you the ability to add or remove weight plates on either end. You can buy them in standard sizes of 10, 20, 25 pounds, etc. However, you can also choose to create your own by purchasing a pair of standard handles, plates, and collars for the ends. (Depending on the type you buy, the collars clamp, thread onto, or pinch the bar to keep the weight from sliding off.)
SELECTORIZED ADJUSTABLE DUMBBELLS
This advanced type of dumbbell—which has only been available since the early 1990s—allows you to quickly choose the amount of weight you want to load onto the bar and lets you change the weight without removing or reattaching collars.
Most use a series of thin, interconnecting weight plates that sit inside a special base. Before you lift the dumbbell from its base, you turn a knob, press a button, or move a lever to select how heavy you want the dumbbell to be. The correct number of plates mechanically attaches to the handle, leaving the remaining plates inside the base. Most brands of selectorized dumbbells allow you to change the weight in 5-pound increments.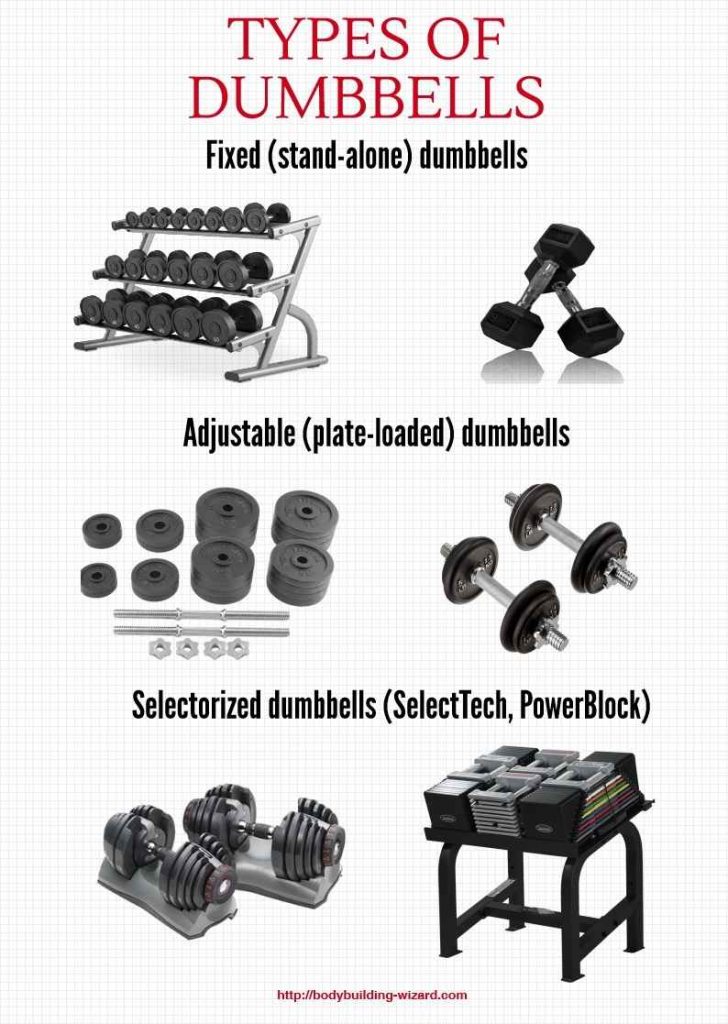 Tips for picking the perfect pair of dumbbells for home gym
IF YOU HAVE THE SPACE AND BUDGET, FIXED-WEIGHT DUMBBELLS ARE YOUR BEST BET
The convenience of being able to grab them and start pushing, pulling, or swinging them instantly is the reason they're the dumbbell style of choice in gyms worldwide.
But before you buy, remember this: Because they're unchangeable (unlike the other two types), you may have little choice but to shell out a lot of money for a variety of sizes in order to perform exercises that require lighter or heavier weight loads. One bonus of fixed-weight dumbbells is that most of them have hexagonal-shaped heads, so they won't roll on uneven floors like plate-loaded dumbbells will. And because they won't roll, hex dumbbells are great for doing exercises such as neutral-grip pushups and T-raises.
IF YOU HAVE TO MAKE ENDS MEET, STICK WITH PLATE-LOADED DUMBBELLS
If you don't mind constantly fumbling with collars and weight plates between exercises, one pair of adjustable dumbbells with enough weight plates can be cheaper than having to buy various sizes of fixed-weight dumbbells. But before you buy, remember this: Using an adjustable dumbbell when lifting heavy weights can sometimes be a bit cumbersome. Unlike fixed-weight dumbbells, which are more compact, plate-loaded dumbbells will be as large as their heaviest plates, which tend to be larger than lighter-weight plates. This can make certain exercises more difficult to do comfortably.
IF YOU HAVE THE MONEY, INVEST IN A PAIR OF SELECTORIZED ADJUSTABLE DUMBBELLS
Although most high-end, high-weight versions start in the hundreds of dollars and can easily run you over a thousand dollars, the ability to create dozens of different pairs of dumbbells (ranging from as little as 2.5 pounds up to 175 pounds per dumbbell), all from a piece of equipment that takes up the space of a small nightstand, is hard to beat.
But before you buy, remember this: Even if money is no option, some selectorized adjustable dumbbells aren't as easy to use as others. With some brands, you may find yourself fighting with the mechanics of the dumbbell, which can waste valuable time if you're following a routine that has you resting for less time between sets.
Another issue some lifters have with these dumbbells is the extra lifting they have to do in order to change the weight between exercises. Having to lift each dumbbell back into its base after every exercise just to change the weight may not seem like a hassle now, but wait until you have to change it after performing exercises such as heavy deadlifts, bent-over rows, and other multijoint compound exercises. Because your muscles need to utilize the time between sets to get a thorough amount of rest, having to hoist each dumbbell back into its base can minimize that valuable recovery time and hurt the rest of your workout.
WHERE TO BUY
You can get great deals on used fixed-weight and plate-loaded dumbbells at garage sales and through Craigslist.org. You can often find dumbbells for sale online because they are a very popular piece of fitness equipment. Sometimes you can find them as cheap as 50 cents per pound. Therefore, a used pair of 25-pound dumbbells could be $25. For comparison, a new pair of 25-pound dumbbells could be $75 plus shipping. Buying local, used dumbbells can be a real budget saver. NOTE: Bring your bathroom scale to the garage sale or Craigslist pickup so you can literally weigh your dumbbells. Older, used dumbbells are notorious for being off in weight. A 25-pound dumbbell could weigh 23-27 pounds.
Most large retailers carry them new. Popular brands of selectorized adjustable dumbbells include Bowflex, PowerBlock, and Universal.
Closing thoughts: picking the perfect pair of dumbbells for home gym
When you're working out at home, space becomes your biggest challenge. You probably don't have enough room for an entire rack full of dumbbells (let alone the budget to buy an entire set of weights). Therefore, your best option is most likely going to be getting that whole rack in one set.