Pistol Squat Exercise Instructions
The pistol squat is likely the most challenging bodyweight exercise for the lower body. It requires insane levels of hip and lumbopelvic stability, glute and quad strength for the working leg, hip flexor strength and flexibility in the nonworking leg, balance, and coordination. Many people sink all the way down on this movement until the butt touches the back of the calves. This is fine, but if you find that you round your back too much during this movement and your pelvis tucks too drastically, stop short and reverse the motion as soon as your hip flexibility runs out.
Exercise instructions
In order to perform this quadriceps exercise efficiently and safely follow these steps:
STARTING POSITION (SETUP):
Stand between two objects sturdy enough to hold on to for balance. Or you can hold a light weight with both hands for counter­balance with your arms extended in front of you. Skip this if your balance and coordination are on high level.
Stand on one leg and extend your other leg in front of your body.
Establish tripod foot position. Keep your weight placed on the center of your foot (right in front of your anklebone).
EXERCISE EXECUTION (MOVEMENT):
Push your hips and hamstrings back as far as you can (as if closing a door with your butt). Bend at the knee, and slowly lower yourself.
Go as low as you can without overly rounding your lower back. If you can't get all the way down so that your hamstring rests on your calf, try to get at least low enough that your hip crease is slightly beneath your knee crease. However, you should really try to lower yourself until your lifted leg is as close to parallel to the floor as possible.
Briefly pause in the bottom position and then extend your working leg and push your hips forward to come to full standing.
Finish the set, then switch leg positions and repeat.
Additional tips (Performance pointers)
Stay upright and keep the chest up.
If you can't go all the way to the floor without rounding, it's okay to stop short and reverse the motion as soon as your hip flexibility runs out.
Try to keep your elevated leg fully extended out in front of you throughout the entire movement. It may even help to keep your toes pointed straight up.
When you hit rock bottom (if you're able), push your heel hard into the ground and drive your hips forward to stand up.
You can do the pistol squat with or without weight. Often, people find the pistol squat is more accessible when they're allowed to hold a small weight out in front as a counterbalance. Experiment and see what works best for you.
What is the difference between a single-leg squat and a pistol squat?
Since both squatting exercises are performed with one leg only, it's important to note the difference between a single-leg squat and a pistol squat. A single-leg squat is any squat on one leg to a depth where your hip crease is just above your knee crease. In other words, you'll be lowering your body by moving your hips back and bending at your knee and waist until your upper leg is (nearly) parallel with the floor. It doesn't matter what you do with your nonworking leg. You can, fore example, hold it behind your body, with your knee bent at a 90-degree angle.
A pistol squat is a rock-bottom squat on one leg where your working leg hamstring rests on your calf in the bottom position. So you will have to extend your nonworking leg in front of your body (requiring a great deal of hamstring flexibility), which is why your body resembles a pistol at the bottom of the move.
Muscles involved
Primary muscles: Quadriceps (rectus femoris, vastus lateralis, vastus medialis, vastus intermedius), gluteus maximus;
Secondary muscles: Hamstrings (biceps femoris, semitendinosus, semimembranosus), adductor magnus, adductor longus, adductor brevis, gluteus medius, gluteus minimus, deep-hip
external rotators;
Exercise variations (Make it easier)
Towel pistol squat
Most people aren't nearly strong and coordinated enough to be able to perform pistol squats. The pistol squat is a highly challenging lower-body movement, and most of us need assistance to be able to perform the movement properly. It is possible to wedge a towel in a door or around a pillar to provide the assistance necessary to perform the lift.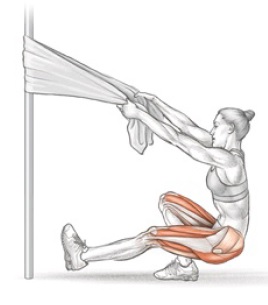 Suspension trainer assisted pistol squats
This variation gives you some support while still putting the brunt of the work on your leg. Make sure you tie the other end of the strap to a sturdy support piece.
Replacement exercises for pistol squat
With all the different types of squats to choose from, you can say goodbye to workout boredom. Try these  squats for every need and fitness level.
Video demonstration
Watch the instructional video below for correct form.
Closing thoughts about pistol squat
The pistol squat is a full squat on one leg. It sounds simple, but, as you probably know, simple isn't always easy — and the pistol squat is an undeniable testament to that. This is one of the hardest quadriceps exercise ever.

The pistol squat requires not only brute strength but also stability, mobility, balance, and coordination. It's not only a fantastic leg strengthener in itself but also a viable metric of your overall movement abilities. If you can do a pistol squat, you have gained a lot. If you can't, you have a lot to gain.