Power tower fitness station
There are some pieces of professional gym equip­ment that you may want to invest in to get the best out of your home workout. One of those equipment is the power tower fitness station. This piece of equipment will let you perform functional exercises that are the most efficient and effective training regimen out there. Bodyweight training is simply a mode of resistance training in which the resistance is provided by the body rather than by an external weight such as a barbell, dumbbell, or the weight stack of a selectorized machine.
You don't need to build a whole new room or clear out your dining room for your great new workout regime. It you do have a room you can devote to it, all the better; however, most of us don't have that luxury. The power tower fitness station only takes up a little patch of space. It doesn't even require you to hook up or drill it up and incorporate into a wall. Consider using the corner of your bedroom or any spare space you can find for exercise. Garage, basement, attic, or backyard are great places to put a power tower fitness station. Wherever you choose to exercise, all you need is a little space and a calm, positive atmosphere conducive to focusing your mind on your fitness and well-being.
How these multipurpose pieces of exercise equipment look like?
Power towers usually look like big old high chairs, only adult-sized and minus the seat. Depending on your gym, they might come with a pull-up bar across the top, but they can also stand alone (knee raise/dip station).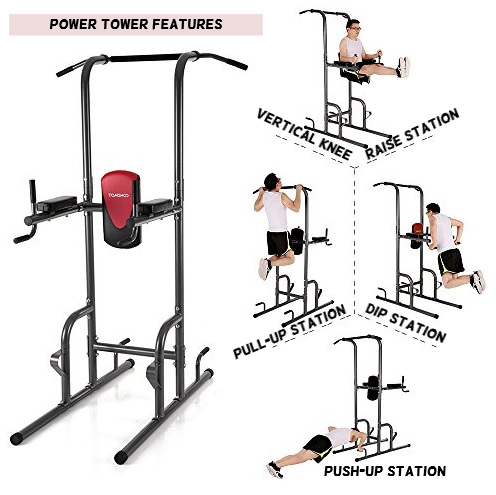 Typically they measure something like 60L x 40W x 85H inches, making it pretty easy to fit into an area of a room. Consisting of a steel frame with several grip positions, the power tower offers several different pulling and pushing opportunities. Typically they have very sturdy and robust design with a long operating life.
Power tower features:
Pull-up station;
Push-up station;
Vertical knee raise (abs) station;
Dip station;
Features to look for when buying power tower fitness station
As you're searching for the right power tower, there are certain features to keep in mind. These are the most important ones.
Weight capacity. Each power tower has a maximum load capacity. In most of the cases that is about 250-300 lbs, but a few products come with over 400 pounds. This is a particularly important consideration for large users near the weight limit.
Dimensions. The power towers come in different sizes. Be sure to get one which fits the environment you are going to place it in! Always check this twice. Don't forget to check will you have enough space above you while performing pull-ups. Finally, make sure that there is also enough clearance to walk around the exercise rack as you assemble it.
Stability. A wobbling and moving power tower fitness station is not just dangerous to use but also annoying. Get a tower that is robust, has extended stabilizers at the bottom and a heavy-duty frame. Always, check the customer reviews to get info on wobbling.
Hand grips. Get a tower that allows you to vary your hand placement, from close together to far apart, to exercise all your upper-body muscle groups. Another vital feature here is to look for a comfortable hand grip. Not having a nice grip can cause burning in your hands and even blisters.
Double check the pull-up bar thickness. The thicker, the harder it is on the grip. So, basically, a thinner bar will allow you to get pull-ups easier. This is especially true for those with smaller palms.
Double check are the dip bars suitable for you. If the dipping bars are too narrow or too wide, this will limit your range of motion and prohibit you from emphasizing different muscles with the dip exercise. With the handles that are too wide it's going to be very uncomfortably to perform dips. It is maybe better if you purchase a compact model if that is the case.
Assembly. Assembly requires two persons. Check out the customer reviews particularly for missing parts and if the bolt holes are lined up.
Benefits of using a power tower fitness station
What are the benefits of power towers?
A variety of exercises. With this powerful piece of equipment, you would be able to perform 4 major body-weight exercises (among others): pull-ups (chin-ups), press-ups, triceps dips (chest dips) and vertical leg (knee) raises. These are the best upper-body exercises ever that will engage your entire upper-body musculature. Therefore, various workout options are available without using weights.
When utilizing your body weight as resistance, you will build real, functional strength.
Saving the time of transferring from one equipment to another, this is truly efficient when performing supersets.
The strength station is incredibly sturdy, durable, easy to use and takes up hardly any space. These features make it ideal for use at home!
Power towers allow you to work out your entire upper-body with just one single piece of equipment. You don't need to rely on free weights (dumbbells, barbells, kettlebells)  and complex weight machines to build muscle.
Easy to use. The simplicity is one of the main reasons why this piece of kit is so popular.
Power towers are designed ergonomically. They're designed to allow the users to position themselves naturally, so as to perform the exercise as naturally and as safely as possible.
Because exercises performed on power tower are so hard, you'll burn off a lot of calories, and the more calories you burn off, the more weight you will lose.
Using power tower fitness station you'll be able to improve your grip strength drastically. This is because exercise performed using power towers require you to grip the handles/bars, hang in mid-air, and hold your own weight.
They are really affordable.
What are the best power towers for home gym use?
If you are looking for a high quality yet affordable power tower maybe you should consider one of the following:
Bowflex Body Tower
Body Champ Power Tower
Gold's Gym XR 10.9 Power Tower
Weider Power Tower with Four Workout Stations
Xmark XM-4432 Power Tower
Stamina 1700 Power Tower
Fitness Reality X-Class High Capacity Multi-Function Power Tower
ProGear 275 Power Tower
Stamina X Fortress Power Tower
Ader Adjustable Power Tower
What exercises can you do on a power tower?
Power towers are incredibly effective way to exercise using your own body-weight. They offer a range of compound exercises without heavy kit or big weights.
Here are the basic power tower upper body exercises:
Power tower pull-ups (wide-grip, close grip, neutral grip)
Power tower chin-ups (underhand grip)
Chest & triceps dips
Power tower push-ups
Hanging leg raises
Parallel bar leg raises
Parallel bar knee raises
What makes the power tower super-attractive for in-home workout?
It only takes up a little patch of space;
It doesn't even require you to hook up or drill it up and incorporate into a wall;
Very sturdy and robust design with a long operating life;
Very non-complicated piece of exercise equipment;
Great way to save money;
Closing thoughts: Is a power tower worth buying?
A pull up/dip station (power tower) is the most beneficial piece of home gym equipment for performing body-weight exercises at home. Typically, they are 4 in 1 items that come with a pull-up, dip, push up, and vertical knee raise station at once. This way, we can have a complete upper body training at home. The power tower is definitely worth buying. At first, it might seem like a significant investment compared to a gym membership. But over time, a power tower is actually a great way to save money! Therefore, we truly believe power towers are essential piece of equipment for home gyms.