The Principle Of Progressive Overload
The concept of progressive overload is very simple. It is the foundation of muscle growth and strength training. All athletes want to make the most gains from their training as possible. To do this, the principle of progressive overload must be used.
Let's look at an example. If you lift the same weights for two years you will surely see no results. You will just maintain your current shape and muscle, but you won't make any gains (muscle growth). Your body won't need to grow as it is already capable to lift the weights that you are lifting, straight forward. But if you try to lift heavier and heavier weights, that's when you force your body to build muscle. When you stress the body in a manner it's unaccustomed to (overload), the body will react by causing physiological changes (adaptation) to be able to handle that stress in a better way the next time it occurs. Or, to put it another way, your body will not change or improve unless you force it to. The human body must be forced to adapt to a tension that is above and beyond what it has previously experienced.
For example, right now, you may have the ability to bench 70kg for 8 reps. If you just keep pressing 70kg for 8 reps on the bench press week after week then why would your chest muscles need to get bigger or stronger? They don't, because they have adapted to the resistance of 70kg, to make them adapt further you must add more weight to the bar.
Progressive overload describes the gradual increase of stress placed upon the body during exercise training. In order to get bigger and stronger, you will need to lift more and more weight over months of your training. Progression does not have to happen on every single training session – sometimes taking a step back for a session can allow you to take two steps forward in the long run.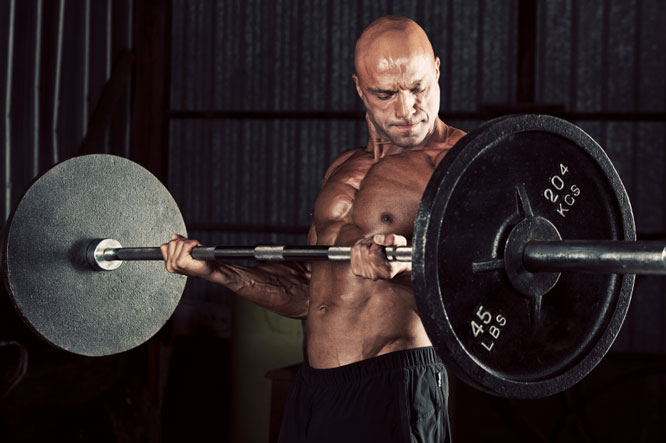 There are several ways in which overload may be introduced during resistance training. For strength, hypertrophy, local muscular endurance, and power improvements, either:
load (resistance) may be increased
repetitions may be added to the current load
rest periods may be shortened
repetition speed with submaximal loads may be altered according to goals
volume may be increased within reasonable limits
any combination of the above
Adaptation to weight training works best when you increase resistance and training volume gradually. Increasing strength and muscle mass takes months and even years of training and involves progress in small stages. Superior fitness and physical performance represent a combination of many small gains in the weight room. You can't become fit overnight; it must be done gradually, one step at a time.