The importance of protein powders
It doesn't matter how much you weigh or how much you can bench. It makes no difference whether you're looking to add quality muscle mass to your frame or get rid of some of those pesky extra pounds of body fat. It's entirely irrelevant (though admirable!) that the majority of your daily protein intake comes from lean whole-food sources like beef, chicken, turkey, eggs, fish, and dairy. Protein powder is still the single most important supplement you can get.
Why? Two reasons: one, because it's difficult to get the right amount of protein — between 1 and 2 grams per pound of body weight per day — by cooking and chewing it. And two, because there are certain times in the day when cooking and chewing is actually the wrong way to get protein.
The importance of protein powder is not lost on anyone who is serious about training. Nor is it lost on supplement companies, which have responded by pumping out new­and-improved products seemingly weekly. That, combined with a glut of information (some from reputable sources, some from the meathead who always hangs out by the cable crossover station), has made it increasingly difficult to figure out what type of protein powder (or powders) to purchase, when, and in what combination to take them.
That's why we created this guide — to arm you with knowledge about the wide variety of protein powders on the market, including their individual benefits and when and how to take them, so that you can pick the best powder for your individual goals.
Types of protein powders
Animal proteins
You may not prefer to think of them this way, but muscles are merely protein-storage units; the same way fat deposits are fat-storage units. Therefore, they naturally contain all the amino acids required to build muscle, automatically making them complete proteins. That's why eating meat (aka animal muscle) is the easiest way to fulfill amino-acid needs. Similarly, protein powders derived from animal products are naturally complete proteins and require less concentrating than protein powders made from plants.
Whey protein powders
We're guessing that you've heard of whey protein powder. In fact, we'll go out on a limb and say that it's the most popular protein powder available today, and it's certainly an essential part of any fitness diet.
The reason for that popularity is that whey is really good at prompting muscle protein synthesis, which is the way muscles grow. Whey is the soluble portion of milk protein. (You know the watery stuff on the top of a yogurt container when you first open it? That's whey in its natural state.). It is digested extremely quickly, releasing its amino acids into the bloodstream so they can get to work stimulating muscle growth. It also has very high levels of branched-chain amino acids in general and leucine, the BCAA most directly responsible for protein synthesis, in particular.
Whey makes up 20 percent of milk's total protein, while casein accounts for 80 percent.
Whey works in other ways to boost muscle growth. It raises insulin levels, which sounds like a bad thing but it's actually really good for creating a favorable environment for muscle growth. And its peptides (short protein fragments) blunt angiotensin-converting enzyme, which promotes constriction of blood vessels. By blunting the enzyme's effects, whey actually dilates vessels, allowing for greater blood flow — and therefore nutrient delivery — to muscles.
That means that, particularly around workout time, needy muscles will be receiving more hormones, nutrients, and oxygen and getting a bigger pump, which itself can promote muscle growth. Whey also has health benefits: lowering blood pressure (primarily by dilating blood vessels), reducing total and LDL (aka, bad) cholesterol levels, and increasing levels of glutathione, a powerful antioxidant.
Casein protein powders
If you've heard of whey, you've probably also heard of whey's counterpart, casein. The curds to whey's, well, whey, casein is not soluble and actually clots in the stomach, forming what scientists call micelles. The end result is that casein takes a whole lot longer to digest than whey, even up to seven hours to be fully digested and absorbed by the body. (By contrast, whey can take as little as 20 minutes.)
This is not, however, a bad thing, assuming you use it to your advantage. Exercise scientists used to think that casein was solely beneficial to fitness fanatics when used to slow catabolism (muscle breakdown). Because it sheds its amino acids at a slow and steady rate, casein can keep muscles supplied over a longer period, preventing the body from harvesting muscles' stored aminos for its own uses. However, newer research has shown that when taken after workouts, casein is almost as good at stimulating muscle protein synthesis as whey. In one study, conducted at the University of Texas Medical Branch at Galveston, trained weightlifters who consumed a combination of whey and casein after workouts for eight weeks gained more muscle mass than those who just took whey.
Like whey, there's more to casein than simply fueling muscles. For one thing, casein has the highest levels
of glutamine of any protein powder. Glutamine is the most prevalent amino acid in the body and is required in particularly large quantities by the immune system. Because maintaining strong defenses is an evolutionary imperative, the body will often pluck glutamine from muscles and send it to the immune system to be put to work. Getting extra glutamine from a source like casein ensures that the body has enough circulating to avoid harvesting it from muscle tissue. This is a secondary way that casein delays catabolism.
Glutamine also plays a role in physique development. It increases leucine levels in muscle fibers, which, as we've already established, promotes protein synthesis and muscle growth. And it boosts growth-hormone levels, always a good thing for those looking to improve muscle size and strength, and can promote fat loss by increasing metabolism during exercise and at rest.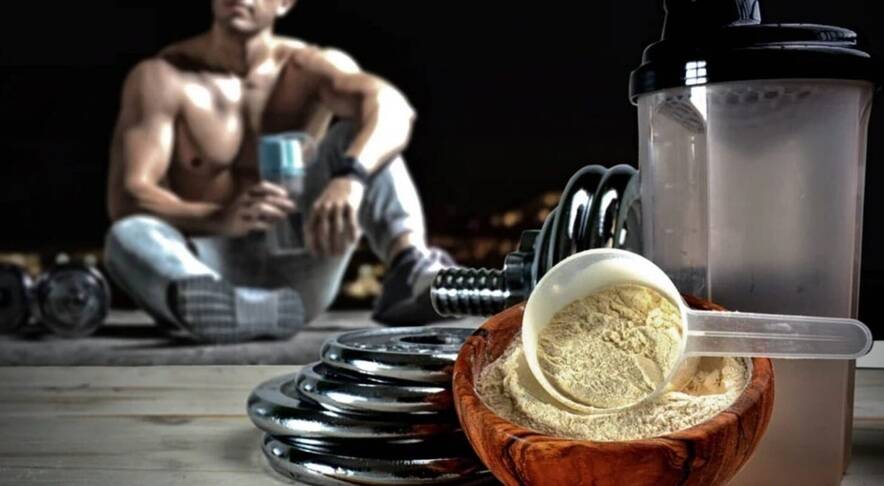 Milk protein powders
There's a reason why milk is a baby's first food, and that reason is that it's pretty much a complete nutrient package. One cup of whole milk contains 8 grams of protein, 11 grams of carbohydrates, and 8 grams of fat. In the decades before protein powders became bodybuilders' best friends, milk was what they would drink, reaping the whey and casein contained within.
Fortunately, now that supplement science has advanced a great deal, we can have milk protein powder, from which the fat and carbs have been removed.
Still, milk protein powder contains whey and casein, meaning that it offers the benefits of both types of proteins. In addition, because it undergoes gentler processing, milk protein contains smaller, less familiar protein particles that proffer major performance and physique benefits. Ever heard of beta-lactoglobulin, alpha-lactalbumin, glycomacropeptide, immunoglobulins, bovine serum albumin peptides, lactoferrin, and lactoperoxidase? They serve a role in strengthening the immune system, enhancing recovery, and providing general antioxidant benefits.
Goat-milk protein powders
Goat milk — it's just like cow milk! Well, mostly. Like cow milk, goat milk contains casein and whey proteins. But goat milk has a few benefits that cow milk doesn't. For one, it contains lower levels of a specific kind of casein that can cause allergies in some people, so those who find themselves crampy and gassy after taking casein might fare better with goat-milk protein. And two, it's more easily digested, and absorption is enhanced when compared to cow-milk protein.
Finally, most goat-milk protein powders come from goats that are not fed pesticides, herbicides, growth hormones, or antibiotics, which makes them a good choice for bodybuilders concerned about their health being compromised by modern farming techniques.
Beef protein powders
We agree — there's no better source of protein than a just-grilled steak. And, essentially, beef protein powders are steak with the fat and cholesterol removed. What remains are the amino acids that make up the muscle protein, the creatine that was stored in those muscles, and a slew of vitamins, including A, D, and Bs. Beef protein is an ideal alternative for those who must avoid lactose (present in small amounts in all milk proteins) because of allergies or intolerance.
Because steak contains no carbs and the fat has all been removed, beef protein powder contains 99 percent protein.
Egg protein powders
Because of their rich amino-acid makeup and how easy it is for the body to digest them, egg whites are one of the highest-quality proteins on earth. And, believe it or not, they can contain as many as 40 different proteins. Of these, ovalbumin, a type of glycoprotein (a protein that has carbohydrates attached to it), comprises the majority, making up roughly 55 percent of egg whites' protein.
Ovotransferrin is an iron-binding protein that provides antimicrobial properties and makes up more than 10 percent of the protein content. Ovomucin, another type of glycoprotein, accounts for less than 5 percent of egg-white protein and is one reason egg whites are so gelatinous. But it's avidin that might sound most familiar. One of the most minor constituents in egg-white protein (accounting for only 0.5 percent), avidin can be toxic when ingested in large amounts. Avidin binds with biotin, a critical B vitamin, and escorts it out of the body, which can result in biotin deficiency. This condition only tends to present itself in those Rocky wannabes who eat tons of raw egg whites. Because egg protein powders are pasteurized, their avidin is inactivated and unable to bind with biotin.
In addition to all those proteins, egg whites contain a slew of aminos. Among those are the branched-chain amino acids: leucine, isoleucine, and valine. These aminos — particularly leucine — are critical for driving muscle protein synthesis and therefore muscle growth. Research shows that egg protein has similar effects on stimulating muscle protein synthesis like whey and casein. Arginine is another amino that's present in high amounts in egg protein. It stimulates nitric oxide production in the body, and NO dilates blood vessels. That results in increased blood flow to muscles, which helps deliver more oxygen, nutrients, and anabolic hormones for better energy and a bigger pump during workouts, and better muscle recovery and greater muscle growth after workouts. Arginine also increases levels of growth hormone, which is critical during and after workouts.
But there are other beneficial components in egg whites. Take sulfur, for example. Responsible for the hideous odor of rotten eggs, the element is critical to the body's hormone-producing pathways, which helps egg-white protein further enhance muscle growth.
Plant proteins
Plant proteins offer great alternatives to milk-based, beef, or egg proteins. Whether you avoid animal-based proteins for ethical reasons or because of allergies or intolerance, many plant-based protein powders offer benefits that animal-based protein powders do not. So even if you do use animal-based protein powders, you may want to consider adding some of these to the mix.
Soy protein
Poor soy protein. Where whey gets all the glory, soy gets all the scorn, most of which is borne out of confusion and delusion. The biggest mistake people (yes, mostly men) make about soy protein powder is to assume that because it contains isoflavones — naturally occurring phytochemicals that are extremely similar (on the molecular level) to estrogen, the female sex hormone — taking it lowers testosterone. There is ample scientific evidence that shows that this is just not true.
In fact, one study, published in the journal Fertility and Sterility in 2010, examined 15 other studies conducted on soy and testosterone levels and concluded that there was absolutely no evidence that soy impacts testosterone levels in men.
Equally problematic for soy proponents is the fallacy that soy just doesn't work as well to promote muscle growth as whey and casein. Again, not true. A study published in 2007 in the Journal of the International Society of Sports Nutrition gave weight-trained males either soy protein, a soy and whey blend, or a whey protein twice a day for 12 weeks and found that all of them gained a similar amount of muscle mass regardless of what type of protein they took.
And, further, soy actually has benefits beyond whey's. For one thing, it's loaded with arginine, which not only increases nitric-oxide levels but also gives growth hormone a bump. But soy also increases NO levels via another mechanism, by increasing levels of nitric oxide synthase, the enzyme that converts arginine into NO. Soy has also been shown to promote fat loss, possibly by blunting appetite and therefore limiting caloric intake. And because those phytochemicals are also powerful antioxidants, soy protein hastens muscle recovery after exercise.
Protein can be concentrated from just about any source that contains it. Take, for example, the protein powders that have been isolated from buckwheat, Brazil nuts and cranberry seeds.
Brown-rice protein powder
Through a specialized manufacturing process that treats brown rice with enzymes that cause separation between the carbs and protein, protein manufacturers can produce a brown-rice protein powder that ends up being about 70 percent protein. Why bother? Because brown-rice protein ends up having more arginine than just about any other protein powder. We're talking four times the amount in whey. That means that taking brown-rice protein can do all the things that arginine does: increase the delivery of nutrients to the muscle, create a bigger pump during workouts and improve recovery from exercise.
But there's more. A study presented at the 2008 annual meeting of Experimental Biology reported that rats that were fed a high-fat, high-cholesterol diet but were also given rice protein for 50 days did not experience insulin resistance and elevated cholesterol and fat levels that rats receiving casein protein did.
The researchers postulated that the enhanced insulin sensitivity and reduced cholesterol and fat levels resulted from the activation of specific proteins known as PPARs (peroxisome proliferator-activated receptors) and LXRs (liver X receptors), both of which typically work by activating genes that decrease fat and cholesterol production, enhance fat burning and increase insulin production. Therefore, adding rice protein to protein shakes may help you lose body fat, gain muscle, and lower cholesterol.
Pea protein
As far as plants go, peas are fairly protein packed. So it should come as no surprise that pea protein powder is a good alternative protein source. Like brown-rice protein, pea protein powder is very rich in arginine, with almost three times the content as whey. It also contains significant amounts of glutamine and branched-chain amino acids.
Hemp protein powders
No, it won't get you high. Sourced from hemp seeds, hemp protein is a complete protein, made up of two major components: edestin and albumen, the latter of which is similar to the major protein in egg whites. Hemp protein is fairly rich in arginine and branched-chain amino acids, but it's rarely concentrated enough to contain high percentages of protein. Combine it with another protein powder to reap the benefits of its essential fatty acids and fiber.
Amino action
Why are we such proponents of mixing different types of protein powder? Because each type contains a different ratio of the 18 amino acids required by the body. This table compares the amino-acid content of 100 grams of the four most popular protein powders.
| Amino acid | Whey Protein (g) | Casein Protein (g) | Soy Protein (g) | Egg Protein (g) |
| --- | --- | --- | --- | --- |
| Alanine | 4.4 | 3.1 | 4.2 | 6.6 |
| Arginine | 1.7 | 4.2 | 7.5 | 5.6 |
| Aspartic Acid | 10.3 | 6.5 | 11.5 | 8.9 |
| Cysteine | 2.3 | 0.6 | 1.3 | 2.5 |
| Glutamic Acid | 16.2 | 20.6 | 19.0 | 13.5 |
| Glycine | 1.5 | 1.7 | 4.1 | 3.6 |
| Histidine | 1.5 | 2.9 | 2.6 | 2.2 |
| Isoleucine | 6.2 | 5.2 | 4.8 | 6.0 |
| Leucine | 9.5 | 9.2 | 8.1 | 8.5 |
| Lysine | 8.6 | 7.5 | 6.2 | 6.2 |
| Methionine | 1.9 | 3.3 | 1.3 | 3.6 |
| Phenylalanine | 2.8 | 4.8 | 5.2 | 6.0 |
| Proline | 6.4 | 9.7 | 5.1 | 3.8 |
| Serine | 4.6 | 5.7 | 5.2 | 7.3 |
| Threonine | 7.1 | 4.2 | 3.8 | 4.4 |
| Tryptophan | 7.8 | 1.5 | 1.3 | 1.4 |
| Tyrosine | 2.7 | 4.6 | 3.8 | 2.7 |
| Valine | 5.3 | 5.8 | 5.0 | 7.0 |
amino-acid content of 100 grams of the four most popular protein powders
Protein processing techniques
So, no surprise, protein powders don't exactly exist in nature. Instead, advanced processing techniques are required to turn, say, whole milk into whey isolate. And the degree of processing determines how much protein is in the powder.
Processing protein is, at its most basic, really about filtering out all the other components of the original product (i.e., carbs, fats, micronutrients, water) and then drying it out to get rid of any remaining liquid. More processed types of protein go through more intense filtration and therefore contain more protein and fewer other ingredients. It's easy to tell how much processing a protein has undergone because protein companies will tell you right on the label. Here's a glossary.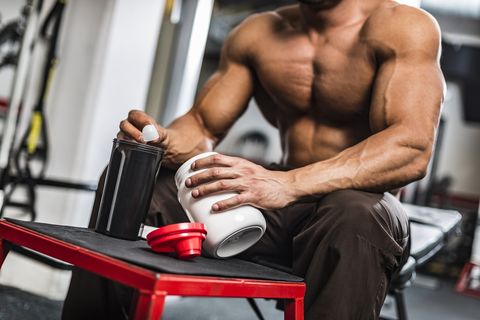 Concentrate
Protein concentrates have undergone the most minimal degree of filtration. For this reason, concentrates are also often the cheapest form of protein available. But the cheapest doesn't always mean the worst. Take whey protein, for example. Because of the minimal processing, most of those larger whey peptide fractions remain in whey concentrate as compared to other, more processed forms of whey. That means whey concentrate offers health benefits that whey isolate, for example, doesn't. Look for: whey protein concentrate, milk protein concentrate, and soy protein concentrate.
Isolate
Because isolates undergo additional processing steps or just longer filtration times, they are purer forms of protein than concentrates. As a result of the extra processing, they also contain fewer carbs and fat and therefore tend to be digested and absorbed faster than concentrates. Look for: whey protein isolate, milk protein isolate, soy protein isolate, and beef protein isolate.
Hydrolysate
This isn't a further filtration or purification step but rather an indication that a protein has been hydrolyzed or put through the process of hydrolysis. The result is that longer protein chains are broken into smaller peptide fragments; in essence, the protein has been predigested. That means that when you consume a hydrolyzed protein, it is digested and absorbed even faster than an isolate. Look for: whey protein hydrolysate (or hydrolyzed whey protein), hydrolyzed beef protein isolate.
| Protein | Concentrate | Isolate |
| --- | --- | --- |
| Whey protein | 70 to 80 percent protein | 90 percent protein |
| Milk protein | 80 percent protein | 85 percent protein |
| Beef protein | – | 99 percent protein |
| Soy protein | 70 percent protein | 90 percent protein |
| Goat-milk protein | 65 percent protein | – |
| Pea protein | 85 to 90 percent protein | – |
| Hemp protein | 50 percent protein | – |
The difference in the amount of protein between the concentrate and isolate form of some of the more popular types of protein
Putting protein powder to use: best time to take it
It's one thing to intimately understand the types of proteins available and how they are made, but it's another thing entirely to know how to make the different types work for you. What's required is a schedule and a mixing plan.
The schedule
There are four times during the day when protein powders are far superior to whole foods. During those windows, whole foods would be too slowly (or, in one case, too quickly) digested to be of much use to the body. Planning your shake consumption based on these windows is the first, most critical key to making protein powders work for you.
Window 1: Immediately upon awaking
The sun is out, the sky is blue, the birds are singing, and deep inside your body, your muscle tissue is screaming bloody murder. As you stretch and rub the sleep from your eyes, you've just completed a seven- or eight-hour fast (depending on how long you were in the Land of Nod). As a result, your body, which never stops needing amino acids to run smoothly, has been happily harvesting them from your muscles, which are, remember, simply repositories where your body stores protein.
To get your body to quit its barbaric behavior, you need to provide it with an alternate source of aminos, fast. An omelet is tasty, and eggs are a critical part of a training diet, but by the time you scramble them together, eat them, and digest them, your poor muscles will be that other favorite breakfast food. Yes, toast. Instead, take 20 to 40 grams of fast-digesting protein like whey protein hydrolysate, whey protein isolate, hydrolyzed beef protein isolate, or soy protein isolate.
Window 2: Preworkout
You know how your mom was always nattering on about how your brain couldn't function at school if you didn't have breakfast in the morning? Well, we're going to do the same, only it's about how your body can't work out right if you don't feed it properly before hitting the gym. Drinking a protein shake within half an hour of a workout accomplishes several things.
One, it can help you train harder for longer. Drinking that shake ensures that there are ample amino acids circulating in your bloodstream, readily available to be plucked up by muscles to be used as fuel. The branched-chain amino acids, especially leucine, are known to be particularly good fuel sources.
And two, flooding your system with aminos prevents muscle breakdown and promotes recovery (yes, recovery) while you're still working out. Remember that the body will harvest aminos from muscle tissue if it needs them, and because the very act of working out damages muscle tissue, gym time is a particularly tough time for muscles. The repair process, which is, of course, what stimulates muscle growth, starts immediately after you put the weight down, even if you're in the middle of a set.
What you need to facilitate all these processes is 20 grams of fast-digesting protein like whey or soy 30 minutes before every workout.
Window 3: Postworkout
So you've got the recovery process started by priming your body before workouts, but you need to keep your body's recovery machinery humming by following that up with more protein immediately after finishing that last rep. The goals are these: Keep muscles bathed in circulating amino acids and growth hormone to improve protein synthesis, and enhance blood flow by increasing nitric oxide levels.
You can accomplish both these goals by having a 20- to 40-gram shake within 30 minutes after workouts. The best protein choices are fast-digesting, like whey, soy, or beef. However, it has recently been shown that adding a slow-digesting protein like casein to a postworkout shake can further enhance muscle growth, most likely because its slow digestion rate keeps the flow of aminos — and therefore protein synthesis — going over a longer period.
Window 4: Before bed
It may seem odd that it's incredibly critical to fuel your body before doing something that seemingly requires as little energy as sleeping. But just because you're not using your muscles much while you lie prone for eight hours doesn't mean that your body is not metabolically active. It still requires fuel while you're unconscious, and because you can't provide it by eating, it gets to work using the stores it has built up, including all those tasty aminos that are chilling in your muscle tissue.
By drinking a shake made with 20 to 40 grams of a slow-digesting protein like casein right before bed, you can provide your body with a steady supply of aminos for at least a few hours, delaying — and therefore reducing — the breakdown of muscle tissue.
Optional window: Between meals
Protein shakes also can make snack time easy, particularly when you're away from home or are trying to lose weight. Whey protein powder has been shown to boost levels of a hormone called cholecystokinin, which makes you feel fuller, and reduce levels of ghrelin, the hormone that controls hunger and glucagon-like peptide-1, another compound involved in feelings of hunger.
Table: Which proteins are best when
| Protein Type | Morning | Between Meals | Preworkout | Postworkout | Bedtime |
| --- | --- | --- | --- | --- | --- |
| Whey | xxxxx | xxxx | xxxxx | xxxxx | x |
| Casein | x | xxxx | x | xxx | xxxxx |
| Egg | xxxx | xxxxx | xxx | xxx | xx |
| Soy | xxxx | xxx | xxxx | xxxx | x |
| Brown rice | xx | xx | xxx | xxx | xx |
| Goat milk | xxx | xxxx | xxx | xx | xxx |
Ideal: xxxxx, Less ideal: x
Closing thoughts about protein powder supplements
It should be fairly clear by now that each type of protein powder readily available on the supplement market today offers unique benefits, whether it's the speed at which it is digested or the amino acids it contains the most of or bonus components like antioxidants or fiber. That's why the absolute best way to use protein powders is to mix them together — or buy a product that includes a blend of different types.