The resistance band Pallof press is a highly effective anti-rotational core stabilization exercise that helps athletes resist spinal flexion, extension, and rotation. It isometrically challenges the obliques and the rectus abdominis to resist spinal and pelvic rotation and the sheer forces generated in rapid turning, change of direction, and agility movements.
In this post you'll find out how to perform the band Pallof press with a long resistance band wrapped around a power rack or a similarly sturdy implement at approximately chest height.
Exercise instructions
Here are step-by-step instructions on how to perform the resistance band Pallof press with perfect form.
STARTING POSITION (SETUP):
Start by attaching a resistance band to a fixed anchor (sturdy object) at chest height.
Set your body so that it is a few steps away from the anchor position while holding the band in both hands.
Take a few extra steps so that, when your hands are out in front of you and you are holding the band, a 90-degree angle is created between the band and the shoulders.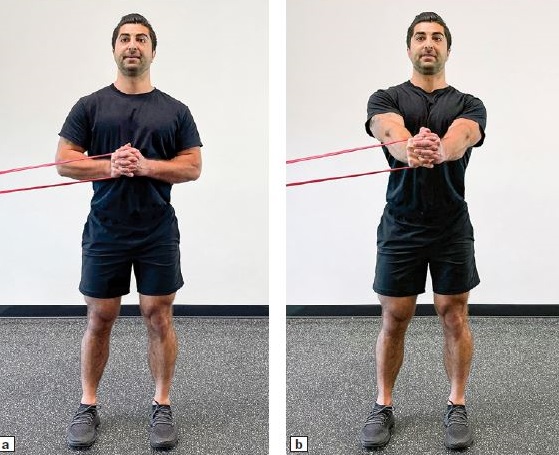 MOVEMENT (ACTION):
With both hands clasping the band, pull your hands into the sternum and squeeze the shoulder blades together. This will help to properly set up the upper back and ensure proper posture.
While keeping the core contracted, the lower back flat, and shoulder blades depressed and retracted, slowly extend your elbows straight in front of your chest. You should feel tension in the band.
Repeat and reset for the appropriate number of repetitions (10-12).
After completing the repetitions on one side, turn 180 degrees and perform the same movement against the resistance from the other side of the body.
Key points & Performance pointers
There are some tips that will help you get even more out of this already amazing core exercise.
This movement should be slow and controlled. Rather than trying to complete the repetitions as quickly as possible, focus on engaging the core muscles and keeping the body tight.
Resistance band is going to want to rotate your body inward, so make sure to keep tension in the body. Only the arms should move, not the torso or hips.
Maintain the position without rotating your trunk or pelvis.
If you find it difficult to prevent the hips from moving, try widening your stance or use the resistance band with lower intensity.
Resistance band Pallof press video demonstration
This video is designed to show you exactly how to perform the resistance band Pallof press using perfect technique so you can get the most from this great core exercise.
Muscles involved
Primary: Transversus abdominis, internal oblique, external oblique, rectus abdominus
Secondary: Serratus anterior, multifidus, erector spinae (iliocostalis, longissimus, spinalis)
Exercise variations / modifications
Therefore, you can alter this exercise by assuming different positions, such as half-kneeling, tall kneeling, or even a split stance. You could also add a lift after the initial press and hold. Another variation is squatting while doing the press. You can play with different squat depths to challenge your core and hips at different angles, and so on.
Replacement Exercises
Try these other core exercises.
Closing thoughts for resistance band Pallof press
The Pallof press is classified as an antirotational movement. The goal of the exercise is to develop stability and strength to prevent rotation. Preventing rotation allows the body to resist forces acting upon it that may try to rotate or move it in an injury-producing fashion. This concept is especially important for groundstroke movements in tennis and the ability to handle the rotation that occurs when swinging at high velocity.