Reverse Grip Cable Triceps Pushdown
In this post you will learn how to perform reverse grip cable triceps pushdown safely and effectively to achieve maximum results from this great isolation exercise for the triceps muscles.
This bodybuilding exercise is the reverse version of the cable triceps pushdown. Reverse (underhand) grip places more emphasis on the medial triceps head (allegedly). Therefore it is good to use both overhand and underhand grips on your triceps pushdowns for balanced development.
How To Perform Reverse Grip Cable Press-Down – Correct Form
Starting position (setup)
Attach a straight bar to a high pulley cable. Stand facing the weight stack and position one leg slightly in front of the other. Grasp the bar with a narrow hand spacing (about shoulder-width), underhand grip (palms facing upward). Begin with your forearms just above parallel with the floor and your elbows in close to your sides.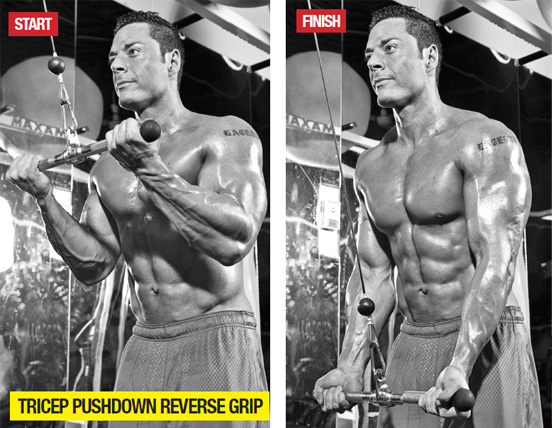 Movement (action)
Keeping your elbows in, contract your triceps to extend your elbows until your arms are straight. Squeeze your triceps for a count, then return to the start position.
Muscles Involved in Reverse Grip Cable Triceps Pushdown
The reverse grip cable triceps pushdown is a single-joint (sometimes called isolation) movement that isolates the triceps (medial head in particular) without the assistance of other muscle groups or joints.
Main muscles: triceps
Secondary muscles: anconeus
Antagonists: biceps, brachialis, brachioradialis
Reverse Grip Triceps Pushdown – Tips & Tricks
Keep arms close to side.
Only the forearms should move and the elbows (upper arms) should be stationary by your side at all times.
Keep your head up and eyes forward throughout the exercise.
Push the bar downward moving only at your elbows. Continue pushing until your arms are fully extended. The bar may touch the front of your thighs.
The posture of your body is identical to other versions of the pushdown in that you have to be sure to keep your knees unlocked with your chest up and your abs pulled in tight, putting yourself in the strongest position possible.
Reverse Grip Cable Pushdown Variations
You can also perform this triceps exercise one arm at a time by attaching a D-handle to the high pulley (one arm reverse grip cable pushdown). This will allow you to better isolate the triceps. It is claimed that this works the medial head harder (a debatable point), although the weaker grip means you will have to use even less weight.
Attach a D-handle to a high pulley. Use an underhand grip and pull the weight down until your arm is straight. Keep your elbow pressed to your side, so only your forearm is moving. Return to the starting position. After you've completed the set number of reps with one arm, do the same with your opposite arm.
With this version you can self spot yourself by placing your hand over your forearm and applying some pressure to help you perform more reps than before. Using a single arm at a time helps you focus more on performing the exercise correctly.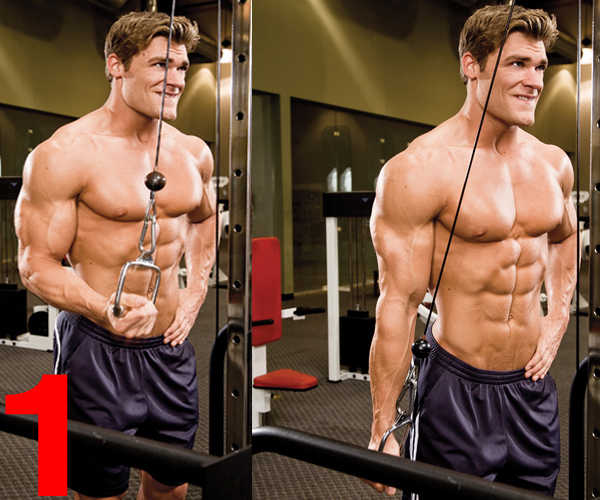 Replacement Exercises
To add variety to your triceps workout routine, replace reverse grip cable triceps pushdown with a different exercise that works the same muscles. You can perform many other triceps exercises using a barbell, using a pair of dumbbells, cables and machines. Ideally, the modification or alternative exercise will still work the same type of motion or movement pattern (pushdown movement) but in a slightly different manner. This will ensure that your body still gains strength in a certain move, but the exercise is different enough to spur huge gains.
Closing Thoughts
While this exercise works the entire triceps, it is especially good for strengthening the medial (lower inside) head of the triceps (although this is very debatable point). Why? The triceps are not connected to the hand, so it doesn't know, nor care, whether you're using a rope, a V-handle, short bar attachment or a reverse grip on a straight handle. The triceps is extending the elbow in the exact same way, regardless of the grip.
While the medial head is fairly small, it has an important function in supporting the elbow joint and assisting the other two triceps heads even when they're being targeted.
Furthermore, this is the one part of the triceps which is pretty hard to build, which is mainly because the only way to engage it is to take an underhand-grip while working triceps. That's why it is important that you start incorporating reverse grip cable triceps pushdown into your training routine.