Spend enough time in the fitness or nutrition field, and you're sure to see someone wave a caution flag, warning you that a high-protein diet is dangerous to your kidneys. However, again, it's not what this or that so-called expert claims; it's what the weight of the scientific evidence dictates. In this article we will examine the safety and the alleged negative effects of high-protein diet. Despite the fact that most scientific studies go in favor of high-protein diet, you should always speak to a health care professional if you have any hesitations or underlying health issues that a high protein diet may impact.
Let's see are there any true risks associated with eating too much protein.
Will high protein intake cause kidney damage?
In a 2000 study, researchers looked at bodybuilders and other well-trained athletes whose protein intake was judged to be either high or medium relative to their body weights. They took blood and urine samples to see if there were signs of kidney problems.
The researchers found that the athletes' nitrogen balance became positive (that is, they had enough protein to build new muscle tissue) when their daily intake exceeded 0.57 grams per pound (1.26 grams per kilogram) of body weight. They saw no link between protein intake and creatinine clearance, albumin excretion rate, or calcium excretion rate, any of which, if elevated, would suggest that a high-protein diet was potentially dangerous.
Their conclusion: "Protein intake under 2.8 grams of protein daily per kilogram (2.2 lb) of body weight does not impair renal function in well-trained athletes, as indicated by the measures of renal function used in this study".
In a 2005 study, the researchers suggested that "while protein restriction may be appropriate for treatment of existing kidney disease, we find no significant evidence for a detrimental effect of high protein intakes on kidney function in healthy persons after centuries of a high-protein Western diet".
Therefore, with regards to the protein issue, it should be noted once again that kidney problems resulting from a high protein intake have only been noted in individuals with preexisting kidney problems, and little human data exists to suggest that a high protein intake will cause kidney damage.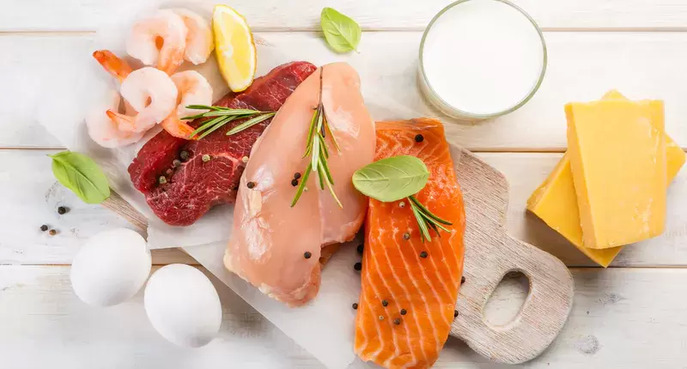 Is a high-protein diet harmful to your bones?
Another question that arises: Is a high-protein diet harmful to your bones? Not only is that statement based on a myth, it's a completely backward myth.
A 2002 study concluded that "excess protein will not harm the skeleton if the calcium intake is adequate". And a review study published in 2003 showed that people with chronically low protein consumption were at higher risk for having a lower bone density and more bone loss.
A 1998 study found that protein supplements help elderly folks heal faster from bone-related injuries. They looked specifically at femoral fractures – the large leg bone that connects with the pelvis to create the hip joint – and found that supplementing with 20 grams of protein a day reduced bone loss and allowed seniors to return home sooner from rehabilitation facilities.
Is a high-protein diet causing high blood pressure and exacerbation in blood lipids?
Once again, not only is that statement based on a myth, it's a completely backward myth.
In addition to improvements in blood lipids, high-protein diets have also been associated with improvements in blood pressure.
Epidemiological studies have linked high-protein diets with lower blood pressure and decreased risk of cardiovascular disease. OmniHeart was a study that compared the effects of three diets on blood pressure, cholesterol levels, and heart disease risk. The diets used in the study were variations of the Dietary Approaches to Stop Hypertension (DASH) diet, which emphasizes low sodium intake.
One diet was the control, with high amount of carbohydrates. Another diet partially replaced carbohydrates with protein with about half from plant sources, whereas another diet partially replaced carbohydrates with unsaturated fat, predominately in the form of monounsaturated fat.
It was found that in the setting of a healthy diet, the diet with more protein intake showed better improvements on blood pressure, lipids, and estimated risk of cardio-vascular disease compared to the other diets.
However, keep in mind that some high-protein diets include foods such as red meat and full-fat dairy products, which may increase your risk of heart disease! If you decide to follow a high-protein diet, choose your protein wisely. Good choices include eggs white, beans, nuts, fish, skinless poultry, lean beef, pork and low-fat dairy products. Avoid processed meats.
Conclusion: Are there dangers to eating too much protein?
For all healthy people, a high-protein diet generally isn't harmful, particularly when followed for a short time. Such diets may help with weight loss by making you feel fuller.
The takeaway is that, in general, more protein in your diet is better than less, especially when your primary goal is body composition – maximum muscle, min­imum fat. A good daily target is 1 gram of protein per pound of body weight. Unless you have kidney disease, there's no reason to think a high-protein diet is dangerous. The real danger to your health comes from a low-protein diet. It's bad for your body composition, bone density, and metabolism.
However, although a high protein diet can promote potential benefits to a number of health markers (reduce fat mass, improve lean mass, lower triglycerides, repair tissues, boost energy levels, etc) it may not be suitable for every individual, especially those with specific conditions. Make sure you seek advice and guidance from a health care professional before altering your diet.