Side Bends On A Hyperextension Bench
In this exercise guide you will learn how to do side trunk raises on a 45-degree hyperextension bench. Learn correct technique (proper form) with our demonstration video, photos, and additional tips.
Other name for this exercise: Roman Chair Side Bends / 45-Degree Side Bends / Roman Chair Side-Up
Side bends on a hyperextension bench target your obliques. This exercise is best performed on a hyperextension bench (Roman chair) – a piece of apparatus found in most gyms that has a ledge behind which you can secure your feet. This type of bench was originally designed for lumbar extension. Roman chair allows you to support your hips and legs against pads and braces, with your trunk free to move. It may also be done on a regular flat exercise bench, in which case you will need a partner to hold your feet.
How to Perform Side Bends On A Hyperextension Bench
Lie sideways on the Roman chair (or on a 45 degree hyperextension bench) with your hips on the seat and your trunk unsupported. Adjust the seat so that your upper body can pivot comfortably at your hips toward the floor. Cross one leg over the other and secure your feet on the support platform. Cross your hands over your chest or place your uppermost hand behind your head.
Lean slowly sideways towards the floor as far as possible and comfortable. When your upper body is at least parallel to the floor flex your obliques hard as you return to your starting position. After completing the set, repeat the action with the other side.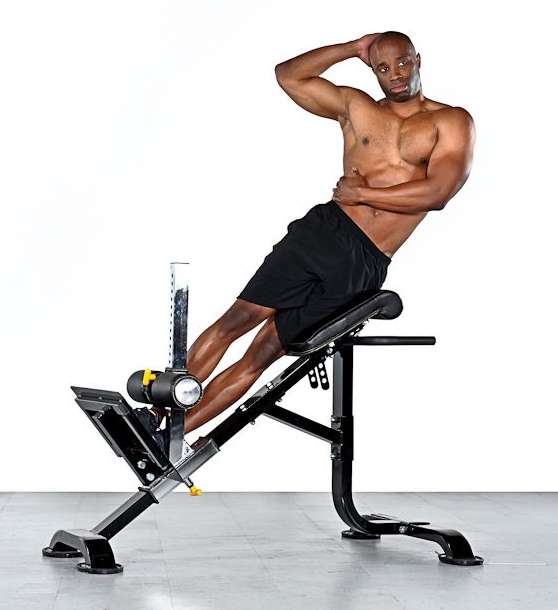 Exercise Key Points To Remember
Make sure the pad is properly placed against your hip.
Take care not to lean forwards or back (only sideways). In other words, move your torso only laterally. Rotating the trunk (or even the hips) to the right or left

is the biggest mistake

.
Lower the trunk almost as far as it can go (thereby placing the targeted muscles on maximum stretch).
Pull yourself back up slowly and under control.
Raise the trunk as high as possible (30-45° past the neutral position).
Keep your knees straight to ensure that the hip joint muscles stabilize the pelvic girdle and that the trunk and spinal muscles do the work.
Exercise Variations
Side bends on a hyperextension bench are great exercise that you can add weight to by using a dumbbell in the hand closest to the floor, a weight plate against your chest, or a weight plate behind your head.
Muscles Engaged
Joint movements: lumbar lateral flexion
Lumbar lateral flexion is the sideways movement of the thorax toward the pelvis.
Muscles most involved in joint movements: quadratus lumborum, rectus abdominis, external oblique, and erector spinae (on one side) and internal oblique (on the opposite side).
Exercise Video Demonstration
This video will show you exactly how to perform this exercise safely and effectively.