Is one set (single-set training regimen) enough to build muscle and strength? In this article we will try to answer this important question by referring to the latest scientific research conducted in this field.
What is single-set training?
Single-set training is doing only one set of repetitions per exercise in your training session. On the contrary, in multiple-set training you perform more than one set of reps per exercise. For example, a single set of squats could be 1 set of 15 repetitions, where a multiple set session could be 3 sets of 12 repetitions.
Single versus multiple sets debate
There is an ongoing argument over whether to use a single set for each exercise or multiple sets per exercise. Some experts argue that it doesn't matter if you fatigue your muscles in one set or several sets, as long as your muscles experience exhaustion. Others equate more sets with greater muscular gains.
This stems from the fact that if you are doing nothing (so far you've just been sitting on the couch for the last five years), one set of each exercise will provide noticeable benefits. However, this argument doesn't apply to athletes, because they are already involved in an exercise program of some sort. For athletes, a single set has clearly been shown to be inferior to multiple sets, but the exact number of sets you need has not been defined. What scientific research has shown is that for each goal there is a range of sets that provides the most benefit:
Muscular endurance: 2–3 sets
Hypertrophy: 3–5 sets
Power or strength: 3–6 sets
Again, there is an overlap. There are fewer sets to complete for muscular endurance compared to strength, power, and hypertrophy. To some extent, there is an inverse relationship between the number of reps for each goal and the number of sets you complete.
In order to develop muscular endurance, you are doing the most reps but the smallest number of sets. To focus on power and strength, you are doing the fewest reps but the most sets. This is all a function of exercise volume, which is the total amount of weight you lift during an exercise or workout. It is calculated by multiplying sets times reps times weight.
Setting weight aside, a balance is created by adjusting the levels of sets and reps. As one goes up, the other goes down. This helps to keep the volume of exercise you do fairly even over time and as you progress through goals.
Another reason that the number of sets goes down as the number of reps goes up is to prevent overuse injuries. Even with a relatively light weight, doing rep after rep will eventually wear on your joints. To prevent this, the number of sets is decreased. As the weight gets heavier and you do fewer reps, there is less chance of repetitive motion injury, but you will need to do more sets to give your body enough stimulus to improve.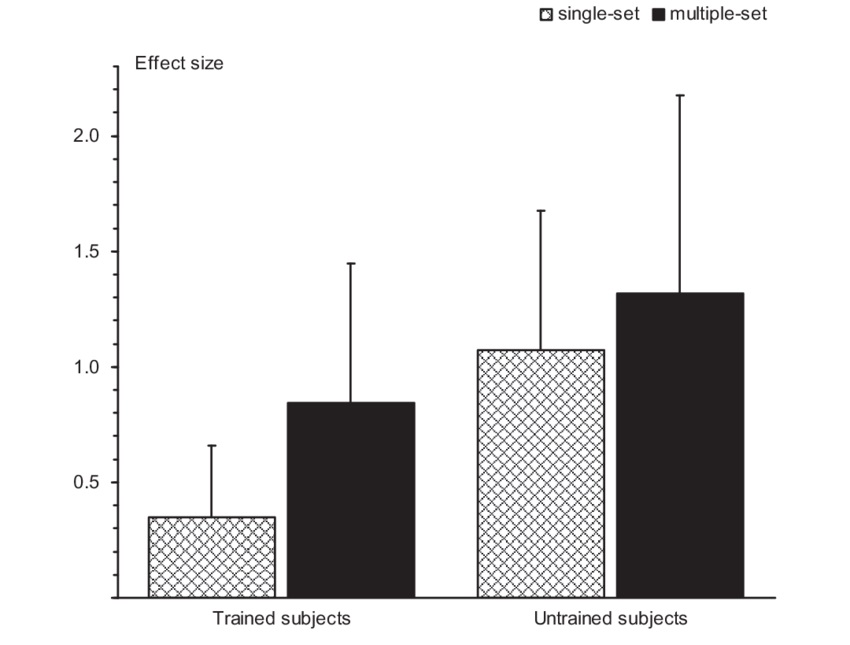 Pros and cons of single-set training
Based on what has already been said in this article, we can conclude that a single-set training has the following advantages and disadvantages:
Advantages:
suitable and efficient for beginners in strength training
it takes so much less workout time
preserves strength
offers flexibility
Disadvantages:
less effective for people with some experience in exercise (those who've worked past the beginner stage)
totally ineffective for athletes and experienced lifters
increase in strength or muscle mass may be only symbolic or absent altogether
offers only some short-term effects (in the long run, no result is available)
How to get the most out of a single-set training regimen?
If you're wondering how to get the most out of a single-set training, here's what you can do: use heavy weights in order to fatigue your muscles (use the heaviest weight that allows you to complete all of the prescribed or desired repetitions with perfect form), go slowly (especially when lowering the weight), avoid using momentum while performing exercises (no jerking, bouncing, or slumping), and stay highly focused.
Closing thoughts
Studies have compared a popular single-set training approach to multiple-set exercise programs. In the initial stages of a resistance training program (for untrained individuals) you can expect almost similar strength benefits coming from single-set training, when compared to multi-set training. This is probably due to the fact that early training adaptations are a result of neural adaptations (e.g., improvements in muscle activation and coordination). Therefore, initially, one set of exercise will get you stronger, give you nice results and minimize the time you have to spend lifting.
However, this is in contrast to athletes and experienced lifters, where research has shown that multiple sets result in greater strength gains than single-set programs. Trained athletes simply require a higher training volume (sets and reps) than untrained athletes. Studies have shown that multiple-set programs are far more superior for improving strength and muscle mass in trained individuals, with one study showing equivocal findings.
Finally, single-set training systems are an effective alternative for those who have limited time for resistance training and whose goal is not to maximize strength gains and muscle mass but rather build a functional strength base to enhance their activities of daily living (e.g. non-athletes, rehabilitation patients, elderly, etc).