Smith machine hex press is an excellent but somewhat forgotten and highly underrated chest exercise. In fact, to be completely honest, this exercise never even experienced its moment of glory. You rarely see it in gyms, and when you do, it's often greeted by bemused looks by bystanders who don't know what on earth it is meant to be. It's a bit sad because this exercise has great potential. Most people look no further than flat bench and incline chest press or different angled fly movements when changing up their chest routines.
This exercise targets inner chest and creates definition to the overall chest. We decided to make an article about this excellent exercise in the hope that you will be the first in your gym to demonstrate the proper technique of performing this exercise to others.
What do we actually mean by chest definition? As you know there is a space (a vertical column) between the two pectoral majors attach to the sternum. For a well-defined inner chest, these attachment points need to be as built up as possible. That way you will ensure that each individual pectoral muscle is precisely separated from each other, and looks like it has been carved out of granite.
Exercise instructions – proper technique
Follow the instructions below in order to perform this chest exercise correctly and effectively.
STARTING POSITION (SETUP)
Position the bench lengthwise across the Smith machine.
Set the bench to flat or if you want to target your upper chest more, set it to incline. For this exercise instructions, we use a flat bench.
Lie back on the bench with your feet firmly on the ground.
Position V bar attachment on the Smith bar.
Align yourself under the bar so that the attachment/bar falls directly between the pecs at the lowest point of the press.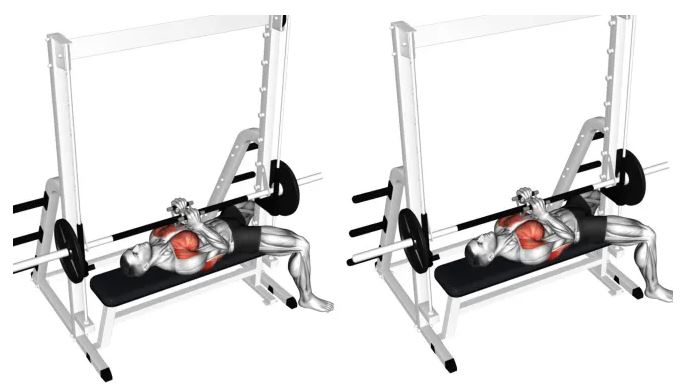 ACTION (MOVEMENT)
Push bar up to unlock and begin to slowly lower the weight until the V bar attachment touches your chest.
Explode upward using your chest muscles and squeeze for one second at the top.
Slowly lower weight through the eccentric movement towards your chest.
Repeat for desired amount of reps (usually 10-12 reps).
Smith machine hex press: video demonstration
This video will show you exactly how to perform this exercise safely and effectively.
Additional tips & performance pointers
Here are some useful tips to which you should pay attention while doing Smith machine hex presses.
Always keep the weights directly over your chest at all times.
Holding the bar without the attachment can cause wrist strains. Also, hold the attachment using neutral grip – palms facing each other.
Press the bar back up along the predetermined path of motion to the arms-extended position without locking out your elbows at the top.
Avoid dropping the weight quickly.
Do not bounce the bar off your chest or arch your back.
Muscles engaged in Smith machine hex press exercise
Smith machine hex press exercise effectively targets the inner chest and provides definition to the overall chest. It targets inner chest more by encouraging you to move your arms towards your chest midline.
The primary muscles involved in the Smith machine hex press are the pectoralis major, triceps and anterior deltoid (front shoulder). More precisely:
Main muscles: pectoralis major, triceps, deltoids (anterior)
Secondary muscles: coracobrachialis, serratus anterior, subscapularis
Antagonists: latissimus dorsi, biceps, deltoids (posterior)
The nature of this particular movement allows for plenty of tricep activation as well, making the Smith machine hex press a top choice to incorporate into a "push" day routine.
Replacement Exercises (Substitutes)
To add variety to your inner chest workout routine, replace the Smith machine hex press with a different exercise that works the same area of the chest. In other words, you can use dumbbells, cables, barbells, a gym machine or your own body weight to perform. Ideally, the modification or alternative exercise will still work the same type of motion or movement pattern (pressing your arms towards your chest midline) but in a slightly different manner. This will ensure that your body still gains strength in a certain move, but the exercise is different enough to spur huge gains.
Here is the list of the 11 best exercises that focus more on inner chest and helps to build well-developed chest.
Closing thoughts about the Smith machine hex press
Smith machine hex press puts more of the pressure into the inner chest. This means that there is more tension and more pushing power being asked of the muscle fiber there. This is highly important since inner chest can be a stubborn area to build, since it has bigger and stronger fibers. Ultimately, this will lead to both greater hypertrophy in the target area, and greater overall chest strength and definition. Use the hex press as a supplement to your regular presses to see your chest outperform in a way it likely would never otherwise be able to.