In this tutorial, you'll find out how to execute a standing dumbbell chest fly exercise. This upper chest exercise is sometimes also known as "standing low to high dumbbell fly", or "standing upward chest fly". It's very similar to the low-pulley cable fly exercise. The only major difference is that you will be using dumbbells here instead of cables. That way you can perform this movement at home, especially if you don't have access to a cable pulley machine. With only a pair of dumbbells, you can make your chest area (especially the inner chest) broader and more developed.
It's very important not to confuse this exercise with a standing dumbbell lateral raise exercise which targets your anterior deltoids. It may really look like a front delt raise at first glance, but in this case, the arm position and angle you move your arms enable you to target the mid to upper chest.
Exercise instructions for standing dumbbell chest fly exercise
STARTING POSITION (SETUP):
Start by holding a medium-weighted dumbbell in each hand, with your feet shoulder-width apart.
Keep your arms extended straight by the side of you, with your palms facing each other (neutral grip).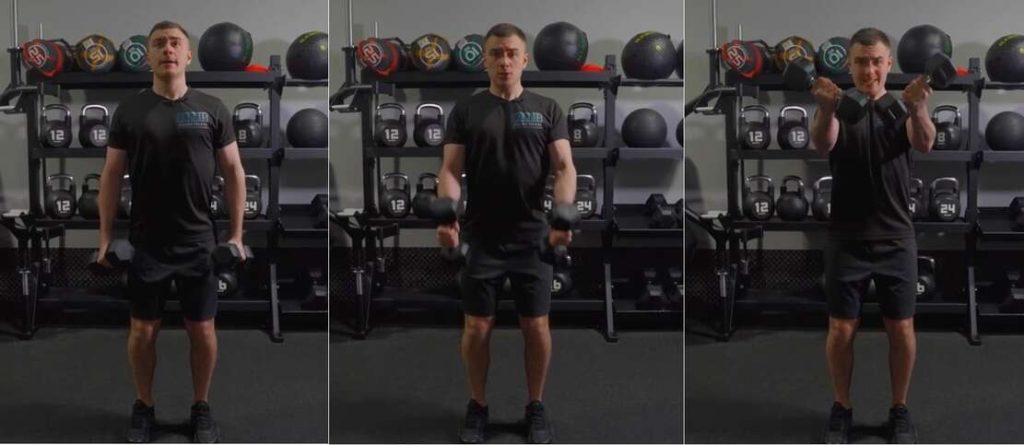 MOVEMENT (ACTION):
Slowly and without jerking, bring the dumbbells up while keeping your arms slightly bent.
Stop when your arms are at or below your chest level.
At the top of the movement, your palms are facing upward.
Pause briefly at the top of the movement and then slowly and under control bring the dumbbells back to the starting position (each hand by your sides).
Repeat for the prescribed number of repetitions.
Muscles engaged in standing low to high dumbbell flyes
The standing dumbbell fly is an isolation exercise that targets the chest muscles (specifically the pectoralis major). More precisely:
Primary muscles engaged: Pectoralis major
Secondary muscles and stabilizers engaged: Anterior (front) deltoid, biceps brachii (short head), brachialis, levator scapulae, latissimus dorsi
Additional tips & performance pointers for standing dumbbell flyes
Here are some useful tips you should pay attention to while doing standing dumbbell flyes.
Look for your movements to be slow and controlled to avoid using momentum and engaging other unwanted muscle groups.
Try to focus on the eccentric contraction.
Exhale during the concentric (muscle-shortening) part of the motion. Inhale during the eccentric part of the motion.
Keep your shoulder blades squeezed together and avoid arching your back.
Internally rotate your wrists towards the top of the movement to allow for maximum contraction of the chest and, therefore, create a little more hypertrophy in muscle fibers.
Your hands and arms move through an arc while the elbows stay at a constant angle.
Use a lighter pair of dumbbells to ensure correct form.
Exercise variations
You can do several variations with the basic exercise. Firstly, you can perform this exercise in a seated position. Secondly, you can do standing single-arm dumbbell chest flyes (using one arm at a time). This last variation is especially useful for improving muscle imbalances between the left and right sides of the body.
Replacement exercises (substitutes)
If you want to target your upper chest muscles using only flying motion you can perform the following exercises instead of standing dumbbell chest flyes.
Closing thoughts about standing dumbbell chest fly exercise
Standing dumbbell chest flyes can be a good exercise for targeting the chest muscles when performed correctly as part of a well-rounded fitness program. However, we strongly recommend replacing this exercise with the low-pulley cable fly exercise when possible. This is mainly because cables provide many benefits over dumbbells – you're able to maintain steady, constant tension throughout the entire exercise (range of motion). We also recommend performing this isolation exercise after big compound lifts for the chest, like the bench and incline dumbbell press. Therefore, it can be a great finishing move and a great way to focus on your chest after many pressing exercises.