Pros and Cons of Recumbent Bikes
You can do your aerobic/cardiovascular workout at home, at a gym, or at a health club. If you decide to work out at home, you'll need to invest in some equipment: a stationary or recumbent bike, skiing machine, treadmill, or stepping machine. Most gyms have bikes, elliptical trainers, treadmills, and stair-stepping machines, and many also offer aerobic exercise classes. The choice is yours. Simply choose cardio equipment that best suits your needs. In this post you will find out everything you need to know about recumbent cycling.
Upright stationary bike & recumbent stationary bike
You know what a stationary bike looks like, but you may not be familiar with a recumbent bike. In other words, stationary bikes come in two varieties: upright and recumbent. Upright bikes simulate a regular bike, only you don't go anywhere. The principal difference is the seat. A stationary upright bike has a typical saddle seat, while a stationary recumbent bike has a wide, cushioned comfortable seat with back support. That means that you have to pedal out in front of you.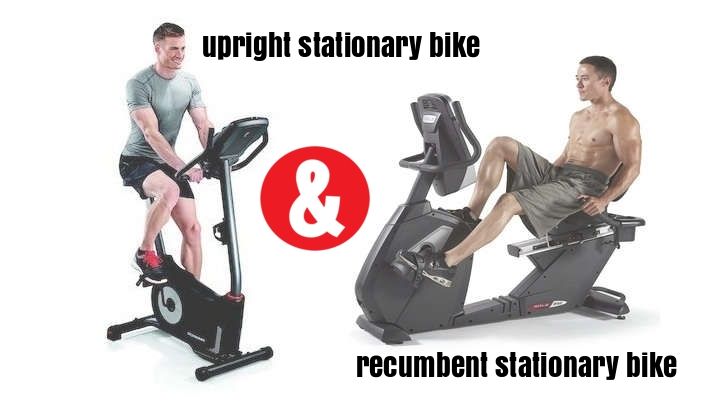 The benefits and downsides of the recumbent bike
The benefit of the recumbent bike is that it supports your back and can be a little more comfortable than an upright (you don't have to crouch to hold the handle). Your whole upper body is relaxed above your hips.
Recumbent bikes also suit anyone who wants to read while working out. Holding a book or magazine in place on a stair-climber or treadmill is much tougher — and it's impossible on a skier or rowing machine.
The downside is that you have to work harder to get your heart rate up on the recumbent bike. So if your goal is to burn the maximum number of calories, choose the upright bike. Furthermore, with a recumbent bike you will not be able to lift your body off the seat to pedal with greater force and exertion, simulating sprinting or climbing hills. You can adjust the resistance of a recumbent bike, but can't perform these variations.
Muscles engaged
Your legs will perform the same pedaling action as with road biking, but the action will come more from the hamstrings than from the quadriceps because of the reclining position.
Closing thoughts / Final verdict
With your upper body, torso, and even your butt at rest, the recumbent bike asks your body to do almost nothing but move your legs. If you're looking for a chair to sit in while you read a book or catch up on your favorite Netflix episodes, this is your guy. However, if you're very overweight, a recumbent bike or elliptical trainer should be your first choice for an aerobic/cardiovascular workout. Furthermore, recumbent cycling is recommended for those with back problems because of the back support offered by the seat.