This middle chest exercise involves performing a push-up with your hands on a Swiss ball instead of the ground. Performing a push-up from a Swiss ball creates a unique challenge and adds an extra degree of difficulty. Not only do you need to perform the push-up motion, but you also need to stabilize your body to keep the ball from moving. The instability from the ball requires increased muscle activation throughout the core and shoulder complex. Additionally, you have to compress the sides of the ball inward so that your hands don't slip downward to the floor. This exercise is also an excellent way to build the triceps when minimal equipment is available.
Exercise instructions for the Swiss ball push-ups
Follow these steps to perform the Swiss ball push-ups safely and effectively.
STARTING POSITION (SETUP): Place your hands shoulder-width apart on a large Swiss ball, fingers angled slightly outward. Get into the top position of a push-up with your feet approximately hip-width apart and your toes resting on the floor (see figure a). Your body is aligned from neck to ankles.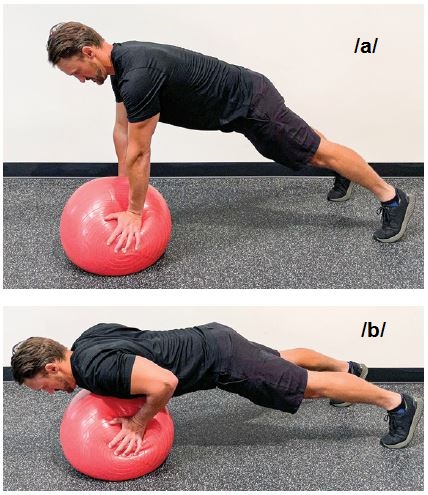 MOVEMENT (ACTION): Squeeze your glutes, brace your abs, and then lower your body until your chest touches the ball, or as far as your strength allows (see figure b). Push up until your elbows are locked straight and repeat.
Advantages
Performing a push-up on a Swiss ball increases muscle activation throughout the anterior core and shoulder stabilizers.
This variation emphasizes the development of the triceps when free weights aren't available.
Additional tips & tricks
In the early stages, start with a large, fully inflated ball. As your strength increases, progress to a smaller ball with less air in it.
Adjust your hand position depending on the ball size. The wider ball requires a wider hand position.
Avoid letting your hips sag or drop during the exercise. This is a very common mistake people often make since your upper body sits higher than in a normal push-up.
In order to increase the stability of your body (and avoid shaking) you can spread your feet wider. This will create a more stable base.
Muscles engaged
Stability ball push-ups target your pectoralis major. However, they will also hit your front deltoids and triceps, since these muscles assist in just about every version of the movements. Push-ups, especially when done with the stability ball, will tighten and tone your core muscles. Your rotator, trapezius, serratus anterior, and abdominals all contract to keep your shoulders, core, and hips stable as you perform the move.
Main muscles: pectoralis major, triceps, deltoids (anterior)
Secondary muscles: serratus anterior, coracobrachialis, subscapularis
Antagonists: latissimus dorsi, biceps, deltoids (posterior)
Exercise variations for the Swiss ball push-ups
Make sure you work up to these exercise variations. If you don't have a good grip on the stability ball, your hands can slip, which may result in injury.
ELEVATED FEET SWISS BALL PUSH-UPS. If you want more difficulty, try to perform the push-up with your feet resting on top of a bench. So, place your feet on the exercise bench that is about the same height as the ball. Place your hands on the ball. Slowly lower your chest toward the ball until your elbows reach a 90-degree angle. Push yourself back up into your original position. Perform 10 repetitions with perfect form. Add two repetitions a week as long as you can maintain perfect form for each repetition. Start slowly and progress gradually, as this is very difficult.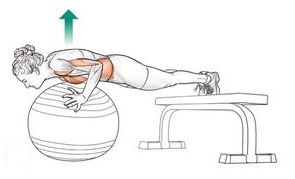 SWISS BALL PUSH-UPS WITH ONE LEG LIFT OFF THE BENCH. Once you've mastered the bench version (see the image above), try lifting one foot off the bench while keeping your knee straight. This makes the exercise very tough.
BOSU BALL PUSH-UPS. Flip a BOSU ball over onto its dome. Grip the sides or place your hands on top of it, and extend your legs straight behind you. Holding your body in a straight line, lower your chest to the ball, and then return to the starting position. This is a great variation if your find Swiss ball push-ups too challenging.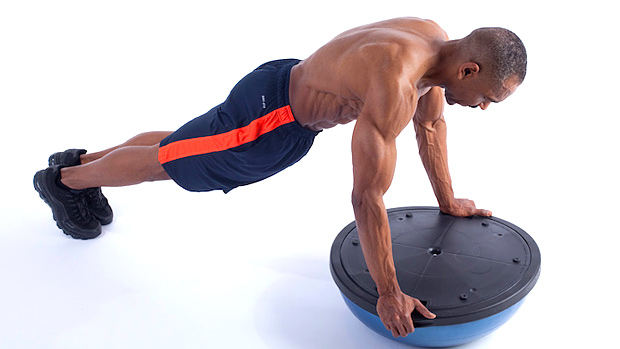 Replacement exercises
You can replace the Swiss ball push-up with any other pressing middle chest exercise.
Examples of pressing middle chest exercises (three of which refer to different varieties of push-ups):
Closing thoughts
From school gyms to military boot camps, the push-up is the go-to exercise. Sure, it builds great pecs, but it also does so much more – it's a powerful core strengthener that builds power for daily activities and gets you in shape for other fitness pursuits. This is also an exercise with seemingly endless variations that change up its effects Balancing on a ball, for instance, forces you to fully engage your core.