Ten most important cardio training rules/tips
If you're going to do cardio, you want to make it worth your while. Keep these ten important cardio training rules in mind to maximize the amount of fat you burn (and the amount of muscle mass you maintain) during your sessions.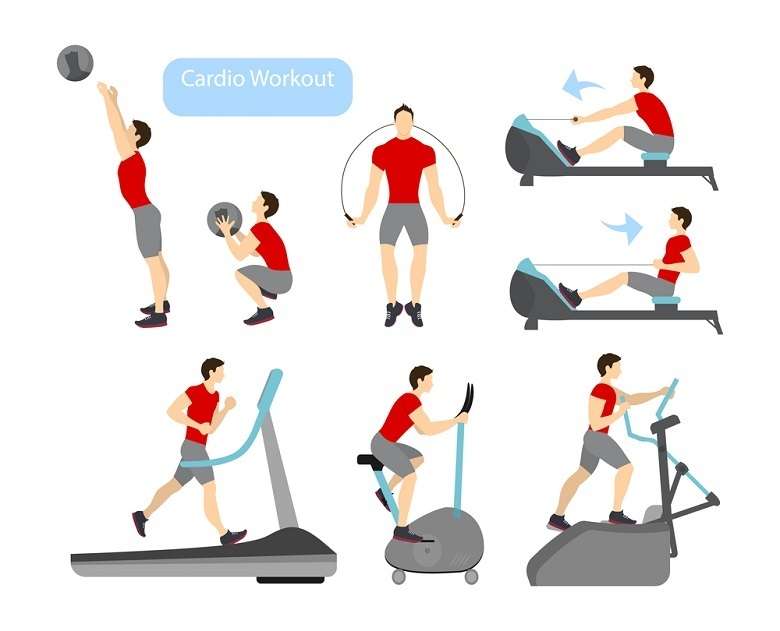 CARDIO TRAINING RULE #1
Frequency & duratin tip! If nothing else, perform a bare minimum of 30 minutes of cardio at least three times per week to help keep your body in tune. In other words, the cardiovascular session, not including the warm-up and cool-down, should vary from 30-60 minutes to gain significant cardiorespiratory and fat burning-benefits.
CARDIO TRAINING RULE #2
If a single, continuous session of cardio seems too boring, you can definitely break it up into shorter segments and still see results. Or, even better, change the cardio equipment every 10 or 15 minutes. You can use: treadmill, stationary bike, rowing machine, elliptical trainer, stair stepper or stair mill.
CARDIO TRAINING RULE #3
Do cardio training either first thing in the morning (before breakfast)  or immediately after weightlifting.  If neither of those times are possible in your schedule, just do it when you can — after all, that's certainly much better than not doing it at all.
CARDIO TRAINING RULE #4
Despite the abundance of technological advances and new machines that have proliferated in gyms nationwide, the best cardio machine for fat-burning appears to be the good old treadmill.
CARDIO TRAINING RULE #5
Based on research, the best form of cardio for maintaining or enhancing leg mass and strength appears to be the stationary bike (and stair climbers).
CARDIO TRAINING RULE #6
Working out at 70%-80% of your maximum heart rate (MHR) burns the most amount of fat dur­ing a cardio-focused workout session.
CARDIO TRAINING RULE #7
Interval training keeps your resting metabolism elevated higher after workouts, and may even lead to greater overall decreases in bodyfat over time, making it a solid option over a steady diet of "steady-state" cardio programming.
CARDIO TRAINING RULE #8
Before cardio, stay away from certain foods like fats and, especially, carbs. Numerous studies show that eating carbs reduces the amount of fat burned during cardio. On the other hand, eating fat before exercise has been shown to limit blood flow to exercising muscles.
CARDIO TRAINING RULE #9
Eat 10-20 grams of protein or 3-6 grams of amino acids before cardio to preserve muscle (to prevent muscle breakdown).
CARDIO TRAINING RULE #10
Supplements such as caffeine, carnitine and hydroxycitrate (HCA) can help you burn more fat during cardio.
Closing Thoughts
For maximum effectiveness and safety, cardiovascular exercise has specific instructions (cardio training principles) on the frequency, duration, and intensity. These are the ten important components of cardiovascular exercise that you really need to understand and implement in your program. In addition, your cardiovascular program should include a warm-up, a cool-down, and stretching of the primary muscles used in the exercise.