Ever wondered if caffeine has an effect on muscle growth? In recent years, there has been a growing interest in the potential impact of caffeine on muscle growth. Does caffeine actually play any part in muscle growth? The short answer is yes; caffeine can play a role in muscle growth. But there is a lot more nuance to it. Read on to find out more!
Caffeine & Muscle Growth
According to a recent study by the International Society of Sports Nutrition (ISSN), the benefits of consuming caffeine as a pre-workout supplement included an increase in muscular strength and endurance. In fact, consuming caffeine comprises a host of other benefits as well which enhance your overall performance when exercising. I recommend checking out the full survey if you are interested in what exactly these benefits are. Other studies confirm that caffeine stimulates muscle hypertrophy. More precisely, supplementation with a combination of extended-release caffeine and ancient peat and apple extracts may enhance resistance training-induced skeletal muscle hypertrophy without adversely affecting blood chemistry. In simple terms, muscle hypertrophy is the process by which muscles grow and increase in size. What this means is that caffeine has a positive impact on muscle growth.
While the study by ISSN notes that the benefits of caffeine in regard to muscle growth may be small, several other studies indicate that caffeine has other, more indirect effects on muscle growth. Another study had two groups of people, with one group consuming caffeine before a workout while the other was a placebo group. The study found that the group that consumed caffeine could perform more repetitions over three sets than the placebo group. While this doesn't directly imply muscle growth, performing more repetitions will promote superior muscle growth over the long term.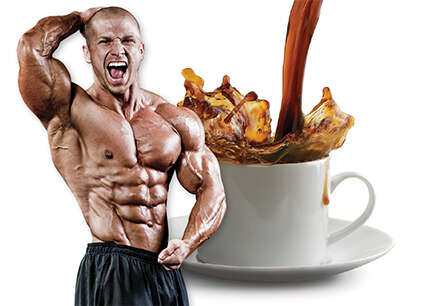 Moreover, the fact that caffeine keeps us alert and focused paves the way for another indirect benefit of caffeine on muscle growth. One study found that consuming caffeine prior to exercising improved cognitive ability and performance. While some may question the role of cognitive ability in muscle growth, increased focus and alertness during sets will mean we put in more effort into the form and quality of the exercise we are performing. Once again, this paves the way for superior muscle growth in the long run. Essentially, caffeine also contributes to the quality and quantity of your workout!
Caffeine if implemented correctly can be used to get a more effective workout, which in turn can end up getting a higher level of hypertrophy.
How To Consume Caffeine For Muscle Growth?
As mentioned earlier, we should consume caffeine prior to working out. The exact timing of when to consume caffeine depends on how you are taking it. If you are taking in caffeine in the form of capsules, they should be consumed between 30 to 60 minutes before the start of your exercise. On the other hand, caffeinated chewing gums and gels can generally be consumed 10 minutes before exercise.
How Much Caffeine To Consume?
The amount of caffeine to consume always depends on your body weight; there is no cookie-cutter answer. It has been proven that doses of 3-6 mg/kg of your mass will be enough to experience the benefits of caffeine. Stick within this range, as higher doses don't seem to be anymore effective. The minimum effective dosage is unclear but seems to be around 1.5 mg/kg. Be careful to take note of your daily caffeine consumption if you do decide to take caffeine as a pre-workout supplement. Most people underestimate the amount of caffeine in a cup of coffee. Consuming too much caffeine has a slew of negative effects, so be sure to monitor your caffeine intake. That morning cup of coffee and your Starbucks visits can really add up!
Final Thoughts: Caffeine and Muscle Growth
So, caffeine has been proven to positively affect muscle growth, both directly and indirectly, and can improve your physical performance. But should you use caffeine as a pre-workout supplement? Well, it depends. If you are looking for a "magic pill" that will help you gain instant muscle mass, then you should probably avoid caffeine. If you realize that caffeine has more long-term benefits to offer in terms of muscle growth and performance enhancement, then go for it!
Once again, be mindful of your daily caffeine intake and make sure not to overdo it!
Author Bio: Mellina Joseph is the co-founder and writer of Coffee Cracked. Mellina is passionate about coffee and is always exploring the nuances of the coffee world. She loves sharing in-depth guides and reviews which help people perfect their next cup of coffee over at CoffeeCracked.com.