Losing fat tissue is not a complicated process. However, it is demanding and requires a lot of sacrifice, will, and effort in order to be successful. This is also the reason why many reach for various "miracle" methods and shortcuts in order to achieve their goals. This is where most people fall into the trap of relying on things that make absolutely no difference. Not only that, relying on unproven methods and tricks sets people back many steps, causing many to lose will and motivation and ultimately give up on the goal.
You have probably found yourself in such a situation at least once. Without adequate nutrition and optimally organized training, you decided to take certain supplements to help you "burn" fat, or you used slimming belts for weight loss, drank various teas, etc. Let's face it, there is nothing wrong with supplements, teas, or even a slimming belt, but they represent only 5% success in losing subcutaneous fat. Do you know what makes up the remaining 95%?
Below we present the most important rules and guidelines for fat loss that you must focus on. Here's what makes the remaining 95%:
1. You must create a calorie deficit or negative energy balance
Neglecting caloric intake and focusing on healthy foods is the main mistake people make, which also prevents them from achieving their goals. Healthy food is, of course, healthy, but it is also high in calories. Of course, it's better to eat a handful of walnuts and pistachios than a doughnut. A donut provides only empty calories (sugar), while nuts are nutritionally dense foods. But both are rich in energy (calories) and not suitable for fat loss.
Creating a caloric deficit is the main and most important factor in losing subcutaneous fat. It's actually the simplest math. When you take in less energy (calories) than you need (expend), you have a negative energy balance. Your body then uses stores of glycogen and fat for fuel (and body protein, too, if the deficit is extreme), and body weight goes down.
You can achieve caloric deficit in two ways. The first one is by eating less "high-energy" food, which will reduce the energy intake. The second way is by taking more exercise (while keeping energy intake constant), which will increase energy use (calorie consumption). The best approach is to combine both methods, controlling the diet and also taking more exercise (eat less, exercise more).
Many people who rely on diet alone (or exercise alone) have great difficulty in controlling their body mass. Another mistake that many people make is the wrong idea that if they exercise more they can eat more. Of course, that doesn't lead anywhere. It is extremely important to estimate daily calorie needs and take care of their intake. Although these numbers can never be completely accurate, they give us a guide and indicate which direction we should go and how to approach situations when subcutaneous fat loss stops.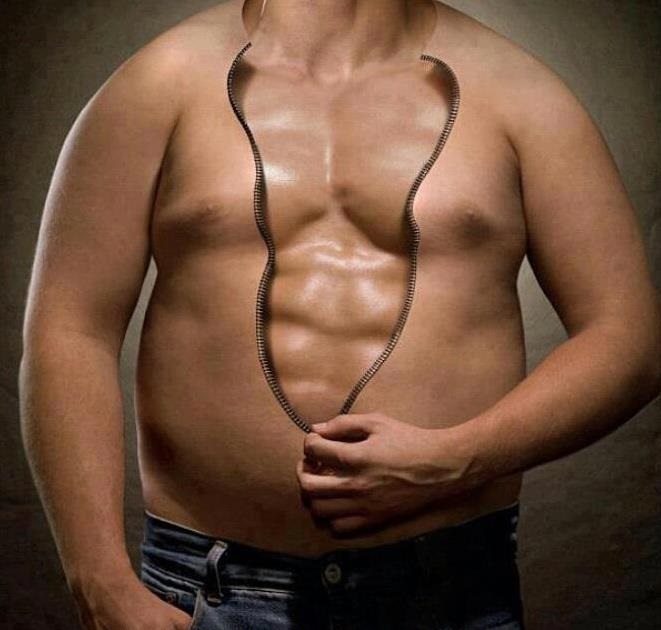 2. Increase your daily protein intake
High-protein diets have proven to be more successful in preserving existing muscle mass, and we definitely prefer these types of diets over those with a high carbohydrate intake.
In addition, increased protein intake keeps us full longer, which is definitely a plus when we are on a greater calorie restriction.
For most people, getting enough pro­tein should not be a problem as there are many healthy options. Simply check what are the best high-protein foods for bodybuilders.
3. Ensure enough quality sleep every day
Although our goals are slightly different from those of professional athletes or, say, professional bodybuilders, sleep is still necessary to achieve any results. Hard training and quality nutrition will not be able to do much if we do not provide the body with adequate rest and recovery.
There is conclusive proof of a link between lack of sleep, weight gain, and obesity. Numerous major studies show unambiguously that if you do not sleep enough, you will gain weight and find it difficult to lose it. Sleep is directly related to hormonal health and metabolism.
Also, lack of sleep leaves you with more food cravings and you will have the tendency to just eat what you can grab regardless if it's healthy or not. Lack of sleep also affects the way you perform workouts and your condition while exercising will also not be good.
Never underestimate this point!
4. Reduce and control stressful situations (stress management)
Easier said than done, right? Absolutely! Everyone experiences stress differently and it varies from person to person. Certain situations in life will cause great stress to person A, while person B will accept such a situation quite differently and perhaps will not be upset at all.
Stress can have a significant impact on weight loss efforts. When you're stressed, your body releases the hormone cortisol, which can increase appetite and lead to overeating. Chronic stress can also lead to sleep disturbances, decreased motivation to exercise, and increased cravings for unhealthy foods.
This is a factor of great importance that we should definitely work on and learn how to deal with it. Not only stress can slow down or even prevent the loss of subcutaneous fat, but it can also attract various diseases (for example, type II diabetes).
5. Engage in strength training (lifting weights) – cardio alone is not enough for weight & fat loss
Anyone who has ever worked out in a gym has noticed that there is without fail a certain group of treadmill addicts that spend hours every day running—yet they never get lean. On the other hand, you have people with great abs and overall lean physiques that never set foot on any cardio equipment but move a considerable amount of iron on the gym floor.
This seems to go against anything you have ever read or heard, but why? Most importantly, your body composition depends on your diet. Any form of training can only help to create a calorie deficit. Most people take it as gospel that weightlifting is exclusively to get bigger. But the truth is that while weight lifting can create bigger muscles, it can also create a leaner physique, depending on dietary factors.
Resistance training (in contrast to cardio training) will help you to hold on to your muscle. When you diet, the body wants to cannibalize unused muscle for energy; training with weights prevents that from happening. In addition, it keeps your basic metabolic rate (BMR) elevated since it uses energy to repair the damage from your last weight workout.
Although a weight-training workout doesn't typically burn as many calories as a cardio workout, it has other important benefits. Weight training is more effective than cardio at building muscle, and muscle burns more calories at rest than some other tissues, including fat. Because of this, it is commonly said that building muscle is the key to increasing your resting metabolism — that is, how many calories you burn at rest. The more muscles you have, the more calories you will burn – even when these muscles as not working. This is because muscle is metabolically active tissue that requires energy to maintain, whereas fat tissue is not.
Cardio is very useful as an item of supplemental energy expenditure in order to create an even bigger calorie deficit. It can help to speed up the process (especially in smaller individuals and women), but cardio alone will not get you the physique you desire. Therefore, a combination of cardio and weights may be best for improving your body composition.
The secondary focus for losing subcutaneous fat (the remaining 5%)
Cardiovascular training (cardio)
Adequate supplementation (perhaps a better fat burner)
Ratios of macronutrients
Meal timing
Product ingredients (GMO, proportion of "added sugar", emulsifiers) and little dietary tricks (like intermittent fasting)
Once you have satisfied the main items and predispositions for achieving your fitness goals, and have already achieved certain results, start inserting these small tools (5%) in order to get closer to, that is, achieving the desired results.
Recommended readings
Conclusion
Adding an exercise routine to your life without making nutritional changes will not get you where you want to be, or even nowhere. It is next to impossible to out-train bad food habits. Also, people generally overestimate how many calories they've burnt while underestimating how much they eat.
You should definitely start with weight training to maximize the loss of your subcutaneous fat. Exercise stimulates muscles, burns calories, and affects the work of our hormones. During exercise, our body increases the level of endorphins, in women it regulates the level of estrogen, improves insulin sensitivity, and during high-intensity exercise, it stimulates the secretion of growth hormones.
These are the priorities that you should base yourself on. After establishing a caloric deficit, adjust the optimal amount of protein per day to ensure that most of the lost pounds come from fat tissue, not muscle. Pay attention to the length and quality of your sleep. Recovery and sleep are very important factors, as are the reduction and control of stress and stressful situations.
Although stress has no calories, frequent stressful situations raise the level of cortisol in the blood. The longer the cortisol levels are high, the higher the blood sugar level will be. This situation over the years can lead to diabetes or insulin resistance. Stress is a silent killer and makes the process difficult. Weight training is a great way to combat it. Good luck!