Yes, it's true, there's no way we can ignore the role of genetics in the development of calf muscles. The calves are a unique muscle group – they're definitely the most stubborn muscle group you can probably find on your body and the embarrassment of weightlifters everywhere. Many people find that no matter what they do, they struggle to grow their calves, whereas certain lucky people don't even have to train them directly to achieve impressive lower-leg development.
It's clear that a substantial genetic component affects calf aesthetics, and it's difficult to override your genetic blueprint. However, many people have overcome their limits and developed impressive calves through hard work and consistency. For example, Arnold Schwarzenegger used to hide his calves when he was photographed but was eventually able to turn his poor calf development into a strong point by working the muscles relentlessly with an aggressive combination of volume, intensity, and frequency.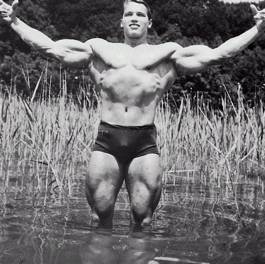 Conversely, some of the other muscle groups such as your chest, back or thighs may start shaping up in weeks. The bottom line is that you must – absolutely must – work your calves if you hope to do well in any contest these days.
Therefore, if you're one of the lucky ones who don't have to perform direct calf work to sport muscular calves, then chances are you take this genetic gift for granted. But if you have toothpicks for lower limbs, then you'd probably go to great lengths to achieve muscular symmetry in this area of the body. It's important to possess at the bare minimum a basic level of strength and development in the lower limbs. This is the point when you simply have to start training your calves the right way – respecting all calf training tips and priciples!
Favorable genetics for calf development
Favorable genetics for calf development provide:
long muscle bellies,
short Achilles tendons,
and favourable fast-twitch to slow-twitch fiber ratios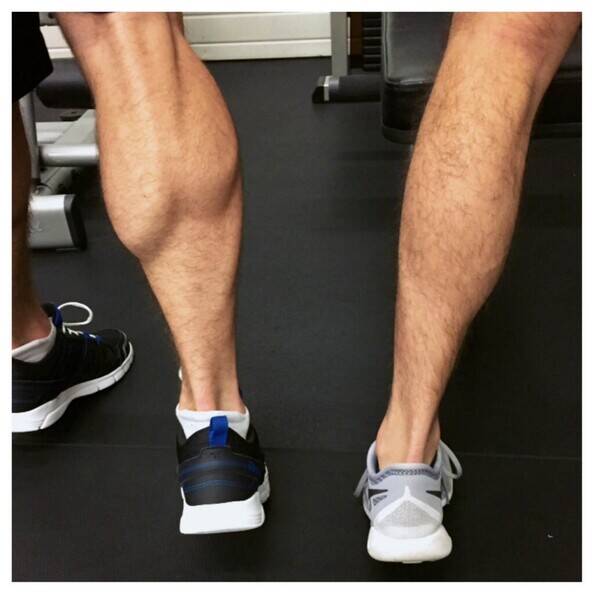 The composition of the calf muscle fibers themselves is crucial. You see, there are two primary groups of muscle types: Type 1, also known as "slow twitch" fibers, and Type 2, also known as "fast twitch" fibers.
Type I muscle fibers have the lowest potential for growth and force output. However, they are dense with capillaries (small blood vessels) and rich in mitochondria (which produce energy for cells) and myoglobin (which provides extra oxygen to the muscles), which makes them resistant to fatigue.
Type II fibers, on the other hand, have a much higher potential for growth and force output than Type I fibers. However, they fatigue quickly.
Research has shown that the muscle fibers of the gastrocnemius – the calf muscle we see and are primarily concerned with developing for aesthetic purposes – can vary in composition from person to person. One guy's gastrocnemius might be composed of as much as 60 percent Type 2 fibers, whereas another's is as little as 15 percent. And thus, the former will find it easy to add mass to his calves, but the latter will find it a slow, frustrating grind.
We're sure you've seen guys with monster calves who never did a calf raise in their lives. These genetically gifted wonders then have the audacity to say how their mother or great-aunt has even bigger lower legs! The winner of the 1982 Mr. Olympia, Chris Dickerson, owner of two of the greatest calves in bodybuilding history, was fond of saying that his two brothers (Chris was one of a set of triplets) had calves nearly the same size as he did, and yet neither worked out.
Environmental effect
There's another reason that the calves, especially the soleus, are relatively unresponsive to weight training. The calves keep your body upright when you're standing or walking. That means they're active throughout the entire day. As a result, the calves are already further developed than any other muscle in "untrained" individuals. Note that this isn't a genetic limit – it's an environmental effect. Aside from their fiber type composition, there's nothing inherent that prevents the calves from growing.
Other reasons your calves aren't growing
Think again and again: Do you really pay enough attention to you calves?
We often hear bodybuilders complaining that despite the "blasting" they give their calves, they just refuse to grow. While in some cases genetics are in fact the primary culprit, in most cases it's the bodybuilders' generous use of the word "blasting" that lies at the heart of the problem.
Blasting does not mean performing a few half-hearted sets at the end of the workout. Blasting means training your calves like every other muscle group and even much more. You're doing 8, 10, 12 or more sets each for your biceps and chest. Shouldn't you treat the calves with the same diligence? Unfortunately most bodybuilders don't. After a few months of half-assed training they give up, citing "poor genetics" as the reason for the poor calf development. As you can see, many cases of "baby calves" are caused by simple neglect.
Like the thighs and abdominals, calf training is downright agonizing. Training the calves might not fatigue you like thigh training, but the little devils take a backseat to no one when it comes to misery. Many bodybuilders are simply unwilling to put up with such pain – especially for what will probably be a long period of training.
Another reason lies with their location. Unlike the biceps and pectorals, which are displayed prominently for all to see, the calves are "way down there" and usually covered by a pair of pants. Many bodybuilders just don't want to devote that much time and effort in developing a muscle that most people don't pay attention to.
A third reason can be blamed on ego. When people know that you work out they'll often ask you to "show me your muscles." Now, you don't pull up your pants leg and flex a calf; you hit a double biceps. No matter how big and impressive your calves, they'll never be considered "muscles" by the general population.
Easy steps to enforce your calves to growth
Here's what you can do to grow your calves, in addition to direct work at a gym.
HIKING, WALKING, AND RUNNING. These pursuits are all excellent calf-strengthening exercises. Uphill walking or miming is particularly beneficial – your calf muscles will really get a workout the steeper you climb.
RUNNING SPORTS. Just look at the calves of a soccer player. When you participate in running sports like soccer, tennis, lacrosse, field hockey, and basketball, you run, jump, and push off your calf muscles to accelerate or change direction quickly—and these kinds of moves will tone your calves.
DANCING. Whether at a step or salsa class or pursuing ballet, dancing works calf muscles in ways few activities do, demanding that you step up and down or bend your knees and push off as you move from high to low positions.
How to get rid off bulky calves caused by genetics?
While most of us focus on growing bigger calves, some people are looking in the opposite direction. Bulky calves are usually due to the genetic endowment of a high percentage of fast-twitch fibers. Previous participation in sports such as sprinting, rugby, football and step aerobics aggravated the situation even further. If you have a high percentage of FT fibers, your calves respond readily to any type of high-intensity exercise.
Therefore, the only way to reduce the size of a muscle is to stop training it and allow it to atrophy (waste away). Realistically, you should minimize the amount of direct calf work you perform. They will receive sufficient stimulation from everyday activities, such as walking and running, your leg training and any sports that you play.
Closing thoughts: It's not all about genetics!
The fact is, calves are difficult and stubborn when it comes to growth and don't often respond to the type of training and basic exercises that other body parts do. Unless you're that naturally blessed one in a million, odds are you're going to have to work hard – very hard – to get your calves to respond. You may spend months if not years doing standing and seated calf raises with little observable growth. That's because calf development depends largely on genetics.
How do you get bigger calves with bad genetics? The good news is, genetics can mostly be bypassed – even overridden – with the correct type of training. Yet this involves aggressive combination of volume, intensity, and frequency. Like the abs, the calves seem to recover from workouts more quickly than other muscle groups and thus can be trained more intensively. To get the calves to grow, you need to use strategies that place maximum tension on the calf muscles because they're already quite accustomed to activities of lower intensity. Our calf training principles & strategies will be of great help! With proper training, anyone can build bigger (more muscular calves), but you should just know that it may or may not come quickly depending on your DNA.