Determining Your Muscle Type Using Thorstensson Test of Fatigability
What are the strengths and weaknesses of using the Thorstensson fatigue test to assess the fiber typing of the leg extensors?
The Isokinetic (or Thorstens­son) Dynamometer is a leg extension machine attached to a computer that measures the power output of muscles. In the 1970s, Alf Thorstensson developed a test that correlated the amount of power pro­duced at a fixed rate of speed over fifty repetitions of a leg extension. Based on the deteriorating amount of power over time, the test used a fatigue index to accurately estimate the percentage of fast-twitch muscle fiber. The more quickly you lose power, the more fast-twitch muscle you have. The fatigue index is used in many other tests, but the Thorstensson is more accurate in determining fiber composition.
This machine also happens to be very useful for rehabilitation of injured knees. Therefore you can often see this machine in rehabilitation clinics, at a local physical therapist's office or even hospital. However, at the present time, the idea of training for your muscle type is new. Clinics or hospitals are not used to people calling and asking to have the test done. They probably have no idea of how much to charge, and may not even know that the machine can determine muscle fiber composition. We recommend calling physical therapy clinics, universi­ties, and hospitals and seeing how much they would charge. The entire test will take only twenty minutes.
Performing the Test
Take a seat on the leg extension machine. You are then strapped in, so the only part of your body that can move is your leg.
Ready, get set, go! Once the technician or assistant has set up the com­puter, he or she will give you the go-ahead. Push up and pull down with your leg as hard and as fast as you can for fifty repetitions (there is resistance in both directions). Don't bother to count your repeti­tions—the tech will do that. Just focus and give it everything you have.
Rest for a few minutes. This test is difficult, but not nearly as hard as some other tests.  Thorstensson fatigue test is challenging but not aerobically taxing (it will not make you breathe hard). Perhaps you'll have trouble walking immediately after the test for a couple of minutes. So, be careful when you stand up to walk away.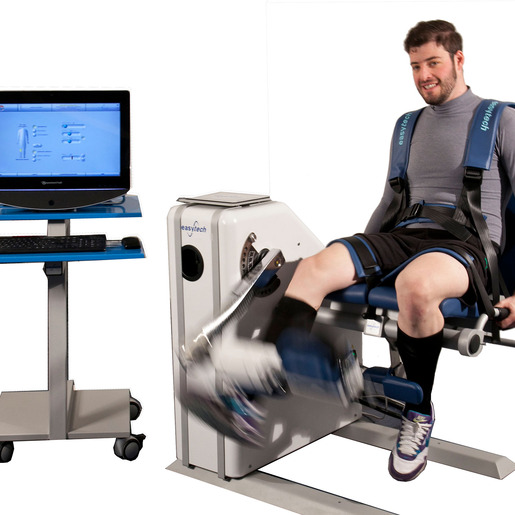 Calculating Your Results
The technician should be able to help you calculate your muscle fiber composition. He or she will check the course of your force output (torque) over the fifty repetitions. The computer will record and track each extension and curl. Your amount of fatigue shows how your mus­cles react to extended exertion, and based on that response, their exact structure. Here is how to figure it out:
Count out the first three repetitions and average their torque (the three highest peaks).
Then count out repetitions forty-eight to fifty and take their average torque.
Take the average torque from the first three reps and subtract the aver­age torque from the last three reps.
Divide that number by the average torque from the first three reps.
Multiply the result by 100.
Then multiply that number by 0.90.
Add 5.2.
The result is your percentage of fast-twitch muscle fiber. Your per­centage slow-twitch muscle equals your fast-twitch percentage subtract­ed from 100.
Pluses and Minuses of the Thorstensson Test
There are some pluses and minuses with the Thorstensson fatigue test. On the plus side, this test can give you a specific estimation of your muscle fiber composition. For example, a test result may report that you have 62.78 percent fast-twitch muscle fiber, which is pretty specific. The other tests will only give you a range. Also, it takes very little time: the test itself is only a little over a minute and including set-up time and calculations, you can usually have results giving your specific build in only twenty minutes.
The minuses: it might cost you some money to take the test. We encourage you to bargain the price down. Most likely, the clinic or other facility will not have a set price for the Thorstensson fatigue test. Also, it might take a few phone calls to find the machine, or a technician who knows how to administer the test. It is an expensive piece of equipment, so not every physical therapy or rehabilitation clinic has one. We also found that peo­ple call this machine by a variety of names: some call it the Thorstens­son or Isokinetic Dynamometer, while others call it by the brand of their machine. Biodex, Cybex II, Ariel, Hydra-Fitness, LIDO, Kin-Corn, and Merac are some of the manufacturers.
Summing up
Estimation of skeletal muscle fiber composition has long been performed through fatigability tests. These non-invasive methods have great application as they are easy to administrator and provide quick estimations of percent fast-twitch fiber type (%FT). Your per­centage slow-twitch muscle equals your fast-twitch percentage subtract­ed from 100.
Related articles:
Thorstensson, A., J. Karlsson, J.H.T. Vitasalo, P. Luhtanen, and P.V. Komi. 1976. Effect of strength training on EMG of human skeletal-muscle. Acta Physiologica Scandinavica 98 (2): 232-236.