Here's another exercise – TRX inverted row – that's similar to a free weight (barbell row) or machine movement (machine row), but it's a real challenge because you need to stabilize yourself by contracting your core muscles. Also, here you are using your own body weight to perform the exercise. Last but not least, this exercise can also be a scaled option or progression for pull-ups.
Other names for this exercise
The inverted row goes by many names.
Bodyweight rows
Australian pull-ups
Low rows
Horizontal pull-up
Exercise instructions – proper form
Follow these steps to perform this middle back exercise safely and effectively.
STARTING POSITION (SETUP)
Grab both handles with a neutral grip (palms facing each other).
Walk your feel toward the anchor point to adjust the degree of difficulty of the movement. The closer your feet are to the anchor point, the more your body will be at a horizontal angle and the more challenging the exercise.
We suggest to begin with your torso at approximately a 45-degree angle to the ground – it is neither too difficult nor too easy.
Stand with your feet shoulder-width apart.
Stabilize your torso by contracting your core muscles.
Gently lean back until your elbows are straight.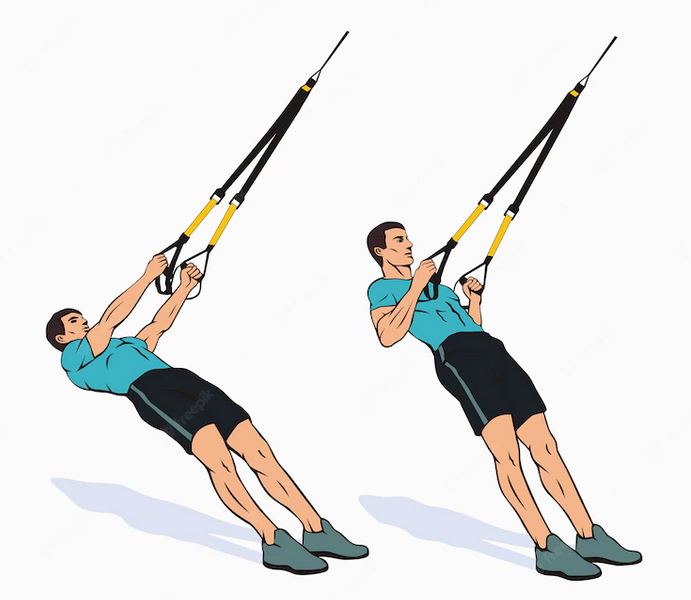 MOVEMENT (ACTION)
Exhale and pull your body toward your hands by bending your elbows, squeezing your shoulder blades together at the top.
Return to the starting position.
Additional tips & performance pointers for TRX inverted rows
Here are some useful tips you should pay attention to while doing TRX inverted row.
Keeping your wrists locked, row your elbows behind you, keeping your forearms close to your rib cage during the entire movement. In other words, begin your pull by bringing your shoulder blades together and down toward your waist as you simultaneously pull with your arms.
Once the handles reach your rib cage (elbows are slightly past your torso), reverse the motion, lowering yourself with control to the starting position – making sure that your body forms a straight line and your hips don't sag.
Keep a straight line between your shoulders and ankles for the entire movement.
Maintain a braced core throughout the exercise, and squeeze the glutes.
Exercise variations (modifications)
TRX and other suspension training systems are great tools for body-weight exercises. By either allowing you to support a portion of your body weight or creating a variety of more challenging sector angles, suspension trainers are excellent for varying the degree of difficulty of both traditional and unique exercises.
You can make TRX row exercise more or less challenging by varying the angle of pull. You can vary the resistance by changing your foot placement. For more resistance, bring your feet closer to the anchor point and increase your lean; for less, back your feet up slightly and decrease the lean.
Keeping palms facing each other (neutral grip) and elbows in near the torso will target the lats more. Having the palms facing the floor and elbows flared away from the body will hit more of the rear deltoids, traps, and rhomboids.
Muscles engaged in TRX inverted rows
Working mainly the back muscles and lats, this also improves hand grip, shoulders and core muscles.
Main muscles: latissimus dorsi, teres major and minor, deltoid (rear)
Secondary muscles: rhomboids, biceps, brachialis, brachioradialis, trapezius, infraspinatus, lower back muscles – erector spinae
Antagonists: pectoralis major, triceps, deltoid (front)
Benefits of the TRX inverted row exercise
A larger upper body
A stronger grip
It's beginner friendly
It's a pull-up progression
You'll improve stability
It's a compound exercise
Is there anything else you can ask from an exercise!? 🙂
Replacement exercises for the TRX inverted rows
To add variety to your middle back workout routine, replace TRX inverted row with a different exercise that works the same muscles. Use dumbbells, cables, barbell, or even a gym machine to perform the rowing motion.
Closing thoughts
The main purpose of this exercise is to develop the muscles of the back. Suspension training systems such as the TRX offer yet another variant for horizontal rows. The suspension trainer inverted row is a unique version of the exercise because difficulty adjustments can be made on the fly with a quick change in body position. If your body is closer to parallel with the ground, your body becomes a longer lever that is more difficult to lift. We must emphasize the need for a strong and stable posture throughout the movement; you should strive to maintain an imaginary line running straight from your ear down to your ankle. We strongčy encourage you to try this great exercise and to incorporate it to your back workouts.