For the modern gym-goer, achieving the desired muscle growth is a quest that often leads to a vast array of supplements, diets, and workout regimes. One name that has recently been echoing through the halls of fitness centers is Turkesterone, often hailed as a natural edge in the muscle-building journey. But what exactly is Turkesterone? Is it as promising as it seems? This article will explore these questions and more, providing insights into the effects, benefits, and potential side effects.
What is Turkesterone?
Turkesterone is a type of phytoecdysteroid, a naturally occurring compound found in certain plants and insects. It is classified within a group of substances known as ecdysteroids, which play key roles in the growth and development of these organisms. When used as a supplement for humans, it's believed to have various potential health benefits, especially in the realm of muscle growth and development.
Turkesterone and Its Applications
Turkesterone is derived from the Ajuga Turkestanica plant, a herb that grows predominantly in Central Asia. This plant has been used in traditional medicine for various therapeutic purposes.
For those seeking to enhance their physical performance, supplementing with Turkesterone has become a popular option. It's touted as a natural alternative to anabolic steroids, providing support for increased muscle mass and strength without the adverse effects often associated with synthetic compounds.
In the realm of bodybuilding and fitness, Turkesterone supplements are rising in popularity due to the perception of being a safer and more natural pathway to gain muscle. While still a subject of ongoing research, the interest in Turkesterone is undeniable, sparking curiosity among athletes, bodybuilders, and fitness enthusiasts alike.
Understanding Turkesterone and its potential opens up new possibilities for those looking to enhance their physical prowess. As we continue to explore its benefits, effectiveness, side effects, and relationship with steroids, it becomes essential for individuals to approach Turkesterone with informed knowledge and caution, tailoring its use to personal needs and goals.
Turkesterone Benefits
Enhancing Muscle Growth
One of the most appealing aspects of Turkesterone is its potential to stimulate muscle growth. Unlike anabolic steroids, Turkesterone works in harmony with the body's natural processes, potentially enhancing protein synthesis. This can lead to increased muscle mass and strength, making it an attractive option for bodybuilders and athletes alike.
Improved Workout Efficiency and Recovery
Turkesterone is not only about muscle growth; it may also play a role in enhancing workout efficiency. By potentially improving stamina and endurance, Turkesterone supplements could allow for more intensive training sessions. This enhancement can translate to quicker recovery times between workouts, reducing fatigue, and allowing for a more consistent training routine.
Boosting Metabolism and Reducing Body Fat
Some research suggests that ecdysteroids may have a positive effect on the metabolism, aiding in the reduction of body fat. While the primary focus often lies on muscle building, this additional benefit could make Turkesterone a versatile tool for those seeking a lean and sculpted physique.
Supporting Cardiovascular Health
Beyond the gym, Turkesterone's benefits may extend to overall well-being. Some studies indicate that ecdysteroids could have a positive impact on cardiovascular health, supporting heart function, and promoting healthy cholesterol levels. This broader health support can be especially important for those engaged in rigorous physical activities.
Natural Alternative to Conventional Supplements
Perhaps one of Turkesterone's most attractive features is its natural origin. As a plant-based compound, it represents an alternative to synthetic substances that may carry undesirable side effects. This natural approach appeals to those looking for clean and mindful ways to support their fitness goals.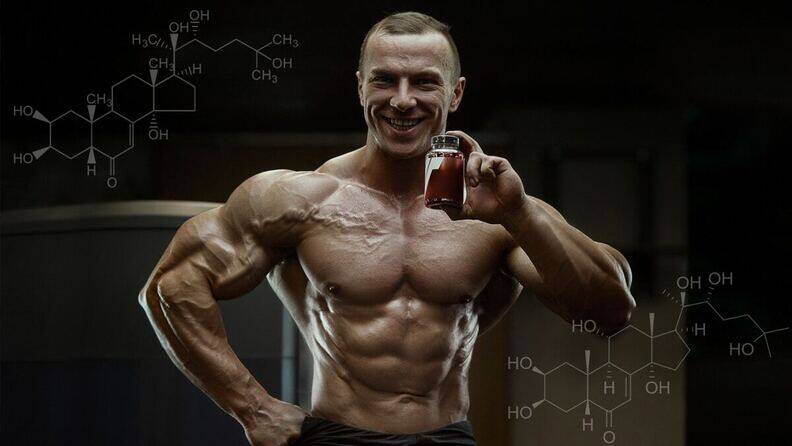 Does Turkesterone Work?
Scientific Research
The efficacy of Turkesterone, particularly for muscle growth, is an area of ongoing research and debate. Some studies have indicated positive effects on protein synthesis and muscle hypertrophy, but it's important to note that research in this area is still in its infancy.
User Testimonials
Anecdotal evidence from athletes and bodybuilders who have used Turkesterone supplements paints a more vivid picture. Many users report noticeable improvements in muscle growth, strength, and workout recovery. While these testimonials are promising, they should be taken with caution, as individual results can vary.
The Role of Quality and Dosage
The quality and dosage of any Turkesterone supplement also play a crucial role in its effectiveness. Not all supplements are created equal, and it's vital to choose a reputable brand that adheres to quality standards. Dosage recommendations can vary, and it may be wise to consult with a healthcare provider or fitness expert to determine the appropriate amount for one's specific situation.
Turkesterone Side Effects
Understanding Potential Concerns
As with any supplement, Turkesterone is not without potential side effects. Though generally considered to be well-tolerated, it's essential to recognize that individual reactions can vary, and some users might experience unwanted effects.
Common Side Effects
Common side effects of Turkesterone supplements are relatively rare and may include mild gastrointestinal discomfort or changes in appetite. However, these effects are typically transient and may subside with continued use or adjusted dosage.
Considerations for Pre-existing Health Conditions
People with certain pre-existing health conditions should approach Turkesterone with caution. While it might offer benefits for many, specific medical conditions may necessitate careful consideration and consultation with a healthcare provider before using Turkesterone supplements.
Conclusion about side effects
While Turkesterone is often hailed for its potential benefits, it's essential to approach its use with awareness and caution. Side effects appear to be minimal and rare for most users, but individual responses can vary. Careful consideration of personal health conditions, interactions with other substances, and adherence to quality standards can go a long way in ensuring a positive experience with Turkesterone supplements.
Is Turkesterone a Steroid?
Clearing Up Common Misconceptions
The question "Is Turkesterone a steroid?" is one that often arises in discussions about this supplement. While Turkesterone is classified as a phytoecdysteroid, it's essential to understand how this classification differs from the anabolic steroids commonly associated with sports and bodybuilding.
Comparison with Traditional Steroids
Traditional anabolic steroids are synthetic compounds designed to mimic the effects of testosterone. They are often used to enhance athletic performance but can carry significant risks and side effects. In contrast, Turkesterone is a plant-derived compound that may have some similar effects on muscle growth but operates through different mechanisms and is generally considered safer.
Understanding the Science
Turkesterone's classification as a phytoecdysteroid means it is structurally similar to insect molting hormones. It's one of several ecdysteroids found in nature, but its effects on humans are distinct from those of anabolic steroids. Its potential benefits for muscle growth are believed to stem from its ability to enhance protein synthesis, not from mimicking the body's natural hormones.
Final Thoughts
The world of fitness supplementation is an ever-evolving landscape filled with possibilities, and Turkesterone has emerged as a prominent and intriguing option. From its natural origins in the Ajuga Turkestanica plant to its potential benefits for muscle growth, workout efficiency, and overall well-being, Turkesterone offers a unique proposition for those dedicated to achieving their physical best.
Turkesterone's allure lies in its potential to bridge the natural world with the goals of modern fitness enthusiasts. It offers a glimpse into an approach that is aligned with the body's natural processes while aiming to enhance strength, stamina, and aesthetics. As research progresses, Turkesterone may continue to solidify its place in the toolkits of athletes, bodybuilders, and fitness aficionados, offering a potentially safer and more harmonious route to achieving physical excellence.