What are wearable weights?
Wearable weights are a special type of strength training equipment that involves weighted vests, wrist weights, and ankle weights. These relatively cheap pieces of training equipment will allow you to intensify any home workout (body-weight workout) while moving freely and performing movements you can't with traditional free weight equipment such as dumbbells, barbells, or kettlebells. Have you ever tried doing a donkey kick with a dumbbell? Available to target any specific part of the body, these weights stay secure and are perfect for both indoor and outdoor use.
Why use wearable weights?
Why use wearable weights? If body-weight training is so awesome, why are we adding weights to it? Well, body-weight training has its clearly defined limits. Namely, you. If you're only using your body as resistance, then you'll eventually hit a wall. To bypass this roadblock, we add weights. In that case wearable weights seem like a handy shortcut. The beauty of these wearable weights (weighted vests, ankle weights, and wrist weights) is that you get the best of both worlds. You can gradually add more weight just like you would at the gym with traditional strength training (bigger dumbbells, weight plates etc.) while still working out at home with natural movements.
The most common types of wearable weights include:
weighted vests;
wrist weights;
ankle weights;
stylish (fashion-forward) wearable weights;
Most sporting goods and athletic stores carry these weights, and you may be able to find them in the sporting goods sections of department stores.
How wearable weights work?
Basically, it works this way: Whatever part of your body that moves through the air during an exercise can have a weight strapped to it. For most exercises, a vest will be your primary means of attack. Because of where it sits on your torso, a weighted vest can provide resistance against big compound exercises like squats or push-ups where ankle/wrist weights wouldn't do much. Vests are also better suited for these types of movements because they have the potential to weigh much more than their counterparts.
Obviously, the same principle applies to the smaller weights on your arms and legs. Any time you will be moving your arms or legs, you can add resistance. For instance, forward lunges require you to lift your foot off the ground and drive it forward. Of course, ankles weights will be a perfect fit here. But most people tend to bend their arms at the elbows and swing them for balance when doing lunges— this would be an opportunity to use your wrist weights if you want to involve your upper body in the workout.
I. Ankle and wrist weights
When it comes to ankle and wrist weights, you have a lot of options. As with dumbbells, you can buy an array of ankle/wrist weights, from 2 pounds up to 20 pounds. Or you can buy an adjustable set: There are both adjustable and fixed-weight models on the market, generally going up to 20 pounds. For this reason, you may find yourself gradually collecting an assortment of ankle and wrist weights depending on your needs. Fortunately, these weights tend to be fairly inexpensive; a set of two 5-pound weights will probably cost about $20 to $30.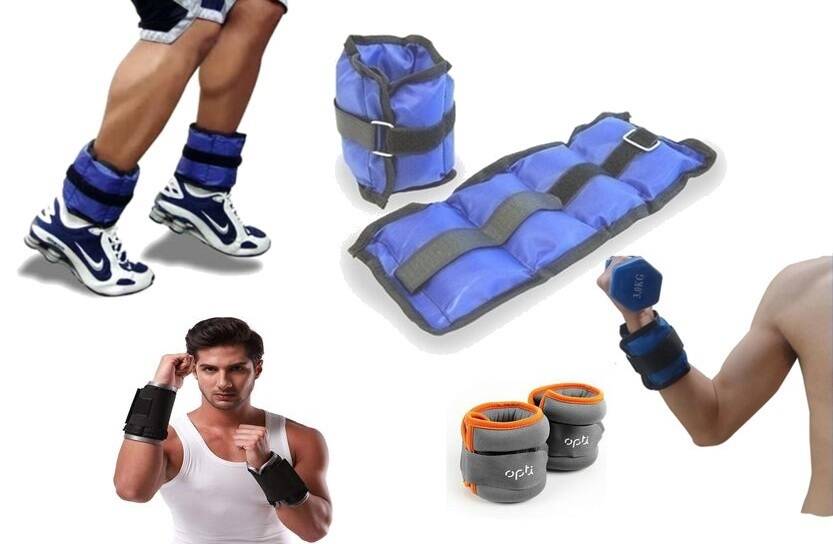 Therefore you may want to find ankle/wrist weights that come with little pockets for inserting metal slugs (weight bars) of different sizes. These pocket-pouch ankle/wrist weights make it easy to change weight sizes because you don't have to unstrap the weights and put on a different pair. Adjustable ankle weights are a great way to save money. Just know that the weights tend to rattle around. And, it's easy to get lazy: don't neglect to add or subtract weight when you need to.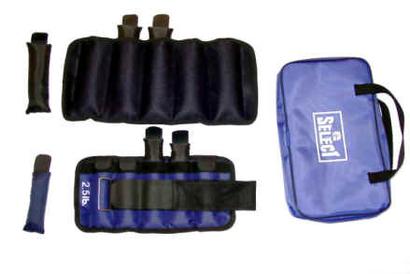 Don't be put off by the relatively light weight of these ankle and wrist weights. Even 2 pounds, when held with an outstretched arm, gets pretty exhausting quickly. Simply see how long you can hold a half gallon of milk straight out in front you before your arm gives out. That little bottle weighs about 4 pounds, so that should give you an idea about how little your ankle and wrist weights need to resist to give you a decent workout.
Always start with the lightest wrist or ankle weights and work your way up. This allows you to start from your comfort zone and work your way into the weight that gives you the most fulfilling workout. If you start with the heaviest weight, you run the risk or straining yourself and pulling a muscle.
II. Weighted vests
Weighted vests are typically put on over your head. They hang from the shoulders, with a wide strap that wraps around your middle to keep the vest in place. There are pockets for weights around the vest, which help you adjust the amount of weight you're wearing.
Usually, these vests are adjustable across a pretty wide range of resistance levels. The most common models use removable weights that give you the option of carrying anywhere from 1 pound up to about 40 pounds, but we have seen vests that go all the way up to 150 pounds.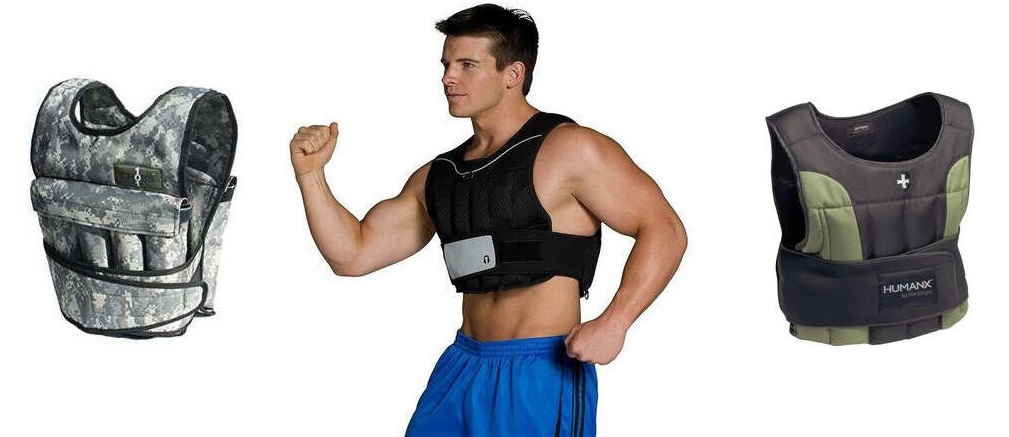 These extremely heavy models usually weigh 75 pounds when they're unloaded and include 75 pounds of removable weights. For most people, a 150-pound vest is complete overkill. However, don't fall into the trap of doubting yourself and under-buying.
For example, your local sporting goods store might have two vests available: The first goes from 1 to 20 pounds and the second goes from 1 to 40 pounds. You reason that you haven't been working out very long, so you probably won't need more than 20 pounds, plus the 40-pound vest is double the price. Here's the problem: You'll eventually outgrow that 20-pound vest, and that will likely happen much faster than you think. There's also a very strong chance that for some exercises, like the squat, 20 pounds is already way too little for you. In the long run, you're better off spending the extra money on a vest that has the potential to go heavier in weight than you currently need.
III. Stylish (fashion-forward) wearable weights
These are not old-fashioned (traditional "clunky") leg and arm weights, nor are they supposed to replace your dumbbells. You don't even have to be working out for these stylish wearable weights to work their magic. Here we are talking about fashion-forward line of weighted compression sleeves for the legs and arms you discreetly wear underneath your clothes to the office and burn calories while you work on your non-workout days. These products are made with sweat-resistant material and can be tossed in the washing machine.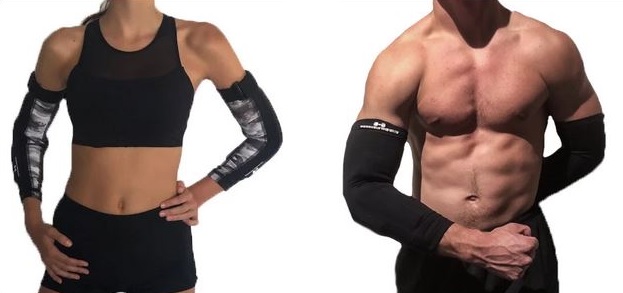 Closing thoughts about wearable weights
While wearable weights can be a great tool to spice up your strength training, it's not hard to use them wrong. Talk to your doctor first before you buy wearable weights, especially if you have back, joint, or balance problems.