Most teenagers are not yet full grown. Therefore, we have to take special considerations into account when a teen undertakes a bodybuilding program. However, you should know that this is a great time to start a workout program that you can carry through to your adult years. There are some things to keep in mind before you start, though. The main purpose of this article is to emphasize precisely these specifics. Weight and strength training for teenagers can be safe and beneficial activity if done correctly.
Five things teenagers should avoid at all costs
Do not start lifting weights or undertaking an intense body building regiment before you turn 13. You can exercise before this "magical" age, but limit your exercise to low-impact workouts like push-ups and sit-ups.
You should avoid doing squats (bodyweight squats are okay) and deadlifts before you turn 16. These types of compound exercises require some execution techniques in order to avoid injuries.
Under no circumstances should you take any type of testosterone supplements before you reach adult hood. You already have plenty of testosterone in your body. Adding more could contribute to growth stunting.
Under no circumstances should you take anabolic steroids.
Don't push your body beyond its limits. You could seriously injure yourself and set your progress back markedly.
Avoid comparing yourself to other people. Everyone's muscles grow in different ways. There's nothing you can do about it. Some people grow their muscles faster and easier than the others. It's related to genetics. Also, be careful not to fall into the jaws of muscle dysmorphia.
Training & recovery tips for teenagers
You should do some serious research on different workouts and start slowly. Get a well-balanced workout routine and perform it correctly with good form.
High-reps, low-weight. A young man can do all the same exercises, but his aim should be different. Instead of going for 10 or 12 reps a set, we would recommend trying to do at least 25 repetitions at a time. We know one young wrestler who won his state championship by doing 100 repetitions of each movement in as short a time as possible, which gave him both strength and tremendous endurance.
Train as fast as possible. Go through each of your sets at a good pace, and then get through as many sets as you can without stopping. Go right from one exercise to another. Force your body to cope with this intensity, and you will be pleased and proud of the results.
Train the whole body. This is true for everyone, but the young guys we know are especially prone to make this mistake. They want big arms or a big chest, and they neglect the other parts of the body. The right kind of development is all-around development, especially if you ever want to go on to be a competition bodybuilder.
Rest is also important since, like adults, this is the time when your body's muscles will grow. Sleep at least eight hours, if not more. You will be doing your body a favor by giving it time to heal from the damage you've inflicted on your muscles and allow them to grow naturally while you rest and build up your energy for the next day.
There are certain exercises that teens can perform that can build mass in your muscles without the risk of harming them. Some of the adult exercises won't be appropriate for you (like squats, deadlifts, etc.), but some of them will. Here are a few that you should use: dumbbell curls, dumbbell hammer curls, flat bench press, push-ups, dumbbell flyes, dumbbell shrugs, shoulder press. These are just a few exercises you can do, obviously. You may want to consult with your gym instructor or ask someone at a local gym to help you with other exercises that you can safely perform so that you can accomplish your goals.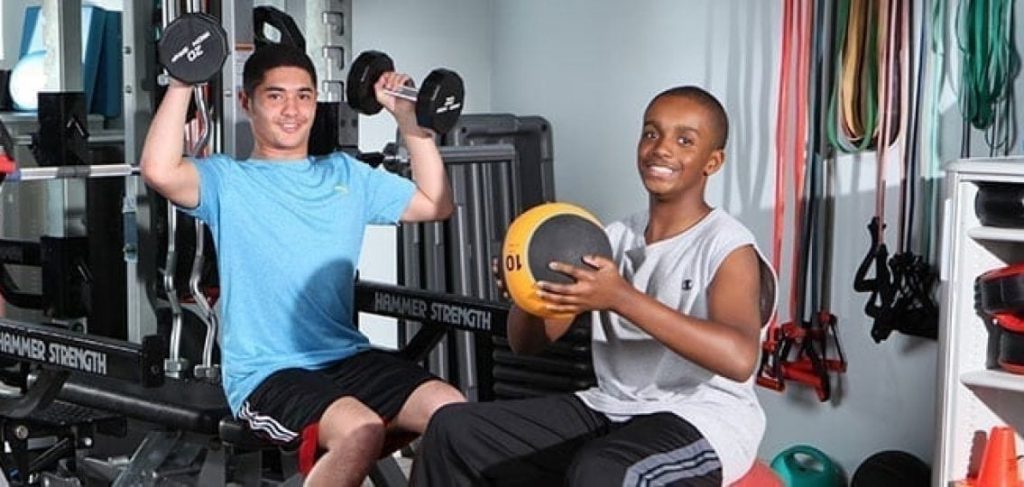 Diet tips for teenagers
Diet is also important to teen body builders just as it is to adult body builders. Because they are growing so rapidly, and burning up a lot of calories, a lot of teenage boys can get away with eating terrible diets. The problem is that if you don't give the body the basic nutrients it needs you will not grow up as big and strong as your genetic potential is allowing you. Also, you may very well suffer from deficiencies acquired at this time for the rest of your life.
Your body needs protein, complex carbohydrate, vitamins and minerals, as much or more as it will when you are older.
Keep yourself well-hydrated with lots and lots of water and stay away from sugars (empty calories).
So don't make the mistake of training to become big and strong without giving the body the fuel it requires to grow the way you want it to.
What if your parents are against bodybuilding?
If your parents are concerned about your body building efforts, have them take you to your family physician and tell him or her about what your plans are as well as the exercises you want to do. Listen to what the doctor has to say and heed any advice that is offered. If you undertake this program in a responsible way, your parents will be impressed rather than worried!
Why your parents should be worried in the first place? There are certain myths and misconceptions that your parents still believe to be true. A number of parents are concerned about the kind of effects severe exercises can bring about to a teenager's body. A teenager's body, as we all know, undergo a number of natural changes. Hence, parents are concerned that the additional strain of heavy exercises might prove detrimental to the teenager's growth. However, there is no real proof to suggest that exercising can harm bodily growth.
Secondly, many parents believe that working with heavyweights can stop bones from growing. They justify their claim by pointing out that lifting heavy weights can quicken the closure of growth plates, thereby stopping their growth far before they are supposed to. Again, there is no solid proof to suggest that weights affect a certain individual's growth.
Closing thoughts: Weight and Strength Training for Teenagers
Teenagers should tone their muscles using a light weight (or body weight) and a high number of repetitions, rather than lifting heavy weights. Also, teenagers require the same kinds of cardiovascular and flexibility conditioning that adults do. The only difference is that, being young, they will tend to respond faster and better to this kind of training than older people.