Weight lifting shoes
The three most commonly used resistance training accessories are weight training belt, fitness gloves, and weight lifting shoes. In this post you will find out what are the benefits of wearing weight training shoes. Furthermore, after reading this post you will know exactly what to look for in a weight lifting shoe.
While most casual gym goers will wear just any sneaker to the gym, your shoes can make a big difference in both your technique and your maximal weights. A traditional sneaker has a cushioned sole to protect the foot from ground impact when running and jumping. While this type of sole is fine for traditional sports, it doesn't work for strength training, where there is no impact and you want as little force to be displaced into your shoes as possible.
The ideal shoe will vary from lift to lift, and from lifter to lifter.
Desirable characteristics of weight lifting shoes
Weight training shoes are mainly designed to give good arch support, a tight fit so the foot does not slide around inside the shoe and a non-slip surface on the sole to prevent slipping while lifting. Weight training shoes offer little or no shock absorbance in the sole of the shoes, thus any force or power developed by extending the leg or hip is not used to compress the sole of the shoe and is available to lift the weight in such exercises as the squat or clean. A shoe with a non-slip surface on the sole and good arch support should be worn during resistance training but it does not have to be a shoe specifically designed for power or Olympic type weightlifting. Many cross-training shoes offer the characteristics necessary for a good weight-training shoe.
So what to look for in a weight lifting shoe?
good arch support
fit tightly – your feet should feel supported within your shoe in all directions
elevated heel
nonslip surface on the sole
offer little or no shock absorbance
provides good foot and ankle stability
Wear shoes that have firm support, especially from side to side. Look for shoes that have a normal-sized heel width, such as tennis shoes, rather than the wide or waffle heel of running shoes.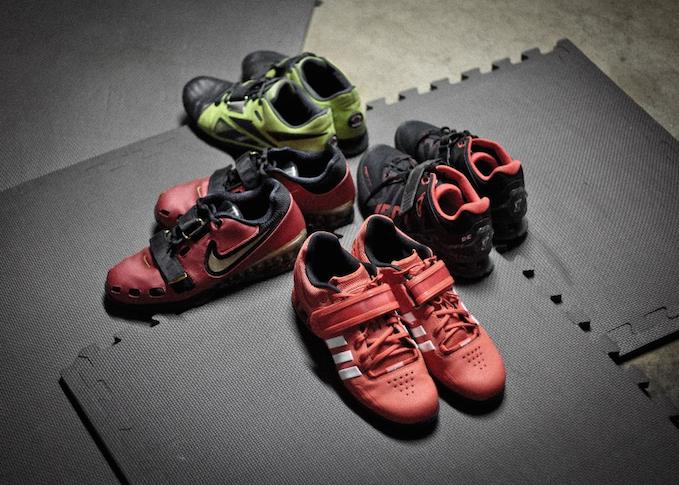 The Benefits of wearing weight training shoes
Under extreme conditions our feet need help in order to be able to safely and effectively do the things we ask of them. Just as no serious mountain climber would ignore the benefits of proper mountaineering footwear, no serious weightlifter should ignore the benefits of weight lifting shoes.
Good weight lifting shoes will for sure:
guide your body into proper alignment and help it stay that way throughout the lift;
the tarsal strap on lifting shoes helps create a firm, snug fit that prevents rollovers;
provide adequate ankle support;
the tarsal straps mentioned above also allow you to push out harder against the side of your shoe creating additional hip activation for a stronger, more effective deadlift or squat;
increased overall stability;
they provide more effective vertical thrust;
promote proper alignment of the lumbar spine and pelvis;
they provide protection for your knees by improving alignment between your feet and ankles;
Why are running shoes the worst possible choice?
Running shoes have an inbuilt cushion to absorb impact with each step you take. This is ideal for running, but not so great for lifting weights. Rather than absorb force, you need a shoe that will help you use all the force your body produces to help you move weight. The more force you can produce, the more weight you can move.
Closing Thoughts
There are shoes designed for everything nowadays – resistance training included. The lifting shoes on the market are primarily intended for competitive lifters, but are available to anyone willing to spend the money. A great pair of weight lifting shoes are more than shoes to a lifter; they're an extension of their body.
Look for a shoe that provides good foot and ankle stability. This eliminates most running shoes. Tennis, basketball, and cross training shoes provide adequate lateral stability and should serve you well in your resistance training. However, we especially recommend using cross-training shoes. They are an excellent choice because they provide the best overall stability and versatility.