Weight Training for Children
Weight training for children? Children gain important benefits through a carefully planned and closely supervised weight training program. Those who participate in weight training can gain strength, improve their self-image, increase their level of physical fitness, improve their sports performance, and possibly reduce their risk of youth sport injury.
Proper training for young athletes
Common injuries among children
The risk of injury from weight training during participation in a carefully planned and closely supervised weight training program for children is low. The few injuries that have been reported usually have occurred during improperly performed overhead lifts. Contributing factors include too much weight, improper technique, poorly planned programs, and a lack of supervision.
Another common injuries are joint strains and muscle strains of the low back. While this is likely due to poor technique, it may also stem from a lack of "core" training.
Focus on the core training
Core training should be a top priority in young athletes who wish to lift weights. It involves general strengthening of the muscles surrounding the abdomen and low back (see: muscles of the core) . This is the "hub" or base of operations for the extremities. Without a strong core, muscle imbalances and injury are more likely. Also, core development is extremely impor­tant for sports because power traveling from the legs to the upper body, or vice versa, must be transferred by the core muscles. By the way, this transfer occurs when playing nearly every sport, so core training is mandatory.
Planning and supervising weight training programs for young children
Those responsible for planning and supervising weight training programs for children must be trained and qualified in this area. Each exercise, along with the spotting techniques for that exercise, must be taught and demonstrated correctly.
Young children should never train alone without proper adult supervision and trained spotter. The training area should be clean, bright, attractive, and large enough for the child to perform each lift safely.
Light to moderate weights – high number of repetitions
Training programs for children should focus on all-around physical development, not just strength training.
Strength is only one aspect of physical development. Children should train with moderate to light weights with which they can handle a fairly high number of repetitions. The National Strength and Conditioning Association recommends 6 to 15 repetitions in each set. This means that a child should not be allowed to lift a weight unless he or she can complete at least 6 correct repetitions using that weight.
One-repetition maximum lifts are out of the question for children.
Weight training for children should be on a voluntary basis
Weight training for children should be on a voluntary basis. If young children are forced to participate in weight training, they are more likely to develop a negative attitude towards this beneficial activity. If they develop a negative attitude, they probably will not participate in "weight training for life".
Weight training after puberty and during adolescence
After puberty and during adolescence, with the accompanying hormonal changes, children begin to undergo greater physical changes as a result of a weight training program. During this time they should maintain strict exercise form, and close qualified adult supervision is critical. Boys at this age seem to have an overwhelming urge to find out who can lift more weight. Of course, what they often find out is how much they cannot lift. The risk of injury is too high.
As young people approach full growth and full physical maturity, weight training can have its most dramatic positive effects on physical performance, appearance, and self-confidence. This is a time when they can handle heavier exercise loads and more intense exercise programs. To maximize safety and progress, however, the emphasis must remain on correct exercise techniques. Many young men resort to poor exercise techniques to move a heavier weight. This can result in injury. Weight training exercises performed correctly rarely result in injury.
Simple rules of exercise for children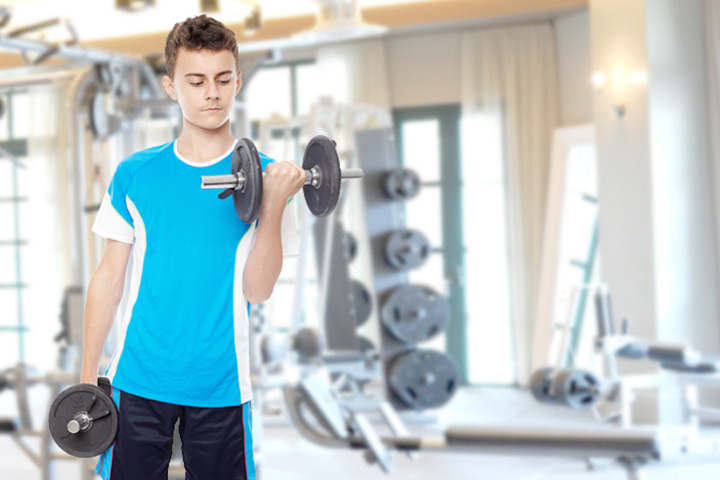 #1 Focus on the core and then expand outward
The trunk of a child is the center of all operations. Any weakness here will make big and strong arms and legs useless. You can read more about core muscles in the anatomy section of the site. Of course, this is true of any age group. We've seen countless weight lifters who can't even perform a squat with their own body weight because they lack the coordination and core strength that together allow maximum potential from their legs. Don't let this happen to your child.
Beyond allowing the extremities to develop their true power, core strength is crucial in nearly every sport. In most cases, the arms and legs of those playing baseball, basketball, tennis, golf, soccer, football, hockey, lacrosse, and so on, are simply the last link in the fitness chain.
#2 Don't neglect agility and balance
Too many kids want to jump feet first into the deep end of the exercising pool and skip right to lifting heavy weights. Well, if patience is a virtue, parents will need to exercise a bit of their own to keep their kids' egos from invading their workout regi­mens. With core strength developed first, kids can then graduate to some quicker, more challenging movements that improve agility, speed, power, and balance. All of these attributes are cru­cial in playing sports. The champions are rarely the strongest, and how much you can bench-press is of little consequence on the playing field.
Proper agility and balance training is a must. Side-to-side shuffling, single-leg hops, diagonal jumps, stand­ing on one leg while playing catch, lunge jumps, sprints, walking on hands while a partner holds the legs, jumping rope, and run­ning with rapid changes of direction are all fantastic methods for improving agility and balance.
#3 Now it's time to hit the weights
Until a child has performed at least six weeks of core and agility/ balance training, incorporating traditional weight training exercises is not necessary. In reality, this type of exercise requires less coordination and proficiency than the agility and bal­ance drills. Furthermore, it has less specificity to bona fide sports. Never­theless, it's extremely important and can make monumental improvements in the sporting lives of children. Furthermore, weight lifting will have the most profound and lasting effects on their growing bodies. Put simply, the weight room is where mus­cles are born.
Exercises should focus primarily on those movements that encompass a number of muscles at once: squats, lunges, bench press, overhead press, pull-ups, rows, and all their variations. Additional exercises like biceps curls and hamstring curls, triceps extensions, and other isolation movements should be placed at the end of the training session and thus carry less significance.
Misconceptions

& myths of weight training for children
Most of the many misconceptions concerning weight training for children result from misunderstandings and impressions gained from partial truths, stereotypes, or sport myths. Read more about misconceptions & myths of weight training for children in our previously published post.
A sample workout routine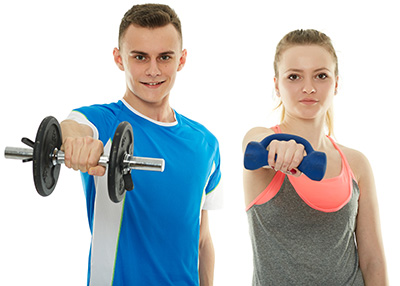 Here is a sample general workout routine for your child (and you) to begin with. The core and strength-training program should be done twice per week, along with endurance training three times per week. Enjoy, and good luck.
Stretching
Warm up for five to seven minutes with light jogging or biking. Then stretch major muscle groups of the chest, arms, hips, legs, and ankles.
Core Training + Agility/Balance
Perform three 45-second sets for each of the following exercises:
Side-to-side shuffling with medicine ball catch/throw
Single-leg diagonal hops with medicine ball catch/throw
Box jumps with lightweight medicine ball catch
Walking on hands with body balanced on a Swiss ball (also known as a stability ball; a large ball used to activate core mus­cles while performing various exercises)
Leg raises and scissor kicks with stable abdomen and back lying flat on the floor
Weight Training
Perform three 10-to-15-rep sets for each of these exercises:
Squats
Lunges
Bench press
Pull-ups
Flexed arm hang (hold position for 10-15 seconds)
Leg extension
Leg curls
Upright row
Shoulder press
Endurance
Running, biking, or other endurance activity or game; perform for twenty to thirty minutes.
Closing thoughts: Weight Training for Children
Everyone who has a muscular system can benefit from a regular program of progressive resistance exercises. Therefore, almost everyone should participate in weight training – men, women, and children off all ages, including people with disabilities. It's even safe to lift weights during pregnancy.