Weight-Training Gloves: The Benefits and Drawbacks
Training with weights does more than increase strength and muscle tissue, it also causes calluses on the hands. The safest way to prevent the formation of calluses is to wear training gloves. Weight-training gloves are most commonly used weight-training accessories. But be careful. Weight-training gloves also have a few imperfections. So the decision to wear them or not is a matter of personal preference. In this post you will find out all the advantages and disadvantages of wearing a weight-training gloves.
Weight-lifting gloves have padded palms, and the tops of the fingers are cut off for better grip.  However, there are a few reasons to consider wearing those fingerless lifting gloves.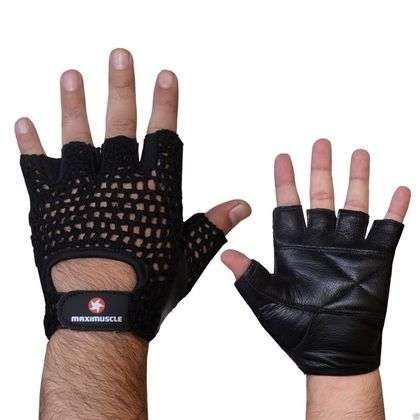 Advantages of wearing a weight-training gloves
They can for sure improve your grip on slippery, sweat-streaked bars. Gloves will make sure that sweat never causes the weights to slip out of your hands. But what if your hands are never sweaty?
Subsequently, the most important reason why most people wear gloves is because they keep your hands from getting callused. Nobody wants to have hard skin bellow fingers. One of the first things those not used to manual labor or weightlifting will notice after a few workouts is blisters. After a short time the blisters will turn into dead skin that will start building up in layers, leading to the formation of calluses. Calluses, while not the nicest thing to look at, are a preventative tool given to you by your body. Calluses prevent the skin from breaking in frequently chafed areas.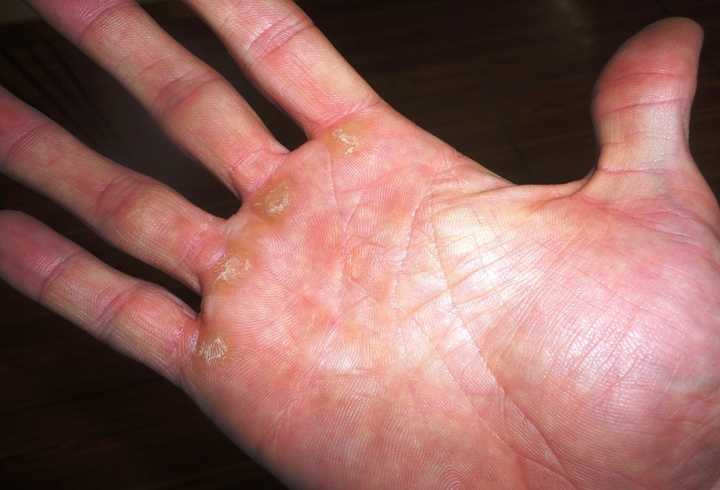 A pair of gloves that fit well will surely prevent the development of calluses. But they're hardly a necessary accoutrement. In fact, they have a few significant drawbacks.
Disadvantages of wearing a weight-training gloves
For one thing, gloves are a pain to pull on and off, especially after a sweaty workout. Also, gyms are very dirty places. Have you ever seen anyone scrub a barbell or dumbbell? All that dirt ends up on your gloves, which pro­vide a perfect environment for bacterial growth.
Furthermore, while weight-training gloves will improve your grasp and prevent calluses, we also think they limit your grip strength. Why? This is because weight-lifting gloves add an extra layer of thickness to the bar. The thicker the bar, the harder it will be to get a good grip on it. In such cases your grip will often give out before the muscles that you are primarily training do. This is especially true for the exercises such as deadlifts, pull-ups, and barbell rows.
If you do wear gloves, wash them every week or two. Or give them up entirely. You can get a perfectly good grip with your bare hands, especially if you use a paper towel to swab the sweat off bars and dumbbells. If you want to tray them anyway, go for the cheapest ones that fit comfortably. Don't bother with more expensive gloves with leather wrap-around wrist straps. They won't give you the support you think they will.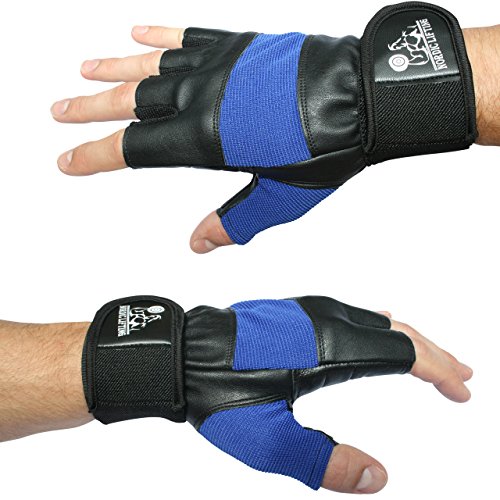 Weight-lifting pads as a better alternative?
Some bodybuilders use golf gloves instead. While thinner and not providing the same degree of protection as weightlifting gloves, they are a decent alternative. If gloves are not your style, then try holding a piece of sponge or rubber between your hands and the barbell.
In other words, you may want to use weight-lifting pads. Weight-lifting pads are spongy rubber squares or circles (like potholders). You will simply place them in the palms of your hands while you lift. Pads can offer better control than gloves because more of your hand is in contact with the weight. The only "problem" is that you have to carry them around as you work out.
Closing Thoughts
Wearing weight lifting gloves is a personal choice. In other sports, like boxing for example, this is not the case. Boxing is unthinkable without boxing gloves. Therefore, weight lifting gloves are not essential to a safe or effective resistance-training program. Some people swear by them and would not go to the gym without their weight lifting gloves. Others claim they interfere with their workout. You should consider the pros and cons of weight lifting gloves before making your final decision. There are lots of people that appreciate the skin-on-metal contact of weight training, and the increased mental focus it provides. Finally, you can toughen your hands with support-free training and use chalk as your only gripping aid. If you decide to wear gloves select those that have a leather palm and mesh back, are flexible, fingerless, and fit snugly. Or, simply use weight-lifting pads instead.