Is Lifting Weights Good or Bad for Your Heart Health?
Wondering if weightlifting is heart healthy? We all know that aerobic exercises, such as biking or long-distance running and aerobic training classes, are good for developing a healthy heart and circulatory system. What abour lifting weights? The answer on this question is also categorically yes. Weightlifting and heart health go hand in hand.
We can often hear that weight training does not produce cardiovascular health. However, this is just a myth. While it is true that aerobic exercise will provide additional benefits, weight training definitely contributes benefits of its own to promoting cardiovascular health. Weight training also builds strong bones and connective tissues better than aerobic exercises.
The main purpose of this article is to demonstrate how exactly weight training can improve cardiovascular fitness in addition to increasing muscle size and strength.
What are the main benefits to healthy heart of working out with weights? How lifting weights promote heart health?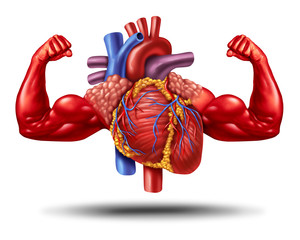 Weight training can produce significant and positive changes in some cardiovascular parameters. These include better oxygen-carrying ability, lower resting heart rate, and reduced systolic blood pressure.
Moderate weight training can increase the heart rate, which helps to improve heart function. In addition, the stronger the muscles are, the less stress there is on the blood vessels, lungs, and heart. This helps to protect your vital organs and to keep your heart healthy and strong.
Other benefits of weight training include positive changes in serum lipids, improved glucose tolerance and insulin sensitivity, and improved short-term high-intensity endurance.
Weightlifting is a great way to lose weight and keep it off by raising your metabolism and making your body burn calories more efficiently. While cardiovascular exercise helps the body burn more calories per session, lifting weights allows the body to burn more calories in the long term (long after the training session) – as the muscles remain in an agitated state. Most people who have heart problems are also overweight or struggling with some of the other problems of obesity like diabetes. Lifting weights can help in preventing this situations.
Strength training also lowers your bad LDL cholesterol and blood pressure, and boosts metabolism. Moreover, studies by the AHA (American Heart Association) show that resistance exercises can also reduce the symptoms of other health conditions such as arthritis, osteoporosis, lower back pain, obesity, and diabetes.
What are the benefits of lifting weights for heart patienst?
While the benefits of building muscle to the body's most important muscle, the heart are becoming readily apparent for any healthy person – for the heart patient weightlifting and resistance training can be very important to preventing future heart attacks or other cardiac episodes.
It is all about being in better condition and being stronger. It's not brain surgery but it is basic heart science. If you have a weak heart even simple tasks like walking up stairs lifting groceries, even walking can put a strain on it. If you are stronger from building lean muscle mass these tasks become that much simpler, your heart doesn't have to work so hard.
Studies have also shown that when people lifting weights were monitored for cardiac output the heart pumped stronger and faster. Like any muscle this builds stronger walls in the ventricle, the pumping part of the heart. Strong ventricles mean the heart can pump more efficiently, and effectively lowers resting heart rate, which can lower blood pressure, one of the main contributing factors to heart attack and stroke.
There's even a benefit to weight training after a heart attack, under appropriate medical supervision or guidance.
Medical researchers even report about how weight training is effective in promoting cardiac rehabilitation. D. E. Verril and P. M. Ribisl observed that cardiac event patients following weight-training programs experienced improvements in muscular strength, cardiovascular endurance, body composition, bone density and mineral content, and self-confidence. As a result of weight training, these patients were able to return to their daily activities sooner. In another study, Y. Beniamini and coworkers reported similar improvements that weight training produced as part of an outpatient cardiac rehabilitation program.
They discovered that when weight training was added to a standard cardiac rehabilitation aerobic exercise program, the weight-training patients lost more body fat, gained more lean tissue, and had greater improvements in treadmill exercise time. They concluded that weight training also reduces cardiac risk factors from these added results.
Closing thoughts: Weightlifting and Heart Health
Conventional wisdom has been that the best exercise to improve heart health and maintain a healthy cardiovascular system and thereby reducing the risk of stroke and heart attack were aerobic or so called cardio workouts. Weight lifting has traditionally been considered an anaerobic exercise, and as such was not thought to be the best choice for heart health. However that is no longer the thinking. Many medical professionals and personal trainers recognize the benefits weightlifting has on the heart and lungs, especially when combined with more traditional cardio workouts.

In conclusion, strength training not only increases muscle strength and endurance, but it also improves cardiovascular function and reduces the risk of coronary disease. Therefore we can conclude that weight lifting is a sure-fire way to ironclad your cardiac health. Weightlifting and heart health truly go hand in hand.