How to Tell When You Should Lift Heavier Weights?
When to Lift Heavier Weights?
The weight that you can use for each exercise is constantly changing. In the best case, your strength increases and you need to lift heavier and heavier weights.
However, the question of when to increase the weight resistance is often puzzling to beginners. If you scrupulously note all your workouts as suggested, you will easily figure out when to increase your weight for your next workout. If you do not write down your weight, you will face a very tedious task.
The easiest answer of course is that you add more weight when the resistance you are using feels too light. Weight training should be pleasurable. You will continually have to increase the resistance as you get stronger. But not to the extent of making each exercise an all-out super human effort. Train, don't strain. In this post you will find out when to increase weight when lifting.
Key factors for increasing the weight
Knowing how and when to increase weight when lifting is a critical factor in making progress. To determine whether the muscle is ready for an increase in resistance, we use two criteria:
NUMBER OF REPETITIONS. When you reach your target number of repetitions (12 for muscle mass or 20 for endurance, for example), it is time to ask yourself if you need to increase your weight.
ABILITY TO HANDLE THE WEIGHT EASILY. But to reach the target number, has your form deteriorated? There are generally two scenarios. To increase the weight at the right moment, you must absolutely be in the second scenario below.
You have artificially reached your target number. There is a natural tendency to cheat to try to convince yourself that you are gaining strength. In this case, wait one or two workouts, during which you try to perfect the performance of the exercise rather than change the weight.
You feel at ease with a weight that seems too light. In this case, you must increase the weight. Increasing weight must be proportional to passing your target number of repetitions. If you exceed your goal by one or two repetitions, then you should increase the weight by only a small amount. In general, you can increase the weight of dumbbells in 1-pound (.5 kg) increments. It is not useful to increase at a faster rate unless you have dramatically surpassed your target number. In this case and this case only, you can make a larger increase.

4 Signs You Need to Increase Your Resistance
The current weight you are lifting isn't a challenge.
You could go forever.
You have never increased the weight you lift.
The progress has come to a stop.
Warning: Increasing weight too fast
Sometimes even a very small increase in weight can cause you to no longer feel the movement or ruin your form. It is better to increase your weight slightly and often rather than suddenly. Take several workouts to begin feeling all the sensations again. If you decide to disregard these warnings so that you can progress faster, you will start to lift the weight using the momentum of your body rather than the strength of your muscles. You risk hurting yourself, which will slow your progress even more.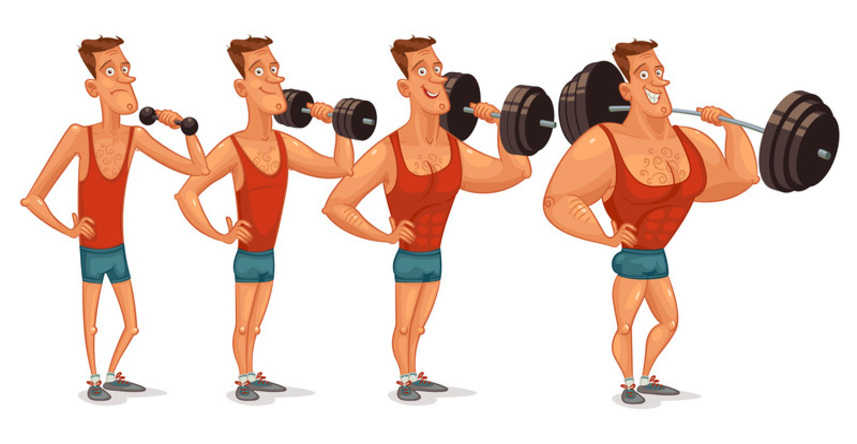 Recommendation: Warm up

As you get stronger and begin starting with heavy weights in your first set, the warm-up becomes more important. When you are not very strong, the joints and the tendons do not need much warming up since the muscle tension required is not very great. As you gain strength, you will need to increase your warm-up time, because you will be subjecting your muscles to tension that more and more closely approaches their point of rupture.
Are you really able to handle heavier weights?
You will not always be correct in your decision to increase your training load. Do not worry; nobody can predict future performances with 100 percent accuracy. However, you will be correct far more often if you have written records of your past performances than you will be if you rely on your memory.
Warning; If you had a very good workout last time, on paper, you may believe that you are ready to handle heavier weights. However, keep in mind that a very good workout takes a greater toll on the muscles and therefore on the recovery processes than an average training session. Therefore, your muscles may not have fully recovered and, as such, may not be ready to handle heavier weights. By the same token, recovering from a mediocre workout is easier than recovering from a standard workout. This is why most bad training sessions are followed by an increase of strength. Take this into account in your decision to modify your resistance.
Rule of Thumb
If you performed more repetitions than expected for an exercise in your last workout, pick up a slightly heavier weight today.
If you perform fewer repetitions than expected for an exercise in your last workout, use the same amount of resistance until you feel very comfortable with that weight.
The Bottom Line: When to increase weight when lifting?
There is no fixed rule, here! You have to remain flexible regarding the amount of resistance. Whenever you perform more repetitions than expected, pick up a slightly heavier weight for the next set. Whenever you perform fewer repetitions than expected, pick up a slightly lighter weight for the next set. It is very helpful to note each of your weights as well as the number of repetitions you performed for each exercise in a notebook or in your phone. There are plenty of apps for this.

But the natural tendency is to want to jump ahead of this increase in strength and increase your training weight too quickly. This means your form deteriorates during exercises, and you feel less and less work from your muscles. Finally, you can lose your motivation because training becomes more and more arduous. That's why you should be extremely careful when increasing the training weight.