Today we are going to be discussing about one very ancient pseudo-grain – Amaranth – and why every bodybuilder and strength athlete should include it in his diet. With tons of newly dubbed "superfoods" gaining widespread awareness and popularity, amaranth grains and leaves are still unduly behind the trend, remaining relatively obscure despite their myriad health benefits and extraordinary nutritional properties. But regardless of whether you want to be ahead of the health-food curve or just want to try some new grains and leafy greens, amaranth is a great alternative, a healthy food source that can help further your training goals.
What is Amaranth?
The word amaranth comes from the Greek word amarantos, which means the "one that does not wither." A bushy plant that grows S to 7 feet tall, amaranth grains grow very rapidly and their large seed heads can contain a half-million seeds. Although many species of amaranth are considered weeds, people around the world value amaranth as a leaf vegetable and cereal. Amaranth was one of the staple foods of the Incas and was also used by the ancient Aztecs for food and rituals until the Spanish conquistadors forbid its use. Still used in Mexico, Peru, and Nepal, amaranth was rediscovered in the United States in the 1970s.
Amaranth is called a pseudo-grain: it is similar in taste and preparation to grains, but it is technically not a grain, which comes from grass seeds. A member of the Chenopodiaceae family, amaranth is a relative of beets, chard, and quinoa. Because of this, some of its nutritional aspects have more in common with dark green leafy vegetables than the "true grains."
Nutritional Properties and Health Benefits of Amaranth
Macronutrients
Proteins
Amaranth seeds are an excellent source of high-quality protein as compared to true cereals. Protein plays an important role in building muscles, supporting neurological functions, helping in digestion, and maintaining hormonal balance. The protein content in various amaranth varieties ranges between 13% and 19% of dry matter which is higher as compared to common grain crops (maize 8.9%-12.9%. wheat 9.1%-14.0%, oats 16.0%, rice 7.5%-8.7%).
The extraordinary nutritional properties of the amaranth grains not only lie in the content of proteins but their quality. They have biologically complete proteins with all the essential amino acids, namely leucine, isoleucine, valine, methionine, phenylalanine, lysine, threonine, and tryptophan. Moreover, high lysine and tryptophan content and lesser glutamic acid and praline content in amaranth grain make it comparable with animal proteins.
Gluten which is an important protein in grain crops like wheat, rye, oats, and barley is absent in amaranth seed proteins. This makes it suitable for preparing nutritious food products for people suffering from a serious autoimmune celiac disease where the ingestion of gluten leads to damage in the small intestine. The level of amaranth protein constituents is quite close to the level required in balanced human diets.
Carbohydrates
The amaranth seeds possess low quantities of monosaccharides and oligosaccharides, and a considerable content of polysaccharides, with starch as the major component of this fraction (50%-60%, DW). In Amaranthus cruentus, A. hypochondriacus, and A. hybridus, small amounts of glucose (0.12%-0.67%) and fructose (0.05%-0.13%) have been detected. These values are significantly higher than those found in cereal grains such as wheat and maize. Oligosaccharides sucrose (0.41%-1.95%) predominates in amaranth, followed by raffinose, maltose, and stachyose.
Lipids
The lipid content of most of the cultivated amaranth species range from 5.4% to 9.0%, higher than the lipid content found in cereal grains (such as wheat and maize with values of 2.1 and 4.5%, respectively) and lower than that found in soy. Amaranth grain contains mainly unsaturated fats, containing linoleic (or omega-6) fatty acid (25-62%) and alpha-linolenic (or omega-3) fatty acid (0.3-2.2%).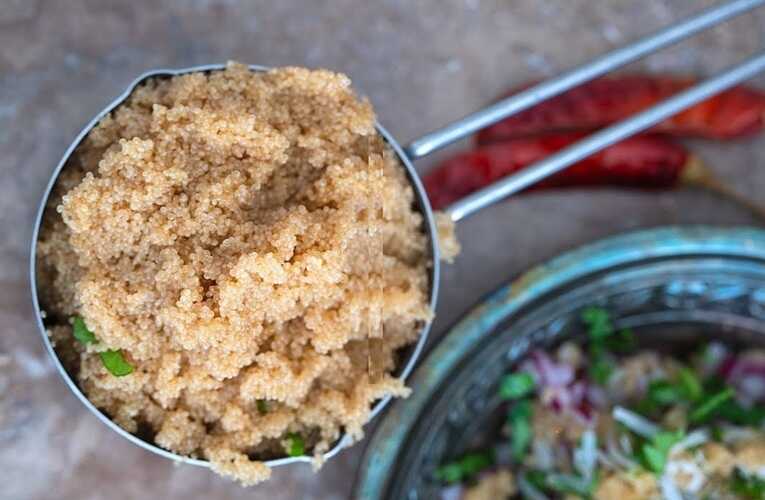 Micronutrients
Vitamins and minerals
Amaranth species contain riboflavin, niacin, ascorbic and folic acids, thiamine, and biotin, all of which are necessary for a proper diet. In the three cultured amaranth species, the riboflavin content is higher than that for cereal grains, while the contents of thiamine and niacin are at low levels compared to their content in cereals (two to three times higher).
Amaranth grains are also recommended as a good source of minerals. The mineral content has low variability among amaranth species (2.6%-4.4%). Amaranth contains important macrominerals such as Ca, K, Mg, and Na, and macrominerals like Cu, Fe, Mn, and Zn. These grains have higher quantities of Ca, P, and Fe than that found in traditional cereals.
Also, amaranth grain flour contains mainly polyphenols (flavonoids) and phenolic acids with relatively high antioxidant activity.
Why is amaranth an ideal protein source for building muscles?
Amaranth is an ideal protein source for building muscles for several reasons:
high in protein and lysine
a complete protein containing all nine essential amino acids
helps in muscle tissue repair
helps in the formation of collagen
helps in injury prevention – contains three times the amount of calcium other grains boast
amaranth extract (rich in nitrites) can increase nitric oxide production (therefore improving endurance performance)
it can contribute to improved aerobic metabolism
Health benefits of amaranth
High source of protein. Every single cell in our bodies uses protein which is critical for building muscle mass, supporting neurological function, aiding in digestion, helping to balance hormones naturally, and keeping an upbeat mood which suggests that this protein is useful for muscle recovery and the immune system for athletic performance.
Gluten-free. We all know very well that celiac disease is a serious autoimmune disease that occurs in genetically predisposed people where the ingestion of gluten leads to damage in the small intestine. Celiac disease affects 1 in 100 people worldwide. Amaranth seed is gluten-free and you can use it without any fear to prepare nutritious and suitable food products for people with this type of food allergy.
Reduce inflammation. The intake of amaranth could help to avoid diseases caused by inflammation because it has been described that extruded amaranth protein hydrolysates prevented inflammation by the activation of bioactive peptides that reduced the expression of several pro-inflammatory markers.
Bone health. Calcium is a key player in the generation and maintenance of healthy bones as it supports mineralization. Amaranth contains more calcium than other seeds, which makes it a valuable food that helps to have a healthy development of bones helping to prevent osteoporosis.
Amaranth as a cardioprotective. Amaranth's oil can reduce total and bad cholesterol (LDL) and increase good cholesterol.
Fights duodenal peptic ulcer.
Fights diabetes.
Summing up
The entire plant can be broken down for eating. Seeds can be ground into flour, or they can be utilized in place of other similar foods like quinoa or brown rice. Leaves can also provide a healthy, tender replacement for greens such as kale or Swiss chard.
Amaranth grains are a complete food due to their excellent quality proteins and well-balanced amino acid composition and high levels of dietary fiber, vitamins, minerals, and antioxidants. The amaranth proteins have essential bioactive peptides which may act as modulators of metabolism and possess other outstanding biological activities, such as anti-inflammatory, antihypertensive, and anti-diabetic properties.
Most of the phytochemicals in amaranth grains are various polyphenols. These compounds possess additional health benefits, especially antioxidant activity, which is critical in reducing the risk of oxidative stress-related chronic diseases. In addition, amaranth seeds are safe for people with gluten allergies and celiac disease.
All these characteristics make amaranth grains not only a highly valued food but also a novel functional ingredient of specialty foods.