The pros and cons of hiring a personal trainer
The main reason people hire personal trainers is to get professional assistance in improving car­diovascular fitness, strength, muscle tone and endurance. A trainer can help you create a new program or fine tune your old routine to get results. In this post you will find out all the benefits and disadvantages of hiring a personal trainer.
However, before hiring a personal trainer, ask yourself three main questions.
How many sessions can I afford?
Will I get better results?
Will I be able to stay with the program when I discontinue the sessions?
Do I have time to read a few bodybuilding

handbook

s instead of hiring a personal trainer.
Pros and cons of personal trainers
Although working with a per­sonal trainer has advantages, there are potential disadvantages as well.
The pros of hiring a personal trainer
Excellent motivation, guidance and support. What kills fitness goals faster than a candy bar? Motivation, or lack of it. Trainers can provide motivation and help you overcome lapses.
External enforcer always encouraging you to push harder.
Expertise. A trainer will help explain and illustrate proper technique.
You will discover the right way to work out and stop wasting your time in the gym.
Trainers can work with your physician or physical therapist to plane a safe, effective program. This is especially true if you have medical conditions like obesity, diabetes, lower-back pain, and injury recovery.
A personal trainer will be able to make recommendations on the best diet to go along with your weightlifting, the best nutritional supplements, and the other types of workouts you should be doing to enhance and compliment your weightlifting routines.
The cons of hiring a personal trainer
Very expensive. Often you have to join a gym & pay for sessions on top of membership fees.
Time constraints. You have to work out during set sessions.
Expense. Sessions usually come in groups and often cannot be refunded even if you miss a session.
Besides being expensive, sessions may cause clients to become dependent on their trainers.
Some people exercise only when they are with their trainers. If they discontinue their sessions with their trainers for some reason, they are likely to give up their exercise.
What to expect from a personal trainers?
Goal setting. Setting achievable goals within a specific time frame and putting everything down on paper.
Program design. A personal trainer will design and supervise an individualized workout program, monitor your progress and help you master skills in order to achieve long-term results and a lifetime education of fitness.
Proper techniques. Personal trainer makes sure you avoid injuries and ensures the optimal benefit to his client.
Food intake.

Your perfect workout plan isn't enough if your don't follow nutrition advice. Maybe you've heard the saying: "You can't out-exercise a bad diet."

Accountability & Consistency. Ensuring that the clients show up to their scheduled appointments and working out on a consistent basis, about 3 to 4 times per week.
Motivation. They know first-hand the motivational struggles that lifters, athletes and casual gym-goers experience in the course of trying to achieve their goals in the gym.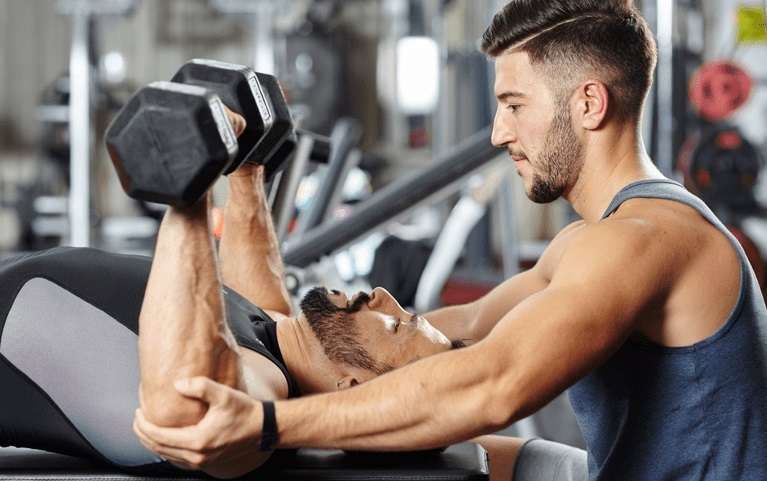 U

nqualified

personal trainers
Be very careful! It seems like every second person is a personal trainer these days. Make sure that you hire someone who is qualified and will help you get the most from your fitness program. Have a trial session before making a final decision.
A truly qualified personal trainer has a college degree in exercise science (or a similar area) and has earned one or more certifications in personal training, health, or fitness from a respected professional organization.
Here are some important questions to ask:
Can the potential personal trainer provide you with a resume?
What type of professional education and certifica­tion does the potential trainer possess?
How long has the person been a personal trainer and are references available upon request?
Online personal trainers
As I final word of caution when seeking fitness advice from a health/fitness trainer via the Internet: Be aware that certain services cannot be provided over the Internet. An Internet trainer is not able to directly administer fitness tests, motivate, observe exercise limitations, or respond effectively in an emergency situation (spotting, administering first aid or CPR), and thus is not able to design the most safe and effective exercise program for you.
Closing thoughts
Working out with a personal trainer is an excellent way to get fit. Personal trainers are committed to transforming your health and fitness through customized, one-on-one personal fitness coaching. Furthermore, a good trainer will help motivate you through difficult times and help you maximize your workout sessions. Because a trainer knows just when to increase the rigor of your workouts, you will reach your goals faster than you would on your own. A trainer will help you track your progress and will alter your fitness routine as your needs change. It is important to find a trainer you like. Make sure the trainer you hire is both knowledgeable and properly certified.