Along with protein, creatine is the most used supplement by those looking to increase their muscle mass. This micronized creatine monohydrate product from Optimum Nutrition is made for athletes, bodybuilders, and regular gym goers looking to increase endurance, strength, and stamina. It's time for taking a closer look at Optimum's Micronized Creatine Monohydrate Powder. Here's our brief product review that should help you to make some decisions and to resolve possible doubts.
What is creatine and do I need creatine supplementation?
Creatine is an organic acid that our bodies naturally make, and that we get by eating certain foods — seafood and red meat, in particular. If you're not lifting heavy weights, doing high-intensity workouts, or eating a mainly vegan or vegetarian diet, your body probably makes as much creatine as it needs. But you should definitely take creatine supplements if you perform heavy resistance training and want to break into new strength territories or develop more size. It's a very popular and safe supplement to take for muscle gain, enhanced strength, and improved physical performance.
What is micronized creatine and how it differs from plane creatine?
Well, essentially it's creatine monohydrate that's been further processed into very small particles, with the intention of increasing absorption and reducing stomach upset. To be more precise, micronized creatine particles are up to 20 times smaller than regular creatine particles.
If you've ever had a creatine drink before, you've probably faced one of the fitness world's biggest woes that many supplement-lovers share: Your creatine powder won't stop clumping up. The time has come to say goodbye to it.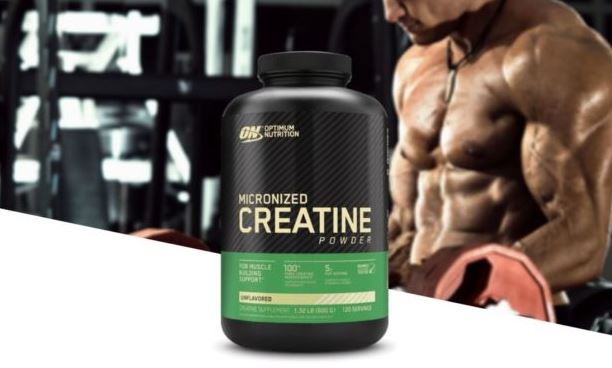 Brief product description & key product features
Description
The benefits of using creatine are improved athletic performance and increased muscle mass. With more creatine in your muscles, you are better equipped to perform more explosive movements such as sprinting, rowing, and weight lifting.
Key product features
5 grams of pure creatine monohydrate per serving;
Supports increases in energy, endurance and recovery;
Maximum potency supports muscle size, strength, and power;
Supreme absorbency micronized to get the most out of each dose;
Unflavored can be mixed in your favorite beverage with ease;
Key product ingredients and their positive impact
Ingredients
This product contains 100% pure creatine monohydrate which is one of the most widely studied supplement ingredients. There is no other ingredients in this product.
Positive impact
Creatine monohydrate has been extensively studied and shown to help support muscle size, strength and recovery when used consistently over time in conjunction with a healthy, balanced diet and regular weight training.
Key benefits of Optimum's Micronized Creatine Monohydrate Powder
Micronized for better and faster absorption;
Helps support ATP recycling for explosive movements;
Absorbs more readily which leads to less risk of water retention under the surface of the skin;
Optimum's Micronized Creatine Powder is available from different sizes (30, 240, or 400 servings), definitely something that fits your budget;
No artificial sweeteners (zero added sugar), coloring or preservatives;
Zero calories & Zero Carbohydrates;
Tested for banned substances;
All Optimum Nutrition supplements are lab tested and manufactured in GMP-certified facilities;
Keto friendly;
Completely flavorless – you can add it to almost any drink without changing the flavor;
Downsides of Micronized Creatine Monohydrate Powder by Optimum Nutrition
Product does not come with a scoop;
Unflavored powder may not taste great on its own;
The container's design is a tad inconvenient, might be difficult to get the last bits of powder with a spoon;
Side effects
There are no side effects if you use creatine properly. Moreover, we haven't found any published literature suggesting it is unsafe.
Suggested use (method of application)
Add one rounded standard teaspoon (5 g) to a protein shake or a glass of your favorite beverage. Then mix it up with a spoon. One scoop is all you'll need per day. Intended for use in healthy adults and as part of a healthy, balanced diet and exercise program.
Technically speaking, you can take creatine monohydrate at any time of the day without sacrificing your fitness results. This said, your supplement is more effective when taken during certain hours. In the case of Optimum Nutrition's Micronized Creatine Powder, post-workout supplementation is your best bet. This means aiming for around one hour after your workout, as the creatine can quickly replenish your taxed muscles.
Which company is behind this micronized creatine powder?
Optimum Nutrition. This company is providing athletes with sports nutrition products for more than 30 years. It is definitely one of the best-known names in the supplement industry, and with good reason. Their ubiquitous whey protein, Gold Standard Whey, may be the best-known and most widely consumed protein powder on the market. Since 1986, they've brought us protein powders, amino acid compounds, nutrient stacks and more.
Furthermore, Optimum is one of the few companies to operate its own, state-of-the-art supplement manufacturing facilities, too. NSF-certified and fully GMP-compliant.
The cost of the product
You won't need to spend stacks of gold on Optimum Nutrition's Micronized Creatine. It's available for as little as $0.10 per serving, offered in canister sizes packing between 150 to 2,000 grams per each.
Micronized Creatine Powder Reviews
We took a look on Amazon.com to see what some customers were saying about Optimum's Micronized Creatine Monohydrate Powder.
At the time of writing, this supplement had an average rating of 4.6 out of 5 stars from a total of 29,085 reviews.
Most users noticed that after a week of using Optimum Nutrition Micronized Creatine Powder, they noticed a difference in their workouts at the gym; they were able to add on more reps, use heavier weights, have a shorter recovery time, and noticed a visible increase in the overall size of their muscles.
That brings us to the end of our look at the Micronized Creatine Powder by Optimum Nutrition.
Summing up (Final verdict): Should you buy Micronized Creatine Powder by Optimum Nutrition?
When it comes to supplements, creatine has become one of the "must have" of all supplement regimes. ON Micronized Creatine Powder should be in your favorite gym bag ready to roll on each workout. This product is precisely what it says it is – just 100 percent pure creatine monohydrate in each 5 gram serving (no additives, no extra ingredients). It supports muscle building, recovery, performance, strength and power when used daily, over time and combined with exercise.
Micronized Creatine Powder by Optimum Nutrition
This pick, from Optimum Nutrition, contains micronized creatine, which has been broken down into smaller particles that are easier to mix in water. It's also been certified by Informed Choice. The simplicity of the ingredient list helps keep the cost down and makes ON's Creatine one of the cheapest and highly rated creatine supplements available. The powder supplement is odorless and tasteless, making it easy to mix with other powdered supplements.
User Ratings (

4

Votes)