Beta Alanine as a Sport Supplement
Within the past few years, beta-alanine has appeared on the sport nutrition market. Beta-alanine is an amino acid that attaches to histidine to promote more muscular energy. It has been shown in studies to improve muscular endurance, provide more energy for high intensity and explosive movements and improve overall workout performance. Beta-alanine is typically administered as capsules or as a powder that is mixed with a liquid (usually water). 
What is Beta-Alanine?
Beta-alanine is an amino acid that is naturally synthesized in the body and thus not an essential component of the diet. It does not play a role in the biosynthesis of any major proteins or enzymes as many amino acids do, but it does aid the synthesis of carnosine.
What is Carnosine?
Carnosine occurs naturally in the brain, cardiac muscle, kidney, and stomach, as well as in relatively large amounts in skeletal muscles. Carnosine is a dipeptide found within both Type I (slow-twitch) and Type II (fast-twitch) muscle fibers. Type 2 muscle fibers are primarily used in high intensity strength workouts and are most responsive to muscular growth. Many scientists believe this role to be the primary contributing factor to beta-alanine's ergogenic qualities: studies have shown increased intramuscular levels of carnosine to be associated with reductions in muscle fatigue and enhancements of overall work capacity.
Beta-alanine: Mechanism of action
The bulk of research on beta-alanine has evaluated its impact on intramuscular levels of carnosine (B-alanyl-L-histidine), a dipeptide essential for maintaining an optimal pH within the muscle. During exertion, especially during high-intensity efforts, the breakdown of ATP for energy production triggers an increase in hydrogen ions and consequent drop in muscle pH. This process is scientifically known as acidosis, commonly expressed in athletes as a burning sensation that leads to extreme muscle fatigue, reduced power output, and eventual muscular failure. Carnosine serves as an effective buffer, naturally absorbing hydrogen ions, allowing the muscle to continue firing, and enabling overall strength and endurance to remain at peak levels.
Why not just take carnosine instead of beta-alanine?
Relative to ingestion, however, carnosine is rapidly degraded into beta-alanine and histidine as soon as it enters the blood through the activity of the enzyme carnosinase. Thus there is no advantage to ingesting carnosine. However, independent ingestion of beta-alanine and histidine allows these two compounds to be transported into the skeletal muscle and to be resynthesized into carnosine. It appears that beta-alanine is the amino acid that most influences intramuscular carnosine levels because it is the rate-limiting substrate in this chemical reaction.
So, in a very short time, all the carnosine you just ingested is either eliminated or broken down into beta-alanine and histidine. These two amino acids are then taken into the muscle, where they are converted back into carnosine with the help of the enzyme carnosine synthetase.
Performance benefit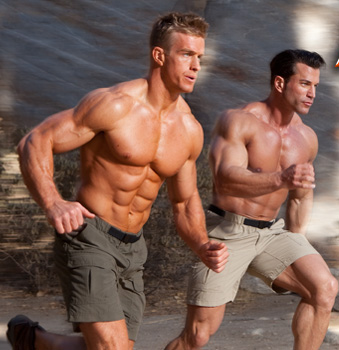 Purported benefits of beta-alanine supplementation include a boost in explosive muscle strength and power as well as increases in anaerobic endurance and aerobic capacity, thus allowing an athlete to train harder for longer.
Possible Benefits of Beta-Alanine
Increases aerobic endurance;
Boosts muscular anaerobic endurance;
Increases exercise capacity so you can train harder and longer;
Boosts explosive muscular strength and power output;
Increases muscle mass;
Who can benefit from beta-alanine?
Individuals participating in weight training looking to gain lean body mass and increase strength.
Any individual involved in athletic activities where strength, power and muscular endurance are needed.
Active individuals who have reached a training plateau and are looking for a supplement to take them to the next level.
Research
Randomized, controlled trials have confirmed that supplementation with beta-alanine has the potential to significantly increase carnosine levels within the muscle, especially in Type II fibers, which provides an efficient buffering system for fatigue-inducing hydrogen ions that can negatively impact anaerobic endurance, especially in performances lasting from 60 to 240+ seconds (Hobson et al., 2012). For example, daily supplementation by elite rowers with 5 g of beta-alanine over 7 weeks corresponded with a 45.3% and 28.2% increase in carnosine levels within the soleus and gastrocnemius muscles, respectively. This result yielded a 4.3-second improvement over 2,000 m of rowing (Baguet et al, 2010). Furthermore, a 2012 meta-analysis of 15 published manuscripts including a total of 360 subjects completing 57 measures within 23 exercise tests using 18 supplementation regimens confirmed a median performance improvement of 2.85% with a median daily total intake of 179 mg of beta-alanine (Hobson et al.). The impact of beta-alanine, however, hasn't consistently yielded favorable results, especially when the effects are evaluated across all sport activities. Indeed, Smith-Ryan and colleagues (2012) failed to discover any performance benefit when evaluating the effect of 2 x 800 mg beta-alanine taken three times daily on anaerobic running capacity or total time to run exhaustion for short bursts at 90%-110% peak velocity or speed lasting 1.95-5.06 minutes. Many sport scientists also remain skeptical about the benefits that beta-alanine has on aerobic capacity and muscle strength, especially in highly trained athletes. Thus, it appears that more research is needed to confirm the potential buffering and consequent anaerobic endurance benefits of specific doses of beta-alanine for athletes engaged in various sports.
Beta-alanine: Common usage
To achieve the research-supported increase in muscle carnosine levels, between 3.2 and 6.4 g of beta-alanine/day are recommended for up to 12 weeks; performance benefits begin occurring in as little as 2 weeks with more dramatic results occurring after 4 weeks of continuous supplementation. Taking beta-alanine in coordination with carbohydrate may facilitate a quicker performance response, likely due to an increase in insulin, a hormone responsible for transporting amino acids such as beta-alanine, into cells. It is also theorized that timing beta-alanine intake immediately before and after a workout may facilitate increased uptake of beta-alanine into the muscles, likely due to increased blood flow during exertion. In addition to supplementation, beta-alanine can be obtained from such dietary sources as chicken, beef, pork, and fish.
Beta-alanine side effects and safety
Supplementation with the research-supposed dose of beta-alanine for up to 12 weeks appears to be safe, but there have been reports or skin irritation, flushing, and tingling with doses above 10 mg/kg of body weight. In addition, there is concern that high doses, especially taken for 4 or more weeks, can interfere with taurine uptake and negatively affect cardiac function.
Stacking Creatine and Beta-Alanine For Better Results
Studies of the effectiveness of both creatine and beta alanine when taken in isolation are readily available. However the studies that have explored the effectiveness of combining these two supplements have uncovered some very promising results that indicate they attain better results when taken together than they do when taken in isolation. One study found that participants that combined creatine and beta alanine improved body composition in terms of increased muscle mass and decreased body fat to a significantly higher level than those supplementing with creatine alone and / or taking a placebo. The duration of this study was over 12 weeks and all groups undertook exactly the same exercise regime.
Conclusion
Supplementing with beta-alanine leads to an increase in muscle carnosine concentrations. Carnosine helps to soak up the excess H+, which in turn can reduce the onset of muscular acidosis and time to fatigue. Beta-alanine is a very exciting and promising workout aid supplement, and should be particularly beneficial to those that weight train using higher reps, combined with short rest periods and moderate to high volume sessions. It should be used daily either on its own or as part of a pre-workout stack, and beta-alanine supplementation should be extremely useful in delaying the onset of fatigue.
References
1. Derave W, Everaert I, Beeckman S, et al. Muscle carnosine metabolism and beta-alanine supplementation in relation to exercise and training. Sports Med 2010; 40(3):247-63.
2. Burke, Louise and Vicki Deakin. Clinical Sports Nutrition 4 thed. Sydney: McGraw-Hill, 2010.
3. Artioli GG, Gualano B, Smith A, Stout J, Lancha A. Role of beta-alanine supplementation on muscle carnosine and exercise performance. J Amer Coll Sports Med 2009; 1162- 1173.
4. Abe H. Role of histidine-related compounds as intracellular proton buffering constituents in vertebrate muscle. Biochemistry (Mosc). 2000;65(7):757–65.
5. Bakardjiev A, Bauer K. Transport of beta-alanine and biosynthesis of carnosine by skeletal muscle cells in primary culture. Eur J Biochem. 1994;225(2):617–23.