Whether you're a bodybuilder or an athlete, or you're just looking to improve your health, you may be thinking about using a protein powder supplement. We're here to help you choose the best you can get for your money. This month we've been trying out the Crazy Nutrition 100% Tri-Protein powder. Here we bring a brief review of this excellent and powerful tri-stage protein powder crafted for athletes and bodybuilders with crazy goals.
Why do you need protein powder supplements in the first place?
You won't be able to hit your muscle-building goals without giving your muscles the right fuel to recover and grow muscles. Muscle growth happens after you train as your muscles recuperate. So, you need to give them as much protein as possible if you want to build and maintain muscle mass.
Arguably the most important macronutrient, protein provides the body with the energy it needs to not only thrive but survive. Since protein is so important, many people take protein powders as nutritional supplements. This is especially true for those who are unable to get the recommended amount of protein through a regular diet. And there are many such people. Protein can help to increase muscle mass, boost strength, enhance stamina, and can even aid in weight loss.
Brief product description & key product features
Description
100% Tri-Protein by Crazy Nutrition is an excellent, high-quality, protein powder that offers six different types of proteins (with each serving) which are released in three different phases (at 3 different speeds). That way ingredients stay in your system longer, which in turn supports more growth, better recovery, and greater feeling of satiation than standard whey formulas.
Key product features
You get six different types of proteins with each serving: Whey protein isolate, whey protein concentrate, milk protein concentrate, micellar casein, calcium caseinate, and whey protein hydrolysate. Some of these proteins get absorbed quickly into the body, while others can take between 5 to 10 hours to become absorbed.
Digestize enzymes are also added. That way can absorb more protein without the bloat, stomach cramps, gas, or stomach upset.
Unique 3-phase protein release (staggered absorption rate): fast, medium, and slow.
Whey protein isolate and whey protein hydrolysate are absorbed by the body in the first phase (fast phase) .
Whey protein concentrate and milk protein concentrate— along with a blend of digestive enzymes— are absorbed in the second (medium) phase.
Lastly, micellar casein and calcium caseinate are absorbed in the third and final phase.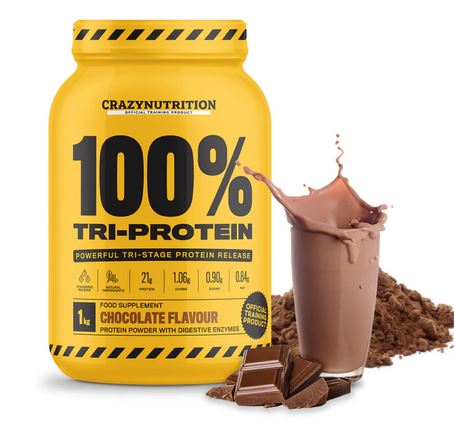 Key benefits Of Crazy Nutrition's 100% Tri-Protein formula
Supports more powerful muscle growth (protein synthesis) than a single whey protein formula.
Unique 3-phase protein release allows the body to naturally absorb and utilize all of the protein without waste.
Boosts metabolism and suppresses appetite. Proteins in this product digest in 3 different phases— which means you digest some proteins slower than others. This slow digestion process allows the body to feel satiated and satisfied without the bloat, crash, or hunger cravings.
Reduces post-workout pain.
Works as a great meal replacement or if you need to bulk up your macros.
100% Tri-Protein Ingredients
Micellar casein (slow digesting)
Calcium caseinate (slow digesting)
Milk protein concentrate (medium digesting)
Whey protein concentrate (medium digesting)
Fat digesting: Whey protein isolate
Whey protein hydrolysate (fast digesting)
Therefore, you effectively get the best of both worlds: an instant protein hit, plus consistent fuel over the next 24 hours, plus everything in between! Most protein powders only have one type of protein!
Tri-protein versus other wheys
As you see there are some major differences between Crazy Nutrition's 100% Tri-Protein and other wheys.
Crazy Nutrition's Tri-Protein
6 natural proteins for more fuel;
Staggered release for 3X more absorption;
Low calories, low carbs, only 1 gram of sugar;
Zero gas— made with digestive enzymes;
Made with natural and safe ingredients;
60-day money-back guarantee with free shipping over $50.00;
Other wheys
Contains only 1 or 2 types of whey proteins;
May be made in non-regulated facilities with low-quality standards;
Lack of transparency on ingredients and practices;
May cause stomach upset, bloating, and diarrhea;
Can contain soy, fillers, and excess additives;
May not have a guarantee, or possibly a shady auto-bill enrollment;
Suggested use (method of application)
Mix a single scoop with between 250 and 300 ml of milk or water, shake it, and drink it down. The chocolate flavor is tasty, and each serving will nourish your body with 21 grams of protein.
How quickly can I expect visible results?
A supplement like Tri-Protein (or any other on this planet) isn't going to magically help you lose weight or build muscle overnight. Along with Tri-Protein supplementation, a healthy diet and lifestyle are also necessary. Regular usage of Crazy Nutrition 100% Tri-Protein supports muscle preservation essential in giving you a toned and muscular sculpt in response to your regular workouts over the period of at least three months.
Are there any side effects?
Crazy Nutrition claims that there is no known side effects. All six types of proteins are released into your body in phases preventing protein overload and any digesting issues. However, we always recommend consulting with your professional health physician before starting any health regimen.
Which company is behind this unique protein powder?
Crazy Nutrition is supplied and manufactured by WOLFSON BRANDS (UK) LIMITED, a trusted name that takes pride in leading the supplements industry for over a decade.
Summing up (Final verdict): Should you buy Crazy Nutrition 100% Tri-Protein?
Definitely yes! This is for sure the best tasting (chocolate shake flavor with a great texture), most effective protein we've tried so far. Works better than any other single whey formula. Crazy Nutrition's Tri-Protein formula is the only daily protein supplement that contains 6 types of whey proteins which are absorbed at 3 different speeds.
With a staggered absorption rate, Tri-Protein's ingredients stay in your system longer, which in turn supports more growth, better recovery, and greater feeling of satiation than standard whey formulas. This makes an ideal protein powder to fuel up your workouts. Therefore, if you can't get all of your protein from your diet, then it's ideal to supplement with the best— and Tri-Protein from Crazy Nutrition wins hands down.