What is casein and why do you need it?
Casein protein is the protein found in the curds of milk and is slowly absorbed by the body. Micellar casein is the highest grade casein available (Kaged Muscle Kasein Protein Powder) belongs to that category), and it feeds your body a steady stream of muscle-building amino acids over the course of many hours. The phrase "micellar" refers to submicelles, tiny particles that are created when calcium phosphate is removed from the native form of casein.
Basically, all studies found that casein was good at preventing protein breakdown (proteolysis) but not so good for increasing protein synthesis and whey protein had basically the opposite effects: it increased protein synthesis (anabolic muscle building) but didn't prevent protein breakdown.
The reason for this is that whey is absorbed rapidly (being a highly soluble protein) and much of it is oxidized while casein forms a "clot" in the gut and is absorbed slowly (being a fairly insoluble protein), thus causing a steady level of amino acids. This is similar to the high and low glycemic index (Cl) carbohydrates, which are absorbed at different rates. That's why they dubbed whey a "fast" protein and casein a "slow" protein.
They are both desirable forms of protein to consume. The question is one of timing. Whey protein is better right after a workout or first thing in the morning for fast uptake into your muscles. Casein is better when there will be a long time period between meals, such as for your last meal of the evening.
Kaged Muscles Kasein Review Points
We reviewed Kaged Muscles Kasein in six categories.
Key product ingredients (nutrition facts)
Amino acid profile
Positive impact
Taste and mixability
Price
Side effects (safety)
Brief product description & key product features
Description
Kaseine® by Kaged Muscle is the perfect protein formula (premium, scientifically tested ingredients) for anyone looking to fuel more lean, impressive muscle. The truth is, we're missing out on major gains while our bodies are deprived of nutrients and amino acids overnight. Kasein solves that problem by providing your muscles a slow and steady stream of micellar casein protein and amino acids, ensuring you're maximizing your anabolic environment for muscle growth and recovery while you sleep. Therefore, anyone looking to combat muscle breakdown through nighttime recovery protein will benefit from Kaged Muscle Kasein Protein Powder. Furthermore, since casein protein is far more filling, many people prefer to use it when weight loss and appetite control are their big priorities.
Benefits
100% micellar casein isolate for slow digestion
Fight muscle breakdown
Enhance overnight recovery
Blends easily and is great for baking
No flavors or colors from artificial sources (only natural flavors)
No amino spiking, no blends, no concentrates
Contains less than 1 gram of lactose per serving
Banned substance free
Properly dosed key ingredients
Amazing taste (available in three dessert-inspired flavors)
Third-party tested
Downsides
Contains artificial sweeteners
Not suitable for people with coconut allergies
Available only in a 2-lb. (906-gram) tub
Available in "only" 3 flavors
Key product ingredients (nutrition facts) and their positive impact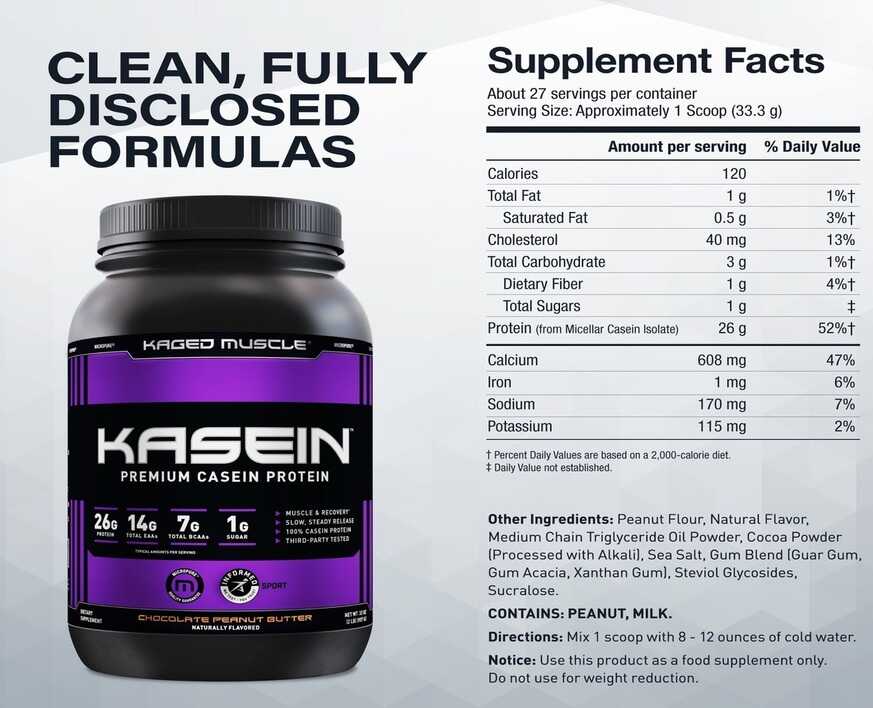 Key product ingredients
1 serving size (approximately 1 scoop or 35.6 g) provides the following:
130 calories
26 g of pure micellar casein isolate protein
4 g of carbohydrate
0.5 g of fat
20 mg of cholesterol
75 mg of sodium
590 mg of calcium
180 mg of potassium
0.8 mg of iron
The typical amino acid profile
All amino acids are naturally occurring in protein. Amounts are based on one serving (1 scoop or 35.6 g).
26 g total amino acids per serving
10.5 grams of Essential Amino Acids (EAAs)
10.0 grams of Conditionally Essential Amino Acids (CEAAs)
5.0 grams of Glutamine & Glutamic Acid
4.75 grams of Branched Chain Amino Acids
100% micellar casein isolate
Positive impact
Casein is used primarily as an anti-catabolic – that is, a protein to help limit muscle breakdown. Catabolism occurs when our muscles are deprived of nutrients and amino acids, and our bodies begin to break down healthy muscles for fuel. A single serving of Kaged Muscle Kasein before bed can help fight back against catabolism.
Kaged Muscle Kasein Taste
Kaged Muscle's Kasein comes in three dessert-inspired flavors:
Chocolate shake
Chocolate peanut butter
Vanilla
Tastes like a real milkshake! Made with premium micellar casein isolate, KASEIN® mixes rich, smooth, and creamy every time. It tastes so good you'll feel like you're treating yourself to dessert! Mixes well with milk or water. Try it for yourself. We're confident it's the best-tasting casein protein available anywhere. That comes as no surprise considering the fact that Kaged Muscle R+D spent months tasting, testing, and refining flavor profiles to achieve a truly authentic milkshake taste.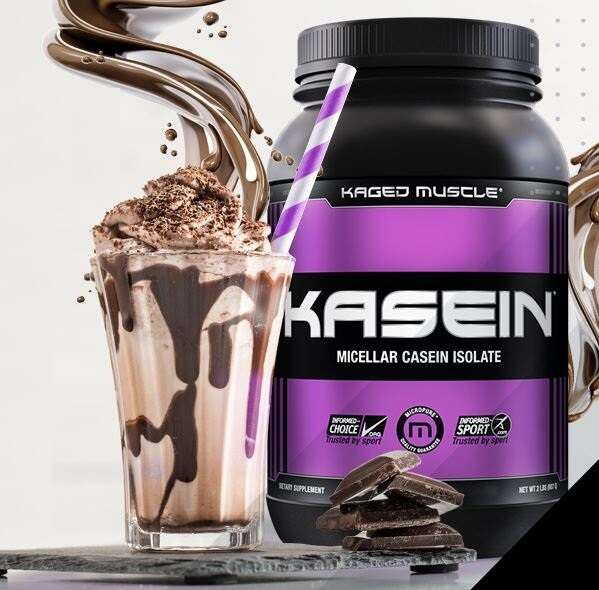 Delicious ways to enjoy in micellar casein isolate from Kaged Muscle:
Muscle-fuel protein pudding. Add a little water, milk, or non-dairy alternative to a scoop of Kasein to transform it into a creamy, protein-packed pudding that'll taste like you're eating dessert.
Mass-building meal replacement. If you're on the go or crunched for time, add Kasein to granola or oats as a nutritious and filling meal replacement to keep your muscles fueled with protein and amino acids.
Protein powder pancakes. With just a few basic ingredients and a scoop or two of Kasein, you can turn your pancake "cheat meal" into a healthier protein powerhouse!
Suggested use (method of application)
Mix 1 scoop (36 g) with 8-12 ounces of cold water.
For optimal results, drink in the evening before bed, in place of small meals, or any other time a steady amino release is desired.
What's the price for the Kaged Muscle's Kasein?
The famous Kaged line of supplements is available online at kaged.com, as well as at select retailers including Vitamin Shoppe, Amazon, GNC.com, and Bodybuilding.com.
Kaged Muscle Kasein protein powder is available in only one size: 2-lb. (906 g) tub.
The cost of a tub of about 25 servings (900 g or 2 lb) varies, but it's usually around $40. So you're looking at about $1.57 per 1 serving/scoop (35,6 g) or 4 cents per gram of protein.
That's not the cheapest casein on the market but it's on par with other big names, like Optimum Nutrition and Dymatize. The price isn't much to complain about.
Which company is behind this casein protein powder?
Based in Huntington Beach, California, the Kaged line of supplements is available online at kaged.com, as well as at select retailers including Vitamin Shoppe, Amazon, GNC.com, and Bodybuilding.com.
Kaged is considered to be the elite supplement brand. The company was born of a need for ultra-premium, health-focused products that actually work. They help you lift heavier, run faster, live healthier, and achieve your potential.
Are there any side effects?
Kaged Muscle claims that there are no known side effects. Some people may become bloated or experience other digestive symptoms, but this depends on the individual. People with milk allergy can be allergic to the proteins contained in milk such as casein protein. If you have a milk allergy, it's best to avoid taking casein protein.
Like whey, casein protein is very safe for human consumption. Most adults do not experience side effects when casein protein is taken for as long as 12 months. However, we always recommend consulting with your professional health physician before starting any health regimen.
Closing thoughts
We did a lot of research when we were looking to get back into supplements to go along with our workout routine. Kaged Muscle's Casein came in at the top of the list. Why? It's a clean, 100% ultra-pure, and microfiltered isolate micellar casein protein (many casein proteins on the market are a blend of isolate and concentrate, which is a protein filled with more impurities like fats and sugars) that helps prevent muscle breakdown and support recovery. Kaged Casein is a premium, delicious protein that's perfect whether you need slow-release protein overnight, or a satiating protein to carry you through the day (anytime you'll be away from any source of protein for a longer period of time). We did try casein protein by other brands for a change but we got disappointed because of their chunky texture (among other things). Kaged Casein gives it a smooth texture. Therefore, we can rightly say this is one of the best casein proteins (100% ultra-pure and microfiltered micellar casein isolate) we have ever tried here at Bodybuilding Wizard. Highly recommended!
Rating Breakdown: Kaged Muscle - Kasein Protein Powder
Companies will often use protein blends, mixing cheap, low-grade protein from variety of sources with a sprinkling of casein, then hide it behind proprietary blends, flashy packaging and fast-talk. Kaged Muscle is different. No blends, no amino spiking, no compromises. This protein supplement is made with 100% ultra-pure and microfiltered micellar casein isolate. It's the gold-standard in casein protein, and it's formulated to help you build lean, dense muscle.
User Ratings (

2

Votes)