We believe most of you have heard of creatine – a supplement that most professional athletes and recreational gym-goers use to enhance performance in activities which require explosive movements, such as hockey and power lifting (or bodybuilding). Creatine helps your muscles to produce energy during high-intensity activities and lifting heavy weights. However, creatine itself does not increase muscle mass, but helps you push harder. The extra weight you will most probably gain when taking creatine comes mostly from water retention.
When working out, creatine can give you that extra burst of energy to help you complete a few extra repetitions. On the end, that's all what you actually need. On the other hand, we believe most of you are not familiar with the fact that this supplement is very useful for mitigating the loss of muscle mass and function in a variety of acute and chronic conditions. As you will find out in this article, possibilities of using creatine for medical and rehabilitation purposes are enormous.
A brief overview of the most important facts about creatine
Creatine is a substance that is naturally found in muscles in the form of creatine phosphate (approximately 95% of the total amount in the human body), and the rest can be found in the brain, kidneys, liver and testicles. It's formed in the liver from the amino acids arginine, glycine and methionine and has a lot of similarities to amino acids.
Factors that affect creatine storage in the body are meat intake, physical activity, amount of muscle mass, and hormone levels such as testosterone and IGF-1. When used as a supplement, it increases the supply of creatine phosphate, which is one of the forms of energy in cells, because it directly participates in the creation of ATP – the basic unit of energy in cells.
In addition, it is one of the most tested supplements and there is a lot of evidence of a positive effect of creatine on performance, strength and increase in muscle mass. Also many tests confirm the safety of this supplement for use.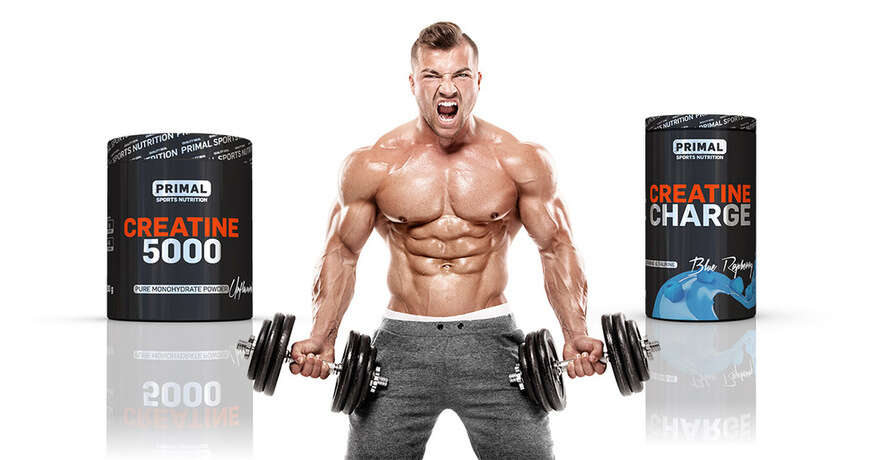 Review paper on the use of creatine for medical purposes
A few days ago, a broad review paper was published on the use of creatine in the form of supplements in medicine, primarily rehabilitation and physical therapy. The authors collected scientific and medical literature in which subjects were the use of creatine during rehabilitation due to immobilization, muscular atrophy, neurodegenerative disorders, cardiopulmonary disease and other muscle disorders. The aim of the review was to assess the current state of knowledge about the effects of creatine supplementation on these disorders. We will briefly present the most important conclusions.
Creatine probably helps in the following situations
Recovery after training
The authors found 16 studies describing the effects of creatine on markers of muscle damage resulting from resistance training or exercises to which we are not accustomed. Almost all research has shown that creatine reduces common markers of muscle damage caused by training such as post training muscle serum protein levels, reduces inflammatory compounds and markers of oxidative stress, while accelerating strength recovery and reducing the onset of delayed muscle pain, so-called DOMS.
Spinal cord injuries
People with this type of injury can suffer from extreme disorders and inequalities in muscle strength. Although not much research has been conducted on the impact of creatine on this type of injury, those that have been conducted show promising results. A group of patients receiving creatine (20 g per day) developed greater upper body strength and increased muscle cross-section.
Arthritis diseases
A study conducted on a group of women with knee osteoarthritis showed that creatine supplementation according to the 20 g protocol per day for 7 days and 5 grams per day for the next 11 weeks led to improved body function and increased lower extremity muscle mass compared to placebo-treated individuals. Another study conducted on patients with rheumatoid arthritis showed that creatine supplementation increased muscle strength despite not conducting any training program.
Muscular dystrophies
Creatine supplementation has helped boys with Duchenne muscular dystrophy and Becker muscular dystrophy by leading to a significant increase in strength and prolongation of the time required for exhaustion. Another study found that 4 months of creatine use led to significant improvements in grip strength and lean body mass.
Creatine supplementation, however, did not help in adults with muscular dystrophies, at least not according to certain objective measures, but subjective improvements were noted in individuals who reported various improvements in daily activities.
There is a possibility that creatine helps in the following situations
Immobilization and atrophy caused by muscle inactivity
Nothing leads to a faster breakdown of muscle proteins like the immobilization of a particular part of the body (e.g. wearing a cast on an arm or leg). 7 studies have shown that the use of creatine in such situations reduces muscle loss. The same results were obtained in studies in rats.
On the other hand, several studies have not shown real benefits of using creatine in the prevention of atrophy in immobilized rats. Nevertheless, these studies found some positive changes in protein metabolism and a slight reduction in total muscle loss, but insufficient to prevent atrophy or loss of strength. Yet when all is taken into account, evidence supporting creatine use in such situations seems to prevail.
Acute injuries
Muscle and nerve damage can reduce function, mobility and physical activity, which naturally leads to muscle atrophy. Although not much research has been conducted on the use of creatine in such situations, those that have been conducted give promising results.
A study conducted in rats indicated that creatine supplementation significantly improved recovery after injury, and the results were based on analysis of gait, pinching strength, range of motion of limbs, and finger contracture. No such studies have been performed in humans, but it can be assumed that the results could be similar.
Cardiopulmonary diseases
If your heart or cardiovascular system is generally weak, diseased, or otherwise compromised, you probably have the same chance of atrophy as those who suffer from neurological disease or are injured.
Scientists point out that creatine has a role to play in heart function and vascular health, but how exactly creatine supplementation works when used to treat patients with these types of disease is uncertain because research has yielded inconsistent results, with little research addressing the problem at all.
Although there are several studies showing that creatine supplementation in patients with chronic lung disease improves muscle strength and endurance without the use of an exercise program, other studies have shown that there is no benefit from creatine.
Nonetheless, it makes sense that atrophy, caused by injury, disuse, or a chronic form of lung disease, is roughly similar and should respond to creatine as well.
Mitochondrial diseases
These types of diseases are quite rare, but are genetic disorders that affect the electron transport chain (which negatively affects ATP production). One study found that creatine supplementation resulted in an 11% increase in dorsiflexion strength and a 19% increase in grip strength in patients.
They also gained 0.6 pounds of lean mass, but that was not enough to reach statistical significance. Two other studies showed no results. It is difficult to predict based on currently available research whether creatine will work in such situations, but the theory and mechanisms behind it suggest that creatine might help.
Of course, the authors of the review paper also came across research that proved to be a total failure
Five studies compared creatine supplementation with placebo in the treatment of patients with Parkinson's disease. Two studies examined the effectiveness of creatine in improving progression in multiple sclerosis patients. Three studies have been conducted on the effect of creatine on amyotrophic lateral sclerosis (ALS).
None of the above studies showed a measurable effect of creatine on these neurodegenerative diseases. The exact reasons why there was no effect are not known because, at least in theory, based on the nature of these diseases and their biochemical causes and consequences, creatine should have acted at least to a small extent.
At the end of the review, the authors pointed out that additional research is needed to accurately determine the impact of creatine and its role for medical and rehabilitation purposes.
Summing up: Possibilities of using creatine for medical and rehabilitation purposes
Possibilities of using creatine for medical and rehabilitation purposes are not negligible. Numerous health conditions affecting the musculoskeletal, cardiopulmonary, and nervous systems can result in physical dysfunction, impaired performance, muscle weakness, and disuse-induced atrophy. Due to its well-documented anabolic potential, creatine monohydrate has been investigated as a supplemental agent to mitigate the loss of muscle mass and function in a variety of acute and chronic conditions. A review of the literature was conducted to assess the current state of knowledge regarding the effects of creatine supplementation on rehabilitation from immobilization and injury, neurodegenerative diseases, cardiopulmonary disease, and other muscular disorders.
Several of the findings are encouraging, showcasing creatine's potential efficacy as a supplemental agent via preservation of muscle mass, strength, and physical function; however, the results are not consistent. For multiple diseases, only a few creatine studies with small sample sizes have been published, making it difficult to draw definitive conclusions. Rationale for discordant findings is further complicated by differences in disease pathologies, intervention protocols, creatine dosing and duration, and patient population. While creatine supplementation demonstrates promise as a therapeutic aid, more research is needed to fill gaps in knowledge within medical rehabilitation.
Reference:
• Harmon KK, Stout JR, Fukuda DH, Pabian PS, Rawson ES, Stock MS. The Application of Creatine Supplementation in Medical Rehabilitation. Nutrients. 2021; 13(6):1825.