The endocrine glands secrete hormones into the bloodstream and these substances subsequently interact with target tissues to regulate physiological processes. Although numerous hormones exist, several are specific to carrying out anabolic actions that help to drive muscle development. The three most widely studied hormones are testosterone, insulin-like growth factor-1, and growth hormone. Through the answers to the 13 questions below, you will find out everything you need to know about testosterone – the master muscle-building hormone.
What is testosterone?
Testosterone is a steroidal hormone derived from cholesterol in the Leydig cells of the testes via the hypothalamic-pituitary-gonadal axis, and small quantities are synthesized in the adrenals and ovaries.
Testosterone is the very symbol of strength, honor, dominance, self-reliance, sexuality, virility, muscularity, and every other character trait associated with masculinity that men always wish they had more of – even if they already have plenty.
What are the main functions of testosterone?
Testosterone enhances libido, bone density, muscle mass, strength, motivation, memory, fat burning, and skin tone. In men, it influences sperm production, causes growth of the prostate gland, and is especially important for maintaining motivation and mood.
It's what determines the hair on our chests, how much muscle pops through our shirts, how much heft we can hoist over our heads, and the strength of our erections. It's what gives a man an edge in competition, whether it's winning the big game, wooing the ladies, or walloping his co-workers in the race for the corner office. Competition, physical skill, size, muscle, and strength are entwined in the concept of masculinity in virtually every culture on earth.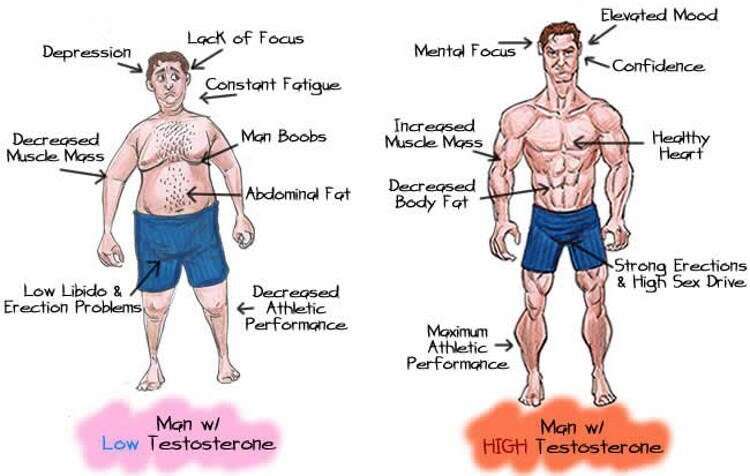 Where does testosterone come from?
As its name indicates, testosterone is mostly produced by the testicles. However, few guys realize that a tiny amount is also made within the outer portion of the adrenal glands (the adrenal cortex), located on top of the kidneys.
Even though the bulk of your T production takes place down south, it's actually your brain that triggers the process from up above. It starts with your hypothalamus, the part of your brain that's considered its "command center." Responsible for mediating many of your endocrine, autonomic, and behavioral functions—including controlling your body temperature, determining how hungry or thirsty you feel, and even what type of mood you're in—your hypothalamus steers your ship by sending signals via hormones to your pituitary gland, the part of your brain that controls your body's balance of a wide variety of hormones (including testosterone).
How does the testosterone production process go step by step?
The order from the brain to balls to brawn goes something like this:
When your brain senses the need to produce more testosterone, your hypothalamus (located in the middle of the base of your brain) secretes gonadotropin-releasing hormone (GnRH), which makes its way to the pituitary gland, located in the back of your brain.
Your pituitary gland receives that chemical signal from your hypothalamus loud and clear and responds in kind by producing and secreting two specific hormones into your bloodstream: follicle-stimulating hormone (FSH) and luteinizing hormone (LH). Together, these two are called gonadotropins—a dynamic duo that quickly become your T-level's new best friends.
These gonadotropins find their way through your bloodstream down to your testicles, where each evokes a different response from your family jewels. FSH reminds your testes to produce more sperm, while LH tells your testes to produce more testosterone by stimulating your Leydig cells (the testosterone-producing cells within each testicle).
Your Leydig cells are really the ones working overtime inside your testicles to create plenty of T, a task they pull off by converting cholesterol into testosterone. Your Leydig cells have two options when finding all the cholesterol they need to make that transformation take place: They can either absorb cholesterol from your blood or, if necessary, produce cholesterol themselves.
Once testosterone is produced, it is sent back into your bloodstream, where it immediately goes to work stimulating the development of your muscles and bones, your body-fat placement, and other areas.
All that extra testosterone gets your brain's attention. If the brain determines that your testes are pumping out too much testosterone, your hypothalamus sends another signal to your pituitary gland to secrete less LH, which in turn lowers how much testosterone your testes will produce.
How do levels of the hormone testosterone change throughout life?
As you grow older, the level of testosterone in your body gradually decreases. If you're middle-aged, your body's testosterone levels (T-levels) have already begun their slow descent from where they once hovered when you were 18 and too young to appreciate it.
The average guy experiences a gradual decline in testoster­one starting around age 30. At age 40, T-levels drop by about 2 percent each year. It's a slow, steady, natural tailspin, but as endocrinology researchers found, that doesn't mean time is the only factor contributing to the dip. Even if you're 24, virile, and officially in the prime of your T-making years, that doesn't mean you're not facing a drop in testosterone right now.
Why is crucial to test your levels of free testosterone?
Recent studies have found that a decrease in testosterone in men at any age increases the risk of osteoporosis, heart disease, and even death. For this reason alone, having your levels of free testosterone tested in the blood or saliva at least once a year is incredibly important.
Why men are experiencing testosterone decline much earlier in life than it was the case in the past?
As with so many other hormones, testosterone levels tend to taper off with aging, obesity, and stress. Exposure to pesticides and toxins also negatively impacts the production of testosterone in the testes. Today, men are experiencing testosterone decline much earlier in life, and overall levels appear to be dropping.
A man born in 1970 has about 20 percent less testosterone at age 35 than a man of his father's generation had at the same age. Quite an alarming finding, considering low testosterone has been linked to depres­sion, obesity, osteoporosis, heart disease, and even death. Many researchers pin this decline on environmental factors.
The proliferation of endocrine-suppressing, estrogenlike compounds used in pesticides and other farming chemicals is heavily responsible for the downward trend in male testosterone levels. Phthalates, commonly found in cosmetics, soaps, and most plastics (including, ahem, sex toys), are another known cause of testosterone suppression.
How does lifestyle affect testosterone level fluctuations?
Scientists do know that health and lifestyle can exert significant influence on the up-and-down fluctuations of testosterone in the body. Seemingly everything you do—from what you eat and how many hours you sleep to the types of activities and exercises you choose—has either a "promising" or a "punishing" effect on testosterone production. Even seemingly immaterial things that you do or expose yourself to during the course of an average day, such as rooting for unlucky sports teams or reaching for the wrong kind of body soap—can choke off the volume of testosterone that your testicles create. The fact of the matter is this: If you're not happy with how fit and muscular you are or how you're performing in life, it may not be your testicles that are to blame but how you are holding them back from keeping you powerful, primed, and potent.
What is the connection between belly fat and testosterone levels?
Belly fat and low testosterone are known to be linked with each other. Belly fat is a testosterone buster. Being overweight is a serious concern for the average guy for a host of health-related reasons. High blood pressure, coronary heart disease, Type 2 diabetes, cancer, stroke, sleep apnea, respiratory issues, and osteoporosis are just a few of the fun things that being overweight can make you more suscep­tible to. But even if all those syndromes don't scare you into dropping a few pounds, here's the best reason to look at your belly as the enemy: It's secretly turning you into a girl.
Having excess body fat rounds out a man, making him look more curvaceous than cut and, if he's really unlucky, giving him a pair of man breasts to match. But that's not what we mean when we refer to fat's power to make you girly. Stored body fat, you see, contains aromatase, a nasty little enzyme that's responsible for converting testoster­one into estrogen, the main sex hormone in women. What's worse, having extra estrogen floating around your system automatically triggers your body to slow down its production of testosterone.
That means the more fat you stockpile, the less testosterone your gonads will give up. It's a vicious cycle: Belly fat means more estrogen and less testosterone, which in turn means additional belly fat.
What's considered a normal level of testosterone?
The average amount most men have flowing through their veins is between 300 and 1,000 ng/dl (nanograms per deciliter of blood), depending on how old they are. After you hit 40, your body hits back by reducing the amount of testosterone it produces by about 1 to 2 percent each year.
Anything below 300 ng/dl is not only considered low, but it could be an indicator that you're a likely candidate for hypogonadism, a medical condition in which the sex glands produce few or no hormones.
Generally, the lower limit of normal testosterone is around 240—if you're under that number, a doctor would consider you to be testosterone deficient and a candidate for testosterone replacement.
Patients that have a testosterone level between 240 and 300 fall into a gray area, since that isn't necessarily that low. However, if those patients have true clinical symptoms of testosterone deficiency—such as decreased libido, erectile dysfunction, muscle weakness, or poor exercise capacity, for example—it would be reasonable to offer them a trial of testosterone replacement.
Once a patient is diagnosed by a doctor as having low T (typically through an in-office blood test), he's checked to see if that low number is due to either a testicular problem or a pituitary-gland problem.
What are the two types of testosterone deficiency?
There are two types of testosterone deficiency. The first is primary hypogo­nadism, in which there is an abnormality of the testicles that prevents them from producing as much testosterone. The other form is secondary hypogo­nadism, in which, for reasons we don't understand, the pituitary hormones are not secreted in large enough quantities to stimulate the testicles into producing enough testosterone,
Is it possible to have an excess testosterone?
The average testosterone levels for most men may run between 300 and 1,000 ng/dl, but that number only represents your total testosterone. Anything above 1,000 ng/dl is extremely rare. However, if you're either experiencing some form of glandular cancer or receiving the hormone through artificial means (such as testosterone-replacement therapy or illegal steroids, for example), it is possible to have a T-level that exceeds 1,000 ng/dl on a more frequent basis. Most men, however, fall in the normal—albeit dropping—range of T.
While excess testosterone is not very common in men, it affects about 10 percent of women. A surplus of female testosterone is typ­ically a result of increased production by the adrenal glands and is associated with polycystic ovarian syndrome (PCOS) and hirsutism (excess hair growth). Besides causing acne, facial hair growth, and even male pattern hair loss in women, too much testosterone increases insulin resistance and weight gain (causing the apple body type).
How to test your testosterone levels?
There are several ways to find out how your testosterone levels stack up. The most inexpensive—and least reliable—is a home saliva hormone test, available through any drugstore or online for around $30 to $40. Home tests that cost more generally measure other hormones such as DHEA, progesterone, and cortisol. They're easy. All you do is spit into a tiny container, then mail it back to the laboratory for results.
The more expensive—and more reliable—option is having a lab draw your blood and measure levels of either total testosterone or free testosterone or a combination of the two. Prices range from $50 to $150. If you're serious about being evaluated for whether or not you may have testosterone deficiency, then having it done through a physician's office is a very simple, inexpensive way to check your testosterone,
Whichever method you choose, give the sample first thing in the morning, between 8 and 10. T-levels fluctuate throughout the day. It's the highest in the morning, then it gets lower during the day, so if you check your testosterone level at 4 p.m. and it's significantly lower, that number may not mean much,
Closing thoughts: The role of testosterone in bodybuilding
Widely regarded as the king of all muscle-building hor­mones, testosterone promotes muscle growth in a variety of ways. First, it directly increases protein synthesis and inhibits protein breakdown. Second, it activates satellite cells, facilitating their effects on muscle tissue. Finally, it can indirectly contribute to protein accretion by stimulating the release of other hormones involved in anabolism. Although these anabolic effects are seen in the absence of exercise, lift­ing weights magnifies the actions of testosterone. In males, the majority of testosterone is produced in the testes. Women produce only a small fraction of the testosterone of the average male, which is a primary reason why most women find it difficult to bulk up.
Related articles