The chief training variables that you can play with in resistance training are volume, workout frequency, and intensity: how far you go, how often, and how hard.
If you are not familiar enough with training volume you're on the right place. What is training volume? How to select the right training volume? How can we measure training volume? These are just some of the questions that will be answered in this article. After reading this article you'll fully understand how to manipulate with this important training variable in order to achieve your fitness goals.
What is training volume?
Training volume is a summation of the total number of sets and repetitions performed during a workout. In other words, it is a function of the number of exercises, broken down into sets and reps, completed in a workout session. It can also refer to the number of sets and reps performed for a given muscle or muscle group.
There is another popular definition. The volume of an exercise or workout is the load multiplied by the sets multiplied by the repetitions. This represents the total amount of work completed in an exercise or workout.
weight × reps × sets = volume
For example, someone who uses 100 pounds (45 kg) for a bench press exercise for three sets of 10 reps lifts 3,000 pounds (1,350 kg) of weight (100 × 10 × 3). It is not uncommon for the average male to lift the equivalent of the amount
of furniture in an entire house during a workout! Therefore, training volume is a cool number that gives you an idea of how much total work you did in a training session.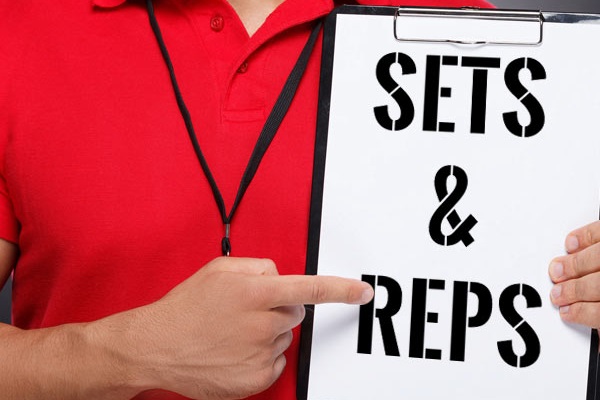 How to manipulate this resistance training variable?
You can manipulate training volume by changing the number of exercises performed per session, the number of repetitions performed per set, or the number of sets per exercise. So you can increase your training volume by increasing the total number of exercises per training session, number of sets per exercise or number of repetitions per set.
What is the relationship between volume and intensity?
There is an inverse relationship between volume and intensity. That is, volume should be reduced if significant increases in intensity are prescribed. Also, an inverse relationship exists between the number of sets per exercise and the number of exercises performed in a workout. Therefore, the higher the number of exercises the smaller the number of sets per exercise.
Training volume for different training goals
How much volume you should train with depends on your goals (see table 1).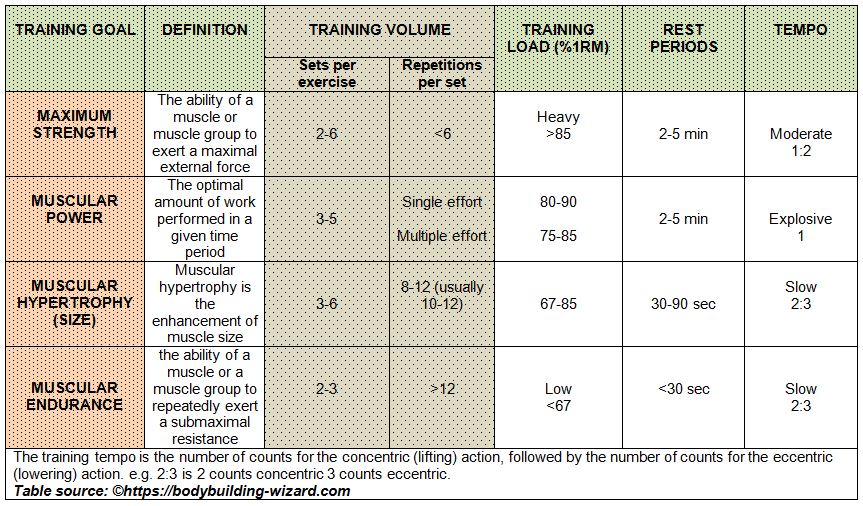 Training for muscular endurance increases the aerobic capacity of the muscles rather than muscle size and strength. Therefore, the best way to develop muscular endurance is by using a higher number of repetitions (12 or more) per set and minimal rest intervals between sets – typically less than 30 seconds.
If your goal is gaining size (hypertrophy), you should try to complete approximately 4 to 6 exercises per muscle or muscle group for 4 sets of 8 to 12 repetitions per exercise (not including warm-up sets). This adds up to about 16 to 24 total sets for each muscle or muscle group per training session. Again, these sets should be performed with moderate loads.
As you can see, we associate hypertrophy and muscular endurance training with moderate to high intensity and volume. These programs, which are high in total work, tend to stimulate a potent endocrine and metabolic response.
If your goal is to gain maximum strength, you would complete a fewer number of sets and reps using heavy weights. The consensus guideline is to perform 2-6 sets of six or fewer repetitions for the compound exercises. Only 1-3 sets are necessary for isolation exercises. Clearly you should select a weight that causes you to use maximum effort for that set – that is, reach the point of failure on the last repetition (between 85-100 per cent 1RM).
Finally, training volumes of athletes vary considerably and depend on other factors besides intensity. Some of these factors include training status, number of muscle groups trained per workout, nutrition practices, competition schedule, etc.
The law of diminishing returns
Strength trainers argue over ideal volume. Some believe that low volume is ideal, while most others believe that higher volume is better. Usually the truth lies somewhere in the middle.
However, most strength trainers agree that no matter how many sets you perform, the first set is by far the most important, and subsequent sets become less important. The law of diminishing returns applies to programming. For example, performing 1 set of push-ups is good, performing 3 sets is even better, but performing 20 sets is not ideal. There comes a point at which additional sets become counterproductive because the muscles aren't able to repair themselves for future sessions.
Summing up: Key points about training volume
Volume refers to the total workload of a training session or program, usually with regard to number of sets, reps, exercises, and training sessions. Depending on whether your goal is to increase muscle size or build strength, your training volume – the number of reps per set – will differ. To gain size, you need to stress the muscle by upping the volume of reps per set, while maintaining an optimum amount of weight. This stance is supported in guidelines set by the National Strength and Conditioning Association (Pearson et al. 2000) and the American College of Sports Medicine (Kraemer et al. 2002).
If you want to focus on strength, your volume of reps per set will be less, but you will work with increased weight. In conclusion, higher volumes with moderate loads are considered the best for hypertrophy training (increasing size). Lower volumes with higher loads are best for pure strength gains.