Top 6 Misconceptions About Women Strength Training
One of the best things you can do to boost your calorie-burning rate is to build muscle. The more muscle you have, the more calories your body needs, even at rest. Strength training to build muscle is one of the most important things you can do to manage your weight. Not only does it help you to burn more calories, muscle helps you look better. A pound of muscle takes up about 18 percent less space than a pound of fat.
Nevertheless, many women avoid strength training because they don't want to look bulky or masculine. But the body of a competitive female bodybuilder requires many, many hours of lifting very heavy weights to counteract the bulk-preventing effects of estrogen. That kind of highly developed musculature never ever happens by accident.
Many women, therefore, prefer cardio (aerobic training) to strength training because they're focused on burning calories. But cardio alone won't sculpt your muscles. To do that, you need to exercise with weights or resistance.
There are many myths and misconceptions surrounding strength training and even more with women and strength training. This isn't nearly the problem that it once was but it still exists. These are the types of myth you'll often encounter when it comes to strength training. You may even believe some of them yourself
#1 Women don't benefit much from resistance exercise
A common misconception is that women don't benefit much from resistance exercise because their muscles are generally smaller than those of men. On average, men's muscles are larger and more powerful than women's. Circulating hormones such as testosterone play a large role in the development of large muscles. Men have between 20 and 30 times more circulating testosterone than women, and it is for this reason, as well as the fact that men have more numerous and larger muscle fibers, that men can develop much bigger muscles than women. Men's nervous systems also signal muscle contraction more rapidly, producing greater power. Because they have more total muscle tissue, men's absolute strength is greater than women's but when muscle mass is compared pound for pound, women are equally strong.
#2 Weight training will cause women to "bulk up"
Another common misconception is that strength training will cause women to "bulk up", look like a man and lose her femininity. In truth, women who do regular resistance training rarely look heavily muscled. Women who train for competitive bodybuilding are self-selected to begin with, meaning they have a natural tendency toward muscle definition that they augment through hours in the gym every week. Very few women build large, bulky muscles without major effort. Some women also take hormones and steroids to increase their muscle mass. Nevertheless, some women still fear that it will bulk them up in unfeminine ways.
#3 Strength training causes women to become larger and heavier
This is, in fact, more detailed explanation of myth #2. The truth is, strength training helps reduce body fat and increase lean body weight. These changes may result in a slight increase in overall weight, since lean body mass weighs more than fat. However, strength training results in significant increases in strength, no change or a decrease in lower-body girths, and a very small increase in upper-extremity girth. Only women with a genetic predisposition for hypertrophy who participate in high-volume, high-intensity training will see substan­tial increases in limb circumference.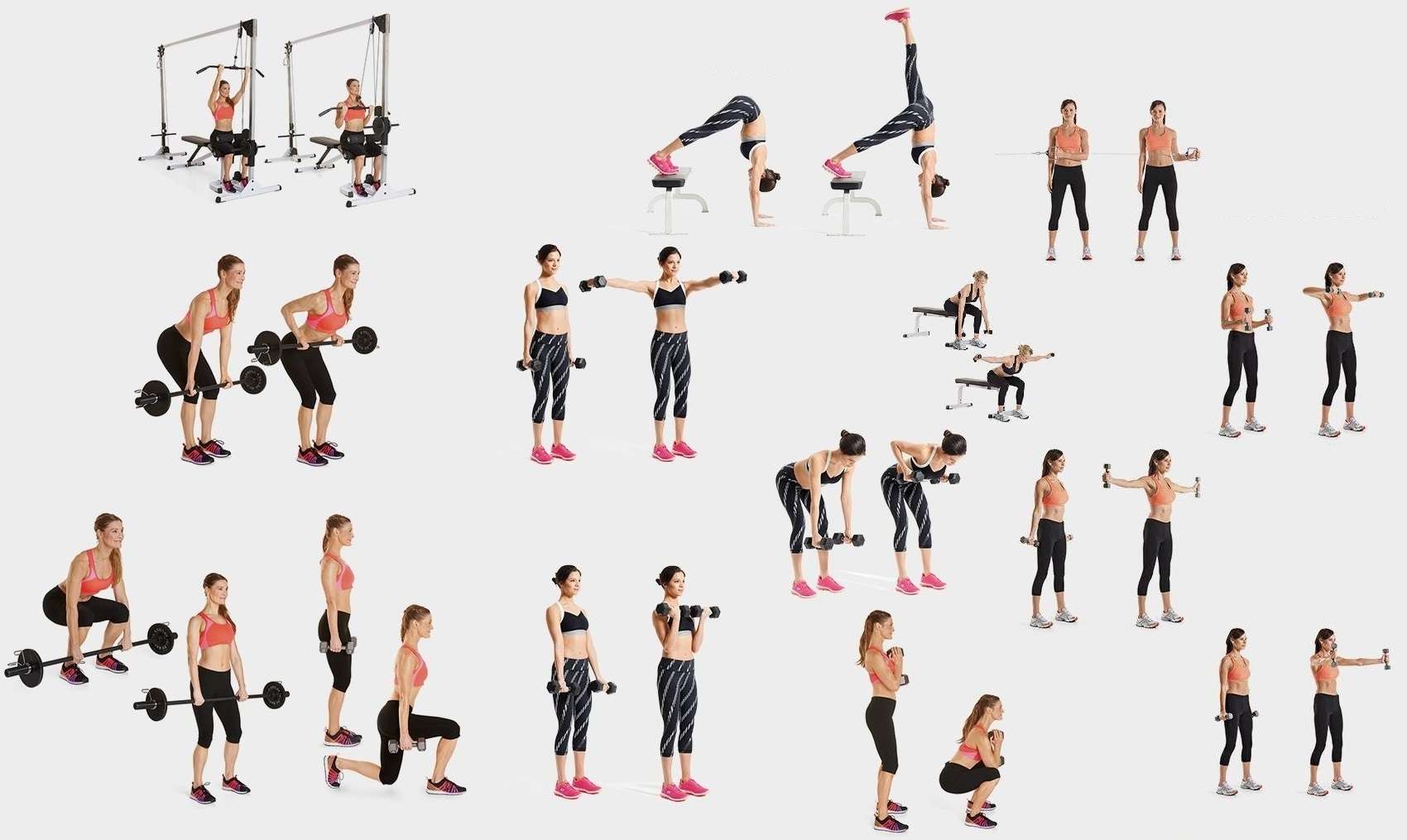 #4 Women should use different training methods than men
Women are often encouraged to use weight machines and slow, con­trolled movements out of a fear that using free weights, manual resistance, explosiveness (high velocity, low force), or exercises that use body weight as resistance will cause injury.
In fact, no evidence suggests that women are more likely to be injured during strength training than men. Proper exercise instruction and technique are necessary to reduce the risk of injuries for both men and women. All strength training participants should follow a program that gradually increases the intensity and load.
Furthermore, sport-specific exercise should closely mimic the biomechanics and velocity of the sport for which an athlete is training. The best way to achieve this is to use closed-kinetic-chain exercise that involves multiple joints and muscle groups and the ranges of motion specific to the sport. For example, the push press—rather than triceps kickbacks—offers a superior arm extension training stimulus for improving the ability to throw the shot put in track and field.
#5 Women should avoid high-intensity or high-load training
Women are typi­cally encouraged to use limited resistance, such as light dumbbells, in their strength exercises. Often such light training toads are substantially below those neces­sary for physiologic adaptations and certainly less than those commonly used by men.
Most women are able to train at higher volumes and intensities than previously believed. In fact, women need to train at intensities high enough to cause adaptation in bone, muscle, cartilage, ligaments, and tendons. When exercise intensity provides insufficient stimulus, physiologic benefits may be minimal. To gain maximum benefit from strength training, women should occasionally perform their exercises at or near the rep­etition maximum for each exercise.
#6 Misinterpreted feeling of a "muscle burning"
Quite often, the feeling of a "muscle burning" or being "pumped up" after completing a set of repetitions, lifting heavy weights, can often be misinterpreted as bulking-up. However, it's a short term response of the blood pooling in this area to supply more oxygen and taking away unwanted carbon dioxide and lactic acid build-up. After a short period of time for removal and repair, this feeling will subside. But because it may be a new feeling to most women, it can often be mistaken as bulking-up. As lean muscle is more compact than fat, over time strength training will actually strip muscle size making you smaller, rather than larger and look more toned.
Related Topics
Closing thoughts
The strength training area was once upon a time dominated by men. Clearly, proper education can go a long way toward women accepting the importance of strength training. Fortunately, times have changed. The majority of women now understand that strength training is the key to a firm, shapely body.  Women now make up more than half of all gym memberships. Also, recent statistics show that almost a quarter of the female population lifts weights on a regular basis. As more and more women venture into the gym to lift weights, many of the myths once held are being broken. Here are the top 6 strength training myths every woman should know.