Recognizing and Managing Weight Lifting Injuries
The body parts most commonly injured by weight lifting include the shoulders, knees, and lumbar spine. Although serious injuries can occur, most weight lifting injuries are relatively minor.

There are four kinds of soreness or pain that can result from lifting weights. The first two below are signs that you're doing it right; the other two mean that you've injured yourself. Therefore, it is also very important that you understand the difference between good and bad pain while strength training.
You're doing it right
1. "The Burn"
Lactic acid builds up in your mus­cles as you work them. The lactic acid is what prevents you from doing more than 10 or 15 reps. It also causes a slight burning sensation in the muscle, thus the expression "No pain, no gain!" As soon as you finish your set and bring oxygen to the muscle, the lactic acid is dispersed and the sensation disappears. The burn is a good indicator of performing an exercise correctly and targeting the muscle properly.
2. Localized Soreness
It is normal for your mus­cles to feel sore for 48 to 72 hours after a hard workout. Good ways to relieve soreness are slow stretching, warm compresses, a hot bath, rest, or massage. If the soreness persists for more than three days, you may have strained a muscle.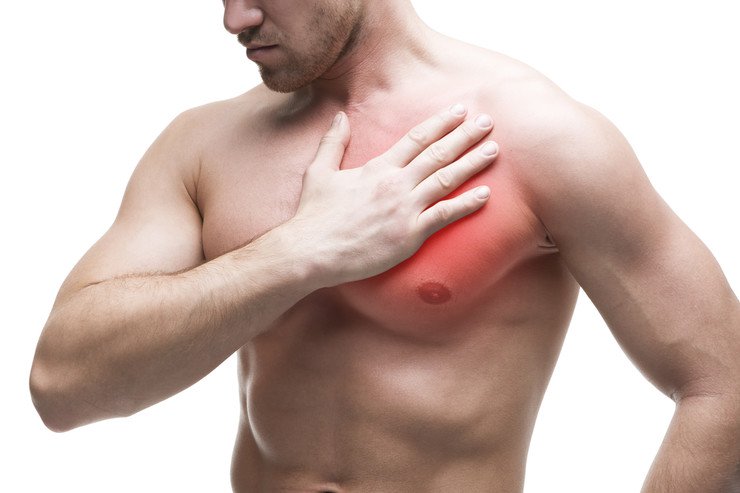 You're doing it wrong
3. Strains
A strain (or "pulled muscle") usually appears suddenly. It results when the muscle or tendon is over-stretched, resulting in tiny tears. If you follow the safety rules for weight training, pay attention to the principle of balance, and avoid overtraining, strains should not occur.
Should you strain a muscle, first and foremost: stop your workout. You'll need at least a few days' rest, more if the strain is severe. When you do pick up your dumbbells again, start out con­siderably lighter than usual, until you're sure you have completely recovered. The formula for treating strains is RICE — rest, ice, compression, and elevation. Of these, rest and ice are the most important. Aspirin also helps ease pain and re­duce swelling. If the strain persists or seems se­rious, better see your doctor.
Muscle strains heal well with proper attention and rest. But if you don't treat a strain or give yourself time to recover, the injury can become chronic. Depending on the severity of the injury, the next step is to
visit your doctor.
4. Sprains
A sprain is a severe injury and is very rare in weight training. It occurs when the liga­ment is pulled or twisted beyond its maximum range of motion, most often happening in the ankles. A sprain always happens suddenly, and is accompanied by severe bruising and swelling. If you suspect you have a sprain, see your doctor. In the meantime, use the "RICE" treatment men­tioned under strains.
Don't be scared off by the above. Weight train­ing is one of the safest forms of exercise if per­formed correctly. The first and foremost concern of any weight training program is the safety of the athlete (avoiding weight lifting injuries). Therefore familiarize yourself with all of the lifts an exercise that you plan on implementing. If you have no background in weight lifting, contact the trainer so that he or she can instruct you in the proper techniques of various lifts. Never be afraid to admit a lack of knowledge and to seek out expert advice on any area you are not comfortable explaining. That is the best approach for avoiding any weight training injury.
Soreness vs. Pain
Muscle soreness is a natural part of bodybuilding. In fact, moderate soreness is an indicator that you're doing exercises correctly and making progress. There's an exhilarating, satisfying feel to an intense workout that leaves your muscles pumped and sore. The soreness will go away in a day or two and won't interfere with your next workout.
However, pain isn't a good sign, so it's important to learn to tell the difference between soreness and pain. For example, if your back hurts so much that you can barely stand up, that pain is the result of improper lifting. Pain is a warning sign that you might be causing an injury that could sideline you for weeks. If you feel a sharp, sudden pain during lifting, stop immediately. By doing so, you're not being a wimp—you're being smart. If the pain persists, seek medical attention.
Closing thoughts about weight lifting injuries
No pain, no gain? Yes, but we have to learn to differentiate between good pain and bad pain. Discomfort caused by muscle fatigue or lactic acid build-up—that burning sensation as your muscles swell and you're giving it your all—is good. It means you're pushing yourself sufficiently hard. Similarly, some muscle soreness the day after a workout means your muscles are recuperating and growing. But discomfort in your joints, bones, tendons, or ligaments, or sharp shooting sensations is bad, and you should stop immediately. Finally, we have some good news: The causes of weight lifting injuries are known. The methods of eliminating the hazards are definite and practical. Therefore you can easily decrease the risk for sports injuries to occur.