What is a sports injury?
The term sports injury, in the broadest sense, refers to the kinds of injuries that most commonly occur during sporting activities or exercise.  It often results in pain, swelling, tenderness, and the inability to use, or place weight on, the affected area. Therefore it prevents your body from functioning to the full and almost every sports injury requires a period of recovery to allow your body to heal.
Although the term sports injury can be used to define any injury sustained as a result of sport, it is most commonly used for injuries that affect the musculoskeletal system. Weight lifting injuries also fall into this category. More serious injuries, such as head, neck and spinal cord trauma, are usually considered separate to common sports injuries like sprains, strains, fractures and contusions.
The anatomy of sports injuries
What is affected in a sports Injury? Sports injuries are most commonly associated with the musculoskeletal system, which includes the muscles, bones, joints and their associated tissues, such as ligaments and tendons. Below is a brief explanation of the components that make up the musculoskeletal system.
Muscles
Muscles are soft tissues made up of muscle cells that have the ability to contract and extend. They produce force and the movement of our body. The muscular system is made up of three different kinds of muscles: skeletal muscles, smooth muscle, and heart muscle. The skeletal muscle, which is attached to and covers the skeleton, is prone to being strained or "pulled"— an injury that involves the tearing of the muscle fibers.
Bones
Bones protect your internal organs and are connected together by ligaments to form the skeleton. Bone fractures and breakages often damage surrounding soft tissue.
Tendons
Tendons are narrow, nonelastic, dense, white fibrous bands (connective tissue) that attach muscle to skeletal bones. They provide an anchor from which the muscle can exert force and control the bone and joint. Without tendons, your muscles are useless chunks of meat. They can be strained or ruptured, and tendinopathy is pain caused by overuse or repetitive motion. Luckily, there are many ways on which you protect your tendons from injuries.
Ligaments
Ligaments are the fibrous connective tissues that connect bone to bone. Composed of dense regular connective tissue, ligaments contain more elastin than tendons, and so are more elastic. They provide stability for the joints, and with the bones, either allow or limit movement of the limbs.  An overstretched or torn ligament is known as a sprain.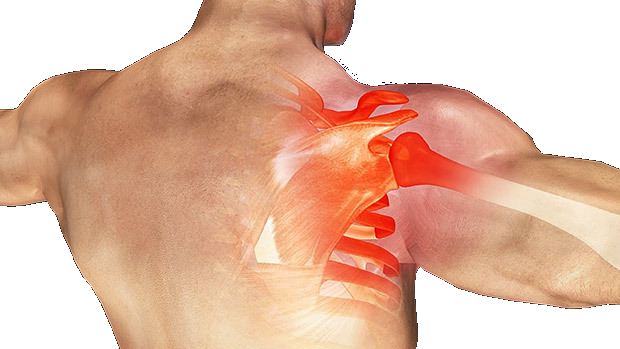 Joints
Joints are capsules – made of cartilage, bursae, ligaments, and tendons – that hold together two or more bones and facilitate movement. Partial or full dislocation of the joints can occur.
Cartilage
Cartilage is a fibrous connective tissue that forms smooth surfaces over the ends of bones where they meet the joints, allowing movement and absorbing impact and friction. Worn or torn cartilage is a common side effect of joint injuries, and is commonly caused by trauma.
Bursae
Bursae are small sacs of fluid that reduce friction within some joints, and we usually find them on places where muscles and tendons slide across bones. Bursitis is inflammation due to overuse or infection.
What are the main two types of sports injuries?
We can divide sports injuries into two main types:
acute, or "traumatic," injuries, which occur as the result of a specific impact or traumatic event;
and chronic, or "overuse," injuries, which result from wear and tear on the body and occur over an extended period of time;
In other words, acute or traumatic sports injuries occur in an instant. Common examples of acute injuries are bone fractures, muscle and tendon strains, ligament sprains and contusions, and bruising. Acute injuries usually result in pain, swelling, weakness and the inability to use or place weight on the injured area. They are common among players of collision or contact sports, such as rugby, soccer, and ice hockey.
On the other hand, chronic or overuse injuries refer to sports injuries that occur over an extended period of time and result from sports that involve prolonged, repetitive motions or impacts such as baseball, basketball, running, tennis, bowling, gym­nastics, and swimming. Examples of repetitive motions that tend to result in overuse injuries are running, weight lifting, underhand throwing, or serving a ball in tennis. They range from tendonitis, chronic muscle strains, bursitis, and ligament strains to stress fractures.
How do we classify sports injuries according to

their severity?
Most sports injuries require a period of time where participation is reduced or ceased due to symptoms. Therefore sports injuries can also be classified relating to how long the symptoms present themselves for. This classification method allows a sports therapist to describe injuries as mild, moderate, and severe:
Mild. A mild sports injury will result in minimal pain and swelling. It will not adversely affect sporting performance and the affected area is neither tender to touch nor deformed in any way. Mild injuries usually last for 1–7 days, and include haematoma, blisters, and d

elayed onset muscle soreness (

DOMS).
Moderate. A moderate sports injury will result in some pain and swelling. It will also have a limiting affect on sporting performance and the affected area will be mildly tender to touch. Some discoloration at the injury site may also be present. Moderate injuries usually last for 8–20 days, and include low-grade muscle strains and ligaments sprains.
Severe. A severe sports injury will result in increased pain and swelling. It will not only affect sporting performance, but will also affect normal daily activities. The injury site is usually very tender to touch, and discoloration and deformity are also very common. Severe injuries usually last for 21 days but can lead to permanent damage. Examples of severe injures are fractures and high grade strains and sprains.
What are the main causes of sports injuries?
To be able to effectively diagnose, rehabilitate, and ultimately prevent subsequent injury you should definitely understand the the main causes of sports injuries. This topic has already been the subject one of our previous articles.
What are the top 12 most common sports injuries?
Here's a list of the most common sports injuries.
Groin strains;
Shin splints;
Neck strain;
Lower back injury;
Pulled muscles;
Fractured bones;
Rotator cuff tendinopathy;
Tennis elbow;
Ankle sprain;
Runner's knee;
Achilles tendinopathy;
Knee ligament rupture;
Most sports injuries are specific to the sport and the level of participation. Furthermore, within any particular sport, different positions and roles carry dif­ferent risks. For example, 70 per cent of keen runners will develop some kind of lower limb injury during their career, usually through over-use. Soccer players have a high risk of traumatic ankle or knee injuries from tackles and so on.
Closing thoughts
Sports injuries typically occur during exercise or participating in sports. Some happen by accident, but other can occur because of lack of conditioning, improper equipment, poor training practices, or insufficient stretching and warm-up.

Sports injuries come in many forms, but they fall into two gen­eral categories—overuse injuries and acute injuries. No matter how a sports injury occurred or where on your body it took place, it's important that you start to take care of it as soon as possible, preferably in the first two days or so.