There is an old adage that states, "Muscle is built outside the gym." Sure, you need to train hard and intelligently program your workouts, but you will not achieve optimal results if you lack sufficient sleep. In this post you'll find out exactly why is sleep such an important component of fitness, what is recommended sleep duration for athletes and bodybuilders, and what are negative effects of sleep deprivation. Furthermore, you'll also find some triggers for sleep problems, along with how to avoid them so that you can wake up feeling fresh and alert.
Why is sleep such an important component of fitness?
Adequate sleep is a key part of fitness – it is when the body and brain replenish. You don't grow in the gym, you grow while you're sleeping. A lack of recovery leads to improper healing, and eventually to overtraining.
Sleep plays a vital role in the recovery process. During the suspended state of animation you are in, your body is doing exactly what you have been asking it to do during your workouts — build muscle.
Lack of sleep can have an intoxicating effect on your body. During sleep the body breaks down many of the fatigue toxins produced during exercise.
The stress hormone cortisol, released during intense training, is neutralized during sleep.
The greatest release of testosterone and growth hormone, two of the most powerful anabolic (muscle-building) hormones in the body, takes place during sleep.
Recommended sleep duration for athletes and bodybuilders
Sleep needs are highly individual and vary drastically from one person to the next. However, on average, the recommended sleep duration for adults is seven to nine hours per night (Mukherjee et al. 2015). However, people who consistently perform challenging resistance training will likely need even more than seven hours. So if we split the difference, your mother was right when she told you to sleep eight hours each night. Therefore, sleep 8 to 9 hours each night, or over the course of 24 hours. Furthermore, it's not just sleep quantity that matters but also the quality. In fact, some researchers insist that quality is more important for overall well-being than the total number of hours of sleep.
Negative effects of sleep deprivation for athletes and bodybuilders
There are numerous deleterious effects of sleep deprivation for people of all ages and professions. Here is a list of some that pertain to bodybuilders, weightlifters, and all athletes in general:
Many of these negative effects are demonstrated with as little as two hours of sleep deprivation, and caffeine the following day didn't help (Reyner and Home 2013). The good news is that restoring sleep to eight hours per night can solve all these problems, including your anabolic hormones (Chennaoui et al. 2016). If you can't manage to get sufficient sleep during the night, a short (e.g., 30 minute) nap will significantly help. The goal is to get those eight hours of sleep each day, even if it requires a short nap after lunch.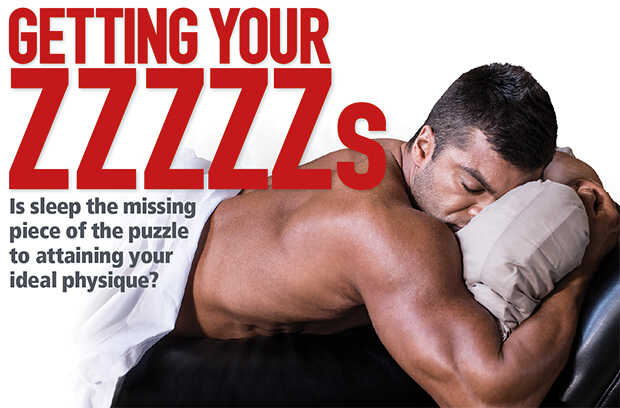 Tips & tricks to improve your sleep quality
Some people have the available time to sleep eight or nine hours, but they toss and turn most of the night. You'd think that getting regular exercise would send you straight to dreamland at night, but even certain pro athletes find that sleep eludes them, resulting in a loss of aerobic endurance. If you fall in that category, here are 12 strategies from the University of California San Diego Center for Pulmonary and Sleep Medicine to improve your sleep hygiene:
Don't go to bed until you are sleepy. If you aren't sleepy, get out of bed and do something else until you become sleepy. Or try using melatonin supplements.
Regular bedtime routines/rituals help you relax and prepare your body for bed (reading, warm bath, etc.).
Try to get up at the same time every morning (including weekends and holidays).
Try to get a full night's sleep every night, and avoid naps during day if possible (if you must nap, limit to 1 h and avoid nap after 3 p.m.).
Use the bed for sleep and intimacy only: not for any other activities such as TV, computer or phone use, etc.
Avoid caffeine if possible. Most people know enough not to drink caffeine in the evening, but even a cup of tea at 4:00 p.m. can affect your sleep patterns. If you are a restless sleeper, boycott any drinks with caffeine after 2:00 p.m.
Avoid alcohol if possible (if must use alcohol, avoid right before bed).
Do not smoke cigarettes or use nicotine, ever.
Consider avoiding high-intensity exercise right before bed (extremely intense exercise may raise cortisol, which impairs sleep).
Avoid heavy meals before bedtime. Try a late-night snack of graham crackers, or you can add serotonin or serotonin-precursor supplements, such as 5-HTP, to your nutrition plan.
Relay with yoga.
Make sure bedroom is quiet, as dark as possible, and a little on the cool side rather than warm (similar to a cave).
The best way to ensure an adequate and restful night's sleep is to develop a regular sleeping pattern. Go to bed every night at the same time, preferably eight hours before you have to wake up the next morning. With a regular sleep routine, your body becomes accustomed to a restful sleeping pattern.
Closing thoughts: The Importance of Sleep for Bodybuilders and Athletes
Lack of sleep won't just leave you foggy; chronic insomnia can also make you prone to diabetes, depression, cardiovascular disease, and weight gain. To stay in an anabolic environment you have to get enough sleep – minimum eight hours a day. Sneaking a nap in there somewhere can help you reach this total. Don't expect to maximize your bodybuilding gains if you regularly stay out until three in the morning. Teenagers can't go wrong hitting the sack for a minimum of eight, and preferably 10 or more hours. After all, not only are your muscles growing, but also your organs and bones. So the next time your mom says get to bed — listen to her! In fact, that goes for all readers!