Cortisol Hormone and Bodybuilding
What are Hormones?
Hormones are chemical messengers that are secreted directly into the blood, which carries them to organs and tissues of the body to exert their functions. In other words, hormones are the agents that drive muscle development. They are classified as catabolic and anabolic. Catabolic hormones, including glucagon, epinephrine, norepinephrine, and cortisol, are involved in breaking down nutrients primarily for use as energy. Anabolic hormones—including testosterone, growth hormone, IGF-1, and insulin—are involved in the replenishment of fuel stores and the repair, rebuilding, and growth of muscles.
When you're trying to get bigger, you want the highest possible levels of anabolic hormones and lower levels of catabolic hormones such as cortisol.
Cortisol Hormone
Cortisol is a hormone that is produced by the adrenal cortex, which is part of the adrenal gland. It is a hormone that is often referred to as the "stress" hormone because stress activates cortisol secretion. During times of stress, the body releases large amounts of cortisol. On one hand cortisol will help you survive the stressful event, but on the other hand it causes the body to break muscle tissue down as an energy source. Not exactly what a hard-training bodybuilder wants. As protein is primarily used in the body to build and repair tissue, cortisol is known as a "catabolic" or breakdown hormone, as it interferes with the "anabolic" or building functions of protein.
What Activates Cortisol Secretion?
Cortisol levels fluctuate regularly throughout the course of the day. Normally, it's present in the body at higher levels in the morning, and at its lowest at night. Extra cortisol is released in response to exercise, injury, or stress.
Although stress (physical and psychological) isn't the only reason that cortisol is secreted into the bloodstream, it has been termed "the stress hormone" because it's also secreted in higher levels during the body's "fight or flight" response to stress, and is responsible for several stress-related changes in the body.
Cortisol secretion results in increased heart rate and blood pressure and the temporary shut down of metabolic processes such as digestion, reproduction, growth, and immunity as a means of conserving energy for the stress response.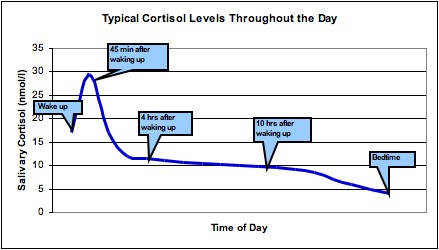 Cortisol Induces Protein Breakdown
The most famous stress-induced adrenal hormone is cortisol, a compound that preserves the carbohydrate energy stores (or glycogen) in your muscles. Unfortunately, in an attempt to conserve your remaining glycogen, cortisol converts muscle protein to carbohydrate for energy. Cortisol also inhibits protein synthesis, preferring to convert the dietary protein in your bloodstream to carbohydrate energy before it's synthesized, rather than going to all the trouble of pulling protein out of muscle tissue.
Cortisol And Training Style
Aerobic training stimulates a lower testosterone, and a higher cortisol response following a training session when compared to weight training. At the hormonal level, this is why aerobic training is very limited in making muscles grow in size.
Weight training produces a much higher testosterone response, and lower overall cortisol response than aerobic training, which is the sole reason that weight training makes your muscles hypertrophy (grow), while aerobic training typically does not.
Cortisol's major function is to generate fuel for working muscles. During exercise, your muscles use a metabolic priority system for generation of energy. This is particularly true during aerobic exercise. First, carbohydrate is used, then fat, and finally protein. Because of the tremendous stress that resistance training places on the muscles, the metabolic priority system gets ignored. When cortisol is released, it causes a breakdown of protein, carbohydrate, and fat and an increase in plasma amino acids, specifically glutamine and the branched-chain amino acids (BCAAs). Elevated cortisol levels have enormous implications for strength athletes. The harder the workout is, the greater the cortisol release, and the greater the resulting protein degradation. Cortisol is the reason that many strength athletes reach a plateau. The anabolic benefits of exercise can actually be negated by the catabolic effect of cortisol.
Negative Effects of High Cortisol Levels
While it is vital to health for the adrenals to secret more cortisol in response to stress, it is also very important that bodily functions and cortisol levels return to normal following a stressful event. Unfortunately, in our current high-stress culture, the stress response is activated so often that the body does not always have a chance to return to normal. If cortisol remains elevated for a prolonged period of time the positive effects it can have become negative.
Higher and more prolonged levels of circulating cortisol (like those associated with chronic stress) have been shown to have negative effects, such as:
decreased immunity
decreased muscle mass
increased abdominal fat
elevated blood pressure
blood sugar imbalances (hyperglycemia)
sleep disruption
slow wound healing
impaired cognitive performance
dampened thyroid function
Negative Effects of Low Cortisol Levels
Chronically lower levels of circulating cortisol (as in adrenal fatigue) have been associated with negative effects, such as:
Brain fog, cloudy – headedness and mild depression
Low thyroid function
Blood sugar imbalances, such as hypoglycemia
Fatigue – especially morning and mid-afternoon fatigue
Sleep disruption
Low blood pressure
Lowered immune function
Inflammation
Some Positive Effects of Cortisol
Small increases have positive effects such as
providing a quick burst of energy
temporary enhanced physical ability (have you ever noticed how much faster you can run when there is a dog chasing you)
lowering sensitivity to pain via an anti-inflammatory action (you must have noticed that you may only feel little (if any) pain during or shortly after an injury, while you are still stressed)
It is important that the levels of cortisol are regulated as prolonged elevated levels have negative effects.
How to Reduce Cortisol Levels
If you are trying to become a more successful bodybuilder, you need to reduce cortisol levels if at all possible.
Reduce the stress that is present in your everyday life. For example, try to teach yourself time management skills and how to keep every day, whether working or at leisure, completely under control. Instead of leaving everything to the last minute so it becomes a panic filled rush, plan everything you do every day well ahead of time. In addition, give yourself plenty of time to make sure that you achieve everything you want to achieve, because there is nothing more likely to cause stress and tension than either having to leave a job uncompleted or having to finish it in a mad rush in order to get everything done. Consider learning additional skills that will help to keep your stress levels under control such as yoga, meditation and how to breathe properly, as an aid to keeping self-control. All of these practices will greatly assist you in reducing the stress levels that you currently feel every day and as a result, the level of cortisol circulating in your body will naturally decrease.
Get enough sleep. Most experts recommend that a healthy, restorative good night's sleep is made up of 8 hours and 15 minutes of solid rest. However, while you are trying to reduce the stress levels in your life, it is often not possible to make everything perfect, simply because there are not enough hours in the day for each of us to pack in everything that we want to do. Hence, if 8 hours and 15 minutes of sound sleep is not possible, you should aim for at least 7 hours of total rest every night, and make up the rest either with a late afternoon nap or at the weekend. This is important, because it is scientifically proven that a lack of sleep greatly increases the production of cortisol, which will significantly hinder the effectiveness of your bodybuilding efforts and add fat to your torso at the same time.
Happiness and balance is an important factor in your bodybuilding success as well. This is because bodybuilding is a 24 hour activity, something that you cannot pick up and put down as you see fit. It requires a certain degree of dedication and a lot of determination, but living a balanced life is important too because doing things away from the gym that you enjoy doing makes it easier to put up with the training when it is hard.
Keep your strength training short and intense. If you workout for longer than 1 hour your testosterone levels will drop and cortisol levels will rise therefore preventing muscle growth! Keep your workouts short and intense. Too much cardio causes more cortisol to be released by the body so don't over-do it on the treadmill and remember any cardio should be combined with a good diet.
Proper nutrition. Try to eat at least 5-6 small meals each day as it has been found that eating more frequently helps to control cortisol levels keeping them lower than if you were eating larger meals less frequently. The most important meals are breakfast and your post workout meal.
Conclusion
Even though cortisol levels are not more important than diet and training, they should still be taken seriously. In the fight for muscle mass, every little thing helps. Lowering high cortisol levels will make your body less catabolic, causing your body to be in a more anabolic state.