The gym is perhaps one of the few places where failure is welcome. One of the most controversial topics among fitness professionals is whether it is beneficial to train to momentary muscle failure – the point during a set when muscles can no longer produce enough force to complete the lift. In one camp are those who claim you should reach failure on every set of every exercise. In another camp are those who say that lifting to muscle failure is unnecessary and even counterproductive to results. Who's right? The main purpose of this article is to attempt to give the correct and scientifically based answer to this question. Maybe you can guess even at this point. If the goal is muscle development, the answer seems to lie somewhere between the two extremes. But let's have a closer look!
Training to muscle failure: definition
Lifting to muscle failure (training at full intensity) refers to lifting the heaviest weight you can for as many reps as you can manage. This means doing a set with a given weight to the point at which one more rep with that weight on your own is physically impossible. Therefore, at the point of momentary muscular failure, an effort of 100 percent intensity is required to complete the last rep.
Example of training to failure
Let's say you're doing 10 repetitions per set. If all 10 seem easy, then the weight you're using is too light. However, if you start to struggle on your 8th rep, you've chosen the correct poundage. What does "start to struggle" mean? It's when the speed at which you lift the weight slows significantly. Although you can push on for another rep or two, the struggle indicates that your muscles have just about had it. This is also the point when most people start to "cheat" by changing their body posture to help them lift the weight.
So, when you choose how much weight to utilize your main goal is to lift weights that are heavy enough so that you reach muscle failure after each set. For example, if you aim for somewhere between eight and 10 reps, the weight should become very difficult for you to lift somewhere around repetition number six. After doing 10th rep your muscles should be fully fatigued and you should not be able to complete an additional rep (not even single one) of that exercise using strict form.
What is intense for one person may be very easy for another. It will take some experimentation to find out what intensity of each exercise is best for you based on your goals.
Benefits of lifting weights to muscle failure
The effort you expend during a set will significantly affect your results. Muscle gains come only by stressing your muscles beyond their present capacity. This is a basic application of the overload principle If you don't challenge your muscles, they have no impetus to grow. Period.
On one hand, training to failure can increase recruitment of muscle fibers. When a lifter becomes fatigued, a progressively greater number of fibers are recruited to continue muscular activity. This provides an additional stimulus for muscle growth. Perhaps more importantly, recruited fibers are subjected to high degrees of tension for a greater period, ensuring their optimal stimulation and microtrauma. Therefore, over time, muscle failure coupled with increased lifts and good nutrition will result in larger, firmer, and stronger muscles.
When moderate to high reps are used, training to failure also may enhance exercise-induced metabolic stress. Studies show that increases in anabolic hormone are greater when sets are performed to failure than when they are not performed to failure (Willardson, Norton, and Wilson, 2010). You don't have to be an exercise scientist to know that you get a greater pump – which is indicative of a high degree of cell swelling – when you go all out in a set. These acute effects are associated with greater protein synthesis and thus increased muscle growth.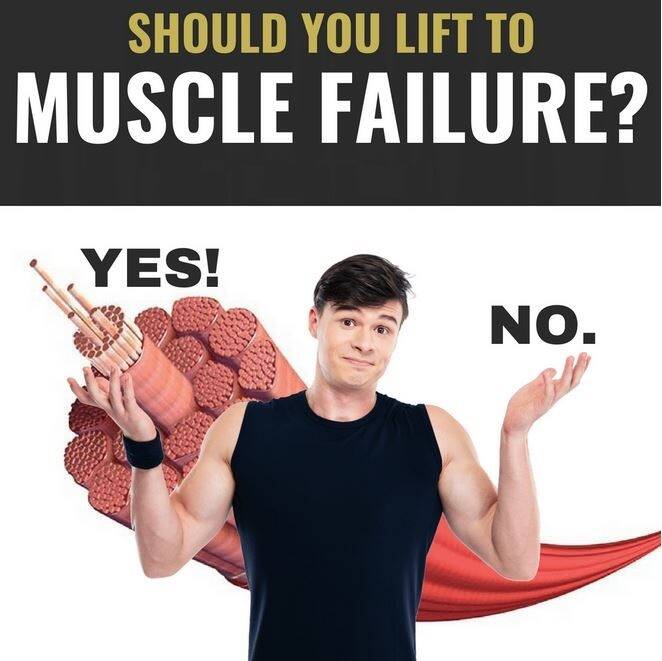 The downside of training to muscle failure
The downside of training to muscle failure is that the potential for overtraining and psychological burnout increases. Reductions in resting testosterone and insulin-like growth factor concentrations – widely used markers of overtraining – have been reported when lifters repeatedly trained to failure over a 16-week period. Thus, although some failure training is necessary to maximize muscle development, too much can become counterproductive.
Another caveat about training to failure is safety. For obvious reasons, it is not a recommended method of training for those who train alone, except when done with exercises that use machines or where it is easy to return the weight to a safe location.
How much is too much? How often you should train to muscle failure?
Tough to say. Some lifters can tolerate training to muscle failure more readily than others. The key is to periodize this variable over the course of a training cycle. If any signs of overtraining manifest, reduce the frequency of sets performed to muscle failure accordingly.
Therefore, the key here appears to be the number of sets you perform to failure – and that number appears to be one. Australian researchers discovered that when trained lifters completed one set to failure of the four sets they trained with on the bench press for eight weeks, they had double the strength gains of lifters who did not complete any of the four sets to failure.
And in a follow-up study, they discovered that doing more than one set to failure on the bench press for eight weeks offered no additional increase in strength gains. In fact, when comparing the two studies, the strength gains reported in the study using multiple sets to failure were less impressive than the strength gains reported In the study using just one set to failure.
The reason may be that performing only one set to failure allows for enough stimulus to be delivered to the muscle fibers without fatiguing the muscle too much, which can limit muscle strength during the workout when training with too many sets to failure. Also, always listen to your body!
Closing thoughts
Training to muscle failure means choosing the heaviest weight that allows you to complete all of the prescribed repetitions, keeping in mind that you have to reach muscle failure after each set (on the last rep). Lifting to muscle failure is advanced and extremely powerful stuff if you use it the right way. Training to the point of failure allows you to recruit the largest number of motor units, which in turn results in maximal muscle-fibre stimulation. Performing a set to failure generates 100 percent intensity, and the magnitude of this huge stimulus results in hypertrophic adaptation. If you want muscular growth, you must work the muscle to the point of failure.
However, training to failure on a regular basis may be counterproductive; it increases the risk of injury both acutely (because of the extreme effort during each lift) and chronically (because of the maximum effort given workout after workout). This is especially true for beginners in weight training. Doing new movements until the point of failure – where the muscles in play absolutely give out – may make you too sore to move for the next 2 to 3 days. It's hard to get bigger and stronger when you can't move. For advanced lifters, the answer is a little more debatable. You don't always have to train to failure, but you do have to progressively increase what you are doing.
Taking advantage of this advanced training technique is rather simple. Choose any basic strength training program and be sure to perform the last set, and only the last set, of every exercise to muscle failure. Pushing to failure on at least your last set is a compromise between volume and intensity.