Healthy Snacking: Homemade Protein Bars
Making your own protein bars is much easier than you may think, and it's really fun. Homemade protein bars are very economical, and you get to select all the ingredients according to your own standards, needs, and taste. Furthermore, making your own protein bars will help you save money in the long run. There are numerous other benefits associated with this new kitchen skill. In this post you will find all the benefits of making your own protein bars and a wide variety of different protein bar recipes on the end.
It is our sincere hope that this post can bring a healthy change into your life. A change that can enhance your energy levels, save you money and help you lose weight/ gain muscle!
What are the most important benefits of homemade protein bars?
First off all they are really healthy!
A lot of bars you find in supermarkets and health-food stores today might as well be called candy, chock-full as they are with simple sugars, preservatives, and nutrition-void ingredients such as corn oil, soy, and hydrogenated fats. In some cases, the only thing you get besides protein is shelf-life-extending ingredients, fillers, and artificial flavors and sweeteners. Your body doesn't really need that stuff. Artificial flavors, artificial sweeteners, E numbers, and an endless array of ingredients that you have probably never otherwise come across are not really anything our bodies are crying out for.
Sure, many commercially produced protein bars will say they are "healthy" and "all-natural" on their packaging. You may think they're the best snack your money can buy. But when you turn the label over, you'll find those words are subjective and entirely open to interpretation. The problem, in our opinion, is that most people don't ever read ingredient labels. They stop at macronutrient data (i.e., the nutritional facts). But micros matter too and shouldn't be overlooked. The same goes for a product's ingredients. They matter.
They are full of proteins without unnecessary empty calories!
When it comes to food, empty means that food contains little or no essential vitamins or minerals (read more about empty calories). In other words, these foods provide nothing of value to your body beyond calories that create excess pounds. Luckily, homemade protein bars do not fall into this category. They supply the body with the much-needed nutrients to ensure that you can get the most out of your workout and exercise regimens.
Homemade protein bars will help you to increase muscle in an organized manner by adding large healthy portions of protein to your diet. And because they work the same way as energy bars, with lesser carbs and calories, the body feels energized and empowered to go through strenuous and really tedious exercise routines. Therefore, they are simply perfect workout allies before, during, or after the workout.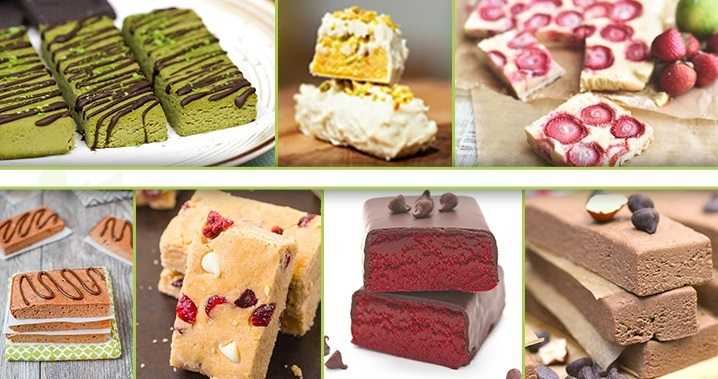 Other important benefits of homemade protein bars
So to help convince you that homemade protein bars are delectably healthy, here are the best benefits that you can get out of these bars:
Homemade protein bars are really easy to make and store. You certainly can make basic protein bars at home; some are so easy to throw together, that they do not even need baking. You can simply store them in airtight containers, and you are good to go. If you wish to make your homemade protein bars last longer, you simply stick them in the fridge!  If you have decided to make your own protein bars, you will be surprised at how easy it is to find all the ingredients.
Great way to beat hunger pangs or cravings without the guilt. Homemade protein bars are perfect alternatives to those unhealthy snacks such as your favorite cakes, pastries, milk chocolate bars, etc.
These bars

represent a convenient way

to eat every time you go out. Being too busy to eat right can sometimes become a problem and that's why this delicious and healthy bars will save you time and help nourish your body to achieve the goals you want. When you're done, wrap them all individually in foil, and voila! You get fresh protein bars to enjoy! You can freeze them soon after making so that they last even longer. Take them with you to work, take them with you traveling, to school, on a day out. Take them anywhere you would a regular protein bar and enjoy your very own custom-made bars.
You can tailor them according to your fitness goals. Depending on your fitness goals, they can offer a boost of protein for relatively few calories when you are trying to lose weight.  And vice versa. They can supply additional nutrients to augment your regular meal plan when you are adding to your body mass.

Favorite recipes
Closing thoughts
You will not benefit from protein bars if you choose the wrong ones. If you're into healthy snacking and want to incorporate protein into your diet for health and satiety, you really should make your own bars. They're quick to make, fresh every time, and absolutely delicious! In terms of freshness, quality, and nutrition, bars you find on store shelves pale in comparison to what you can make in your kitchen. And the best part? They're silly easy to make. It'll probably take just as long to prepare them as it would walking to the store and buying a bunch of ready-made bars. You'll end up saving money too. Therefore, if you want to eat healthy food, be sure to go for the homemade kind.