Creatine is the most effective (and by far the most researched) ergogenic nutritional supplement currently available to bodybuilders and regular gym goers in terms of increasing high-intensity exercise capacity and lean body mass when combined with exercise. Creatine monohydrate is the most common and by far the cheapest form of creatine supplement. Other types of creatine include creatine citrate, creatine ethyl ester, liquid creatine, creatine nitrate, buffered creatine, creatine hydrochloride, and others.
These types of creatine are not necessarily more effective than creatine monohydrate. No extensive research has been done comparing all these types in terms of improving strength, increasing anaerobic endurance, and reducing muscle damage and soreness from exercise. However, they do have their advantages primarily in terms of better solubility in water and better tolerance for the stomach (causing less stomach discomfort). Among numerous creatine supplements, we decided to try Crazy Nutrition's Ultimate CRN-5 (a creatine supplement with 5 different types of creatine). Hence, we are reviewing this to help find out whether you can use it or simply go for another supplement.
Brief product description & key product features
Description
Crazy Nutrition's Ultimate CRN-5 is an extremely advanced creatine formula made with 5 types of creatine for better absorption, fuel, and recovery than regular creatine monohydrate.
The incredible blend of five creatines (listed below) in the one-of-a-kind formula of Ultimate CRN-5 is what makes it stand out among other creatine supplements on the market.
The benefits of using creatine are improved athletic performance and increased muscle mass. With more creatine in your muscles, you are better equipped to perform more explosive movements such as sprinting, rowing, and weight lifting.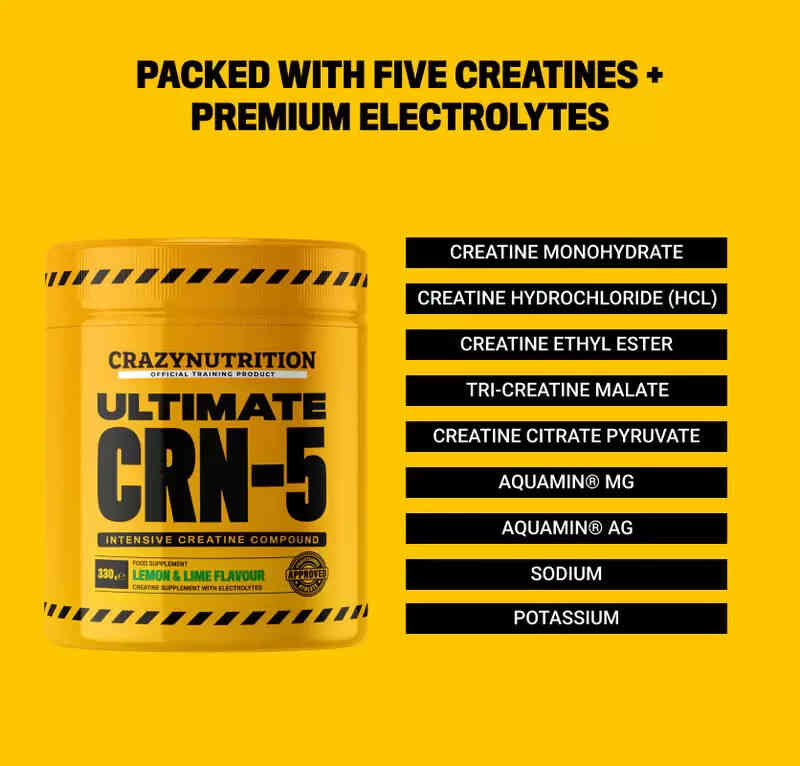 Key product features
5 unique creatines;
5X the strength & stamina than other creatine formulas available;
30 servings per tub (serving size = 1 scoop = 11 g);
All-vegan ingredients;
Premium electrolytes;
Delicious and refreshing lemon & lime or orange & mango flavor;
Caffeine-free;
Super fast absorption;
Tested for banned substances;
Premium formula made with high-grade ingredients;
Key product ingredients and their positive impact
Ingredient list
Crazy Nutrition's CRN-5 creatine formula is crafted with 5 types of creatine plus electrolytes.
Creatine Monohydrate
Creatine Hydrochloride (HCL)
Creatine Ethyl Ester
Tri-Creatine Malate
Creatine Citrate Pyruvate
All five types of creatine present in this blend are backed by clinical trials and work in synergy to deliver impressive benefits.
Apart from these 5 types of creatine, Crazy Nutrition's Ultimate CRN-5 also includes electrolytes and marine-rich sources to support the creatines:
Sodium
Calcium
Potassium
Aquamin® Magnesium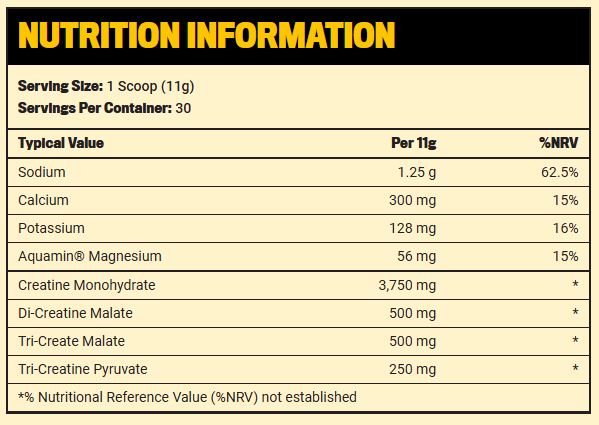 Positive impact
Crazy Nutrition's Ultimate CRN-5 helps you to stay focused during intensive workouts, lift heavier, pump out more reps, and increase endurance, strength, and stamina. It also improves your mood, boosts your energy, and contributes to faster recovery. Even sooner than you might think you'll gain the strength to push out those last reps you didn't know you had. Many users also reported feeling more hydrated and energized after working out thanks to the electrolytes.
After using it for a month (on a daily basis) you should notice a significant improvement in your overall physique and look way more muscular and toned. Off course, this is true only if you use it in conjunction with a healthy, balanced diet and regular weight training.
The logic behind including all these types of creatines into a single formula is to increase the absorption rate of the entire formula and reduce stomach discomfort.
The logic behind including electrolytes is to prevent exercise-associated muscle cramps.
Key benefits of Crazy Nutrition's CRN-5 Creatine Formula
These are key benefits of Crazy Nutrition's CRN-5 Creatine Formula
Intensifies workouts;
Maximizes strength;
Preserves muscle;
Skyrockets energy;
Enhances performance;
Repairs muscle tissue faster;
Hydrates your muscle cells;
No stomach discomfort and bloating;
Ultra-fast absorption rate;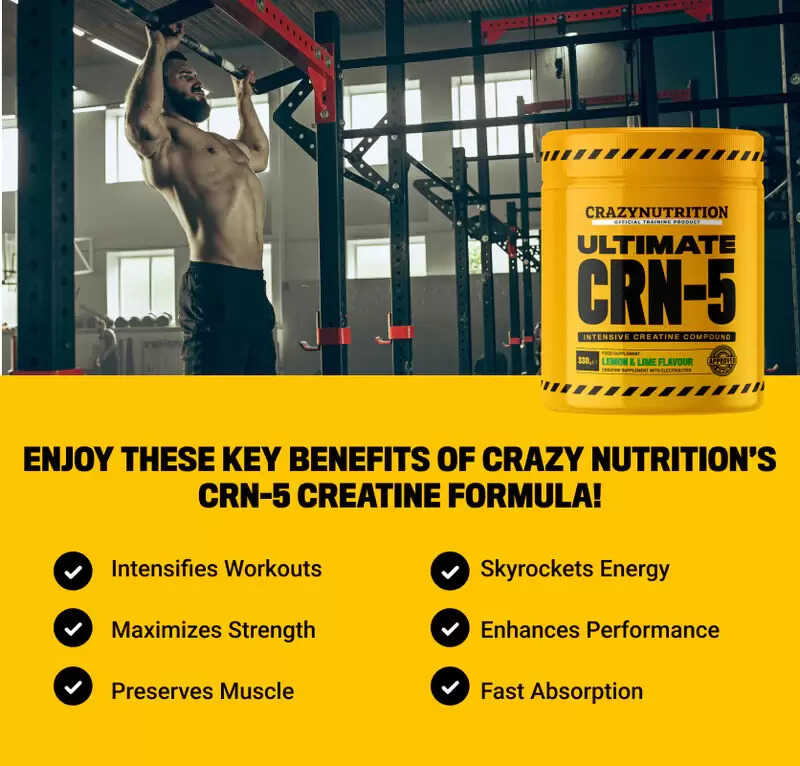 Downsides of Micronized Creatine Monohydrate Powder by Optimum Nutrition
Available in only two flavors;
A lot more expensive than creatine monohydrate or any other type of creatine;
Flavors
You can choose between two flavors:
Lemon & Lime
Orange and Mango Flavor
It mixes like fruit juice with the natural sweetness of fruit juice from completely natural flavorings. Both flavors taste delicious and refreshing. This is a welcome change to the usual gritty flavorless creatine supplements.
Side effects
There are no side effects if you use creatine properly. Moreover, we haven't found any published literature suggesting it is unsafe. This is especially true for this formula since it eliminates the mild negative effects associated with plain creatine monohydrate such as muscle stiffness and cramps, as well as GI distress.
Some side effects may be due to taking an excessive amount of creatine, and/ or the concurrent use of other performance-enhancing supplements.
However, anyone with a serious medical problem who wants to try creatine supplements should discuss this with his or her doctor.
How to use Crazy Nutrition Ultimate CRN-5 Creatine?
Add 1 scoop (11 g) of CRN-5 to 16 oz of water, either in a shaker or in a glass. Shake or stir well before consuming. The official manufacturer recommends taking the supplement on a daily basis 30 minutes before a workout for the best results. Therefore we also highly recommend taking creatine near your workout timings because keeping a huge gap between intake and workouts may reduce the effectiveness and the energy you feel. We also recommend taking it on rest days too, at any time during the day.
There's no need to load or cycle like with low-quality creatine products.
Which company is behind this creatine formula?
Crazy Nutrition is supplied and manufactured by WOLFSON BRANDS (UK) LIMITED, a trusted name that takes pride in leading the supplements industry for over a decade.
All Crazy Nutrition product formulations are based on the latest breakthroughs in sports nutrition. Their products are made with clean ingredients sourced from whole foods — and no garbage fillers to gunk up your system.
It comes as no surprise that hundreds of thousands of amateur athletes (and a handful of pros) lean on their formulas for boosting motivation, energy, focus, and strength.
Always choose a reputable brand of bodybuilding supplements.
The cost of the product
On the official website, CRN-5 is available in a 330 g package (30 servings per container). It's not cheap, $44.99 per 330 g package. That's $1.50 per serving or $0.14 per gram.
There are many high-quality creatine supplements that are much more affordable. For example, Micronized Creatine Powder from Optimum Nutrition.
Where to buy Crazy Nutrition Ultimate CRN-5?
We highly recommend buying this product directly from the official website for many different reasons.
The official website not only provides you with an authentic product, but it also offers great discounts on multi-buys. They also have fast and free shipping. But you'll also easily find this product on third-party websites as well.
Crazy Nutrition Ultimate CRN-5 Reviews
Most users noticed that after a week of using Crazy Nutrition's Ultimate CRN-5, they noticed a difference in their workouts at the gym; they were able to add on more reps, use heavier weights, have a shorter recovery time, and noticed a visible increase in the overall size of their muscles. It's very hard to find a single negative review for this product.
That brings us to the end of our look at the Ultimate CRN-5 by Crazy Nutrition.
Final verdict: Should you buy Ultimate CRN-5?
With 5 different types of creatine and electrolytes, we think CRN-5 is the best creatine on the market today. The logic behind including all these types of creatines is to increase the absorption rate of the entire formula and reduce stomach discomfort. But do you really need five different types of creatines to get results? Well, no. You can achieve good results even with the cheapest creatine monohydrate. However, with this formula, you can get the best out of each type of creatine it contains and eliminate the potential side effects of creatine monohydrate. Therefore, it is safe to say that creatine monohydrate alone may not be "good enough" for everyone.
Ultimate CRN-5 Creatine Formula from Crazy Nutrition
There are a ton of creatine formulas out there. Most are mono or HCL and they taste like crap and usually contain low-grade ingredients. What we at Bodybuilding Wizard like about Crazy Nutrition's CRN-5 is the perfectly-combined ratios of five premium creatine ingredients plus added electrolytes to keep our muscles fueled.
User Ratings (

2

Votes)